Sala Burton
From KeyWiki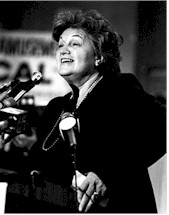 Sala Burton, born Sala Galante in Bialystock, Poland, April 1, 1925, was a San Francisco based Congresswoman, and the wife of Phillip Burton.
Although Phillip Burton was one of Congress' leading liberals, Sala traced her interest in politics to her teen-age years, when she and her parents fled Poland ahead of the Nazis.
I saw and felt what happened in Western Europe when the Nazis were moving, she once said. You learn that politics is everybody's business.
Politics was her business most of the time after she met her husband in 1950 at a California Young Democrats convention.[1]
Background
Sala Galante, attended public schools in San Francisco and San Francisco University, San Francisco, Calif.; associate director, California Public Affairs Institute, 1948-1950; vice president, California Democratic Council, 1951-1954; president, San Francisco Democratic Women's Forum, 1957-1959; delegate to Democratic National Conventions, 1956, 1976, 1980, and 1984; elected as a Democrat to the Ninety-eighth Congress by special election to fill the vacancy caused by the death of her husband, United States Representative Phillip Burton; reelected to the two succeeding Congresses (June 21, 1983-February 1, 1987); died on February 1, 1987, in Washington, D.C.; interment in the Presidio of San Francisco.[2]
National Council on Soviet Jewry
While in Washington DC, Sala Burton served on the Advisory Boards, of the National Security Committee, and the National Council on Soviet Jewry.[3]
"Solidarity"
Circa 1984, July 17, at the Great Electronic Underground, San Francisco, Democratic Socialists of America's American Solidarity Movement organized a reception "Solidarity"at the Democratic Party Convention, in support of US labor.
Sponsors included Sala Burton.[4]
South Africa benefit
On January 17 1986, a benefit concert was held at Oakland's Henry J. Kaiser Convention Center, for the National Emergency Fund of the South African Council of Churches.
Dinner Committee Members included Hon. Alan Cranston, Hon. Leo McCarthy, Hon. Barbara Boxer, Hon. Sala Burton, Hon. Ron Dellums (a DSA member), Hon. Don Edwards, Hon. Tom Lantos Hon. George Miller, Jr. Hon. Norman Mineta, Hon. Pete Stark, Hon. Willie Brown, plus Democratic Socialists of America members Julian Bond, Nancy Skinner, Harry Britt, John Henning, Adam Hochschild, Frances Moore Lappe, Stanley Sheinbaum, Communist Party USA affiliates Wilson Riles, Jr., Maudelle Shirek, Al Lannon, and Irving Sarnoff, and radical socialists Julianne Malveaux, Drummond Pike, John George, Peter Yarrow and actor/activist Sidney Poitier.[5]
References