Students for a Democratic Society
From KeyWiki
This is the page for the old SDS. Click here for the new SDS.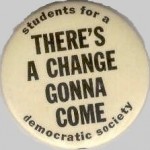 Students for a Democratic Society (SDS) was a United States organization in the 1960s that banded radical left youth and students together under the New Left movement. It dissolved in 1969 at its last convention. One of its projects was the Chicago Economic Research and Action Project (ERAP) committee.[1]
It was formed out of the social democratic organization League for Industrial Democracy (LID) and its youth arm, Student League for Industrial Democracy (SLID) when it split off in 1965 in order to form a further Left organization. For a major history of SDS, see Kirkpatrick Sale's book, SDS and the HISC 1970 report to Congress.[2]
Founding
From an FBI file on the SDS:
"The Students for a Democratic Society (SDS), as it is known today, came into being at a founding convention held at Port Huron, Michigan, in June, 1962. The SDS is an association of young people on the left and has a current urogram of protesting the draft, promoting a campaign for youth to develop a conscientious objector status, denouncing United States intervention in the war in Vietnam, and to "radically transform" the university community, and provide tor its complete control by students. Gus Hall, General Secretary, Communist Party USA, when interviewed by a representative of United Press International in San Francisco, California, on May 14, 1965, described the SDS as a part of the "responsible left" which the Party has "going for us." At the June, 1965, SDS National Convention, an anticommunist proviso was removed from the SDS constitution. In the October 7, 1966, issue of "New Left Notes," the official publication of SDS, an SDS spokesman stated that there are some communists in SDS and they are welcome."[3]
Congressional Hearings/Publications Concerning SDS
1. Riots, Civil and Criminal Disorders", Hearings, Permanent Subcommittee on Investigations (SPIG), Committee on Government Operations, US Senate, June 16 & 17, 1969
2. Anatomy of a Revolutionary Movement: "Students For A Democratic Society", Report, House Internal Security Committee, October 6, 1970
3. Hearings Series: "Investigation of Students for a Democratic Society"
- Part 1-A, (Georgetown University), June 3 & 4, 1969
- Part 1-B, (Georgetown University), June 5 & 17, 1969
- Part 2, (Kent State University), June 24 & 25, 1969
- Part 3-A, (George Washington University), July 22, 1969
- Part 3-B, (George Washington University), July 23 & 24, 1969
- Part 4, (The American University), July 24, 1969
- Part 5, (University of Chicago; Communist Party Efforts With Regard to SDS), August 6 & 7, 1969
- Part 6-A, (Columbus, Ohio, High Schools), October 20-22, 1969
- Part 6-B, (Akron, Ohio; Detroit, Michigan; and Pittsburgh, Pa.), October 28-30, 1969
- Part 7 (Links between SDS and Newsreel Film Propaganda Company; SDS Activity at Fort Dix, NJ, Army Base; SDS National Action Activity in Chicago, Ill, October 8-11) (hearings held December 16-18, 1969) and Part 7-A, (Return of Prisoners of War, and Data Concerning Camera News, Inc., "Newsreel", December 9-11
4. SDS Plans for America's High Schools, December 12, 1969
5. The Theory and Practice of Communism in 1972 (Venceremos Brigade), Part 2, Hearings, House Internal Security Committee, October 16, 18 & 19, 1972
6. Fifteenth Report Un-American Activities in California 1970, Report of the Senate Fact-Finding Subcommittee on Un-American Activities to the 1970 regular Session of the California Legislature, Sacramento, California
7. Subversive Influences in Riots, Looting, and Burning, (Newark), Part ?, Hearings House Committee on Un-American Activities (HCUA), 1967, re Education Research and Action Project ERAP and Tom Hayden
Personnel
The organizational structure of the of the National Council of Students for a Democratic Society, based in Chicago, Illinois, is as follows.[4]
National Interim Committee
Alternate Members
Staff Members
Key Members
Regional Headquarters
Membership card
An image of the S.D.S. membership card of Paul Buhle.
External links
References