Ryan Briles
From KeyWiki
Ryan Briles
Organizing OWS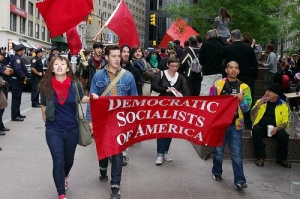 Amber Frost and Ryan Briles, members of Young Democratic Socialists (youth wing of Democratic Socialists of America) stated that they arrived at 4pm on Sept. 17 (day 1) of the Occupy Wall Street protest. In a report published on the DSA website, the pair explained their involvement in helping establish & coordinate the early days of Occupy Wall Street:
"...The cops had already blocked off Wall St. by the time we had arrived. Protesters gathered in a nearby park. They had no one directing people to this park. A very helpful cop actually told us where they were. We arrived at the park to a disorganized, confused looking bunch of kids arguing about assemblies and theory.
This being the absolute worst use of resources, we formed coalitions with some friends with Working Families Party (particularly my co-worker Dave Handy) and Kristen Lee from Socialist Party USA and we started marching just around the park (at this point the Penn State Chapter of Young Democratic Socialists and some Jersey kids were also with us). After a few passes around the park, we started to pick up some people and momentum, despite the fact that one of the organizers of the demonstration tried to pull us all aside to have a dialogue-based assembly, much to the distaste of all the marchers. So we decided to march to Wall St. anyway. The majority of the people in the park ended up following.
We got loud, we got big, the cops started to mobilize very quickly—lots of them. Dave, Kristin, Ryan, and I tried to keep to communication going from the front of the march to the back, but there were just too many people."
When we got to the actual Wall St. barricade, the cops placed additional barricades behind us and ordered us to disperse, despite the fact that we were corralled in and paddy wagons were lining up. At this point, order began to break down. We tried to organize a sit down, but the cops successfully blocked communication with those in the back, so many (who could not see us) marched off when the barricade was lifted. At this point, the demonstration descended back into arguments and assemblies in the park (think drum circles, hula hoops, and grand pronouncements on megaphones)."
Friends of Sean Monahan
November 28, 2013 Sean Monahan of Providence Democratic Socialists of America wished Happy Marxgiving! to a list of people Silvina Hdz, Henry Seiler, Alex Jones, Amanda Davis, Betsy Tammaro, Calli Nicole, Alex Gourevitch, PM Gutierrez, Ingrid Hjertaker, Catalina Arreaza, Remeike Forbes, Neal Meyer, Maria Svart, David Duhalde, Andrew Porter, Matthew Riley Porter, Bryan Michael, Daniel Hanson, Elizabeth Henderson, Jim Sullivan, Nate Wade, Joseph Schwartz, Michele Rossi, Benjamin Kreider, Jesse Butterfield, Chris Maisano, Peter Frase, Bhaskar Sunkara, Ian Lee, David Roddy, Andee Johanna Sunderland, Ryan Briles, Alex Deane, Sarah Slichter, Sarah Gollwitzer, Kasey Knopp, Daniel Adrian Santiago, Tatiana Guerrero, Betsy Avila, Mike McCabe, Trace Cabot, Will Emmons, Elena Blanc, Davey Scher, Deanna Gosling, Ian Georgianna, Jana Koehn, Jackie Sewell, JP Kaderbek, Kate McCreary, Lauren Hines, Karen Narefsky, Noah Baron, Tom DiNardo, Brynn Cassidy West, Emahunn Raheem Ali Campbell, Chris Hicks, Melinda Fiedler, Isabel Anreus, Elizabeth Pride, Beth Cozzolino, Donald Bryan Hopkins, Joshua Luther, Dan Ludwig, Alec Hudson, Kyle Hempe, Luis Caza, Brian Flowers, Sam Miller, Jacob Curry, Liz Wright, Phillip Logan, Justin Simons.
Freedom Road meeting
Spring 2015, the New York/New Jersey District of Freedom Road Socialist Organization sponsored a forum entitled "Ferguson: The Movement So Far and Lessons for Coming Struggles." The first speaker was "our comrade", Montague Simmons, Chair of the legendary Organization for Black Struggle in St. Louis.[1]
The meeting was held 39 Eldridge St,New York, 19 March 2015. Organized by Eric Odell.
A Discussion with Montague Simmons Chair of the Organization of Black Struggle – St. Louis and labor organizer
Loyda Colon Co-Director of the Justice Committee, a Latina/Latino-led organization dedicated to building a movement against police violence and systemic racism in New York City
Speaking for the first time in NYC since the police murder of Michael Brown, the chair of OBS, which played a major role in the Ferguson protests, discusses the new strategies, organizational forms and social forces that emerged there, and how the movement was sustained. Loyda Colon will reflect on the Justice Committee's work organizing with families directly impacted by police violence, and will share their thoughts on the current movement in NYC.
Together they will share their thoughts on key questions for the movements against police abuse that are erupting around the country. How do we hold together broad united fronts with different generations, cultures, classes and political perspectives? What's the role of anti-capitalists and socialists? What kind of policing reforms do we want and how do they relate to other issues in our communities, and to radical social transformation?[2]
Those signalling their intention to attend on Wherevent included John McCarthy, Juliet Ucelli, Betty Yu, Lily Defriend, Wai Yee Poon, David Unger, Matthew Tinker, Ryan Briles, Enbion Micah Aan, Erick Moreno, Terry Marshall, Jesse Baboo, Daniel Tasripin, Anton Han Kiang, Starlitekid Cosmos, Clayton Nino Brown, Miguel Marrero-Bermudez, Joy Schulman, Jeanne D. Shaw, Mark Swier, Stephanie Zukasaka, Denise Chupacabral, Anne Mitchell, Emma Pliskin, Oriana Roeckraeyer, Lara Shepard-Blue, Karly Safar, Robina Rai, Man See Kong, Teresa Basilio, Aisha Shillingford, Adriana Cruz, Ofie Virtucio, Rivka Paradis, Katrina Cortes, Sharice Richards.[3]
References