Ruth Dyson
Jump to navigation
Jump to search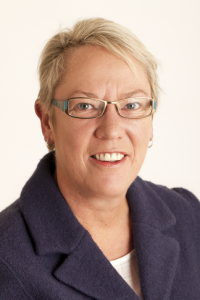 Ruth Dyson...is a New Zealand Member of Parliament.
Masterton union rally
Ruth Dyson, Georgina Beyer, Sonja Davies, Dennis Rockell.
Background
Daughter of Army major Bill Dyson, Ruth Dyson left school at 15 but did SC and UE thru night school and correspondence school. As a teenager she was involved in the peace and conservation movements, and in opposing British presence in Northern Ireland. She Trained as a nurse in Westport and spent 10 years on the West Coast. She was instumental in setting up a Womens Refuge in Westport. [1]
Labour Party
In 1979 Dyson joined the Westport branch of the Labour Party
In 1985 she moved to Wellington "to help Fran Wilde with her Homosexual Law Reform Bill."
1986-87 Labour Party Executive member
1987/8 Senior Vice-President, Labour Party.
1988/1992 President, Labour Party.
1989 Secretary of Thorndon branch of LP. Works fulltime with the Wellington Regional Employment & Access Council.[2]
SUP connections
Through the 1980s, Ruth Dyson was close to the pro-Soviet Socialist Unity Party.
1988 Approx Became partner of LP activist and SUP associate Peter Bloor.
In 1989 Dyson was pictured in Soviet News November 9, with SUP leader Ken Douglas, and delegation of 2 Soviets ( N B Bidekin, Editor in chief of CPSUs theoreticl journal Kommunist, and V. P. Kudenov an official of the International Department Central Committee of the CPSU, visiting NZ to observe LP conference , Dyson led an LP delegation to the Soviet Union earlier in year at invite of the CPSU.
1990 Feb 12, interviewed in Tribune on the proposed sale of Telecom.
Compact/SUP Labour ties
While Compact was being negotiated Labour and SUP leaders were close. Ken Douglas was close to Mike Moore the Compact's architect. Marilyn Tucker was close to Labour Party president Ruth Dyson. Don Farr, a Labourite CTU official was married to Jan Farr, a member of the SUP Central Committee and the editor of Tribune.[3]
Fiji funeral
In November 1989 Dyson attended the funeral of Timoci Bavadra in Fiji. with 60,000, speaking at the service.
Teaching
1992 Teaching adults for Hilary Commission & secretary to Fran Wilde until Wilde left Parliament.
OXFAM
In 1992 Dyson was Organiser Oxfam Walk on Want. [4]
Parliament
1992 July 25, Press reported she was selected by Lyttelton electorate to stand for the next election. Maryan Street the chairman of the meeting.
Second marriage
In 1995 Dyson married Wellington Environmental Engineer, Martin Ward.
references