Rusia Mohiuddin
From KeyWiki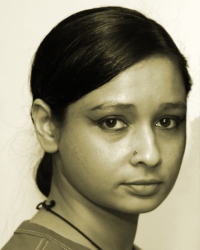 Rusia Mohiuddin is a New York City activist.
Background
"My grandfather was the founding father of the Bangladeshi Independence struggle. He was an organizer and he was popularly known as 'Jadu Mia' (Magic Man). He would often tell his children, 'The people are the source of all power!' My mother raised her children with this as a foundation for understanding the world and what united peoples were capable of doing."
Rusia Mohiuddin, based in NYC, is a trainer and somatic coach who pioneered the integration of somatics into an organizing framework towards developing a new, more holistic model for social justice change work that places in its center, the necessary transformation of social change agents.
Rusia is currently the Principle at Universal Partnership Consulting. Over the last 18 years, she has primarily worked in non-profit, community-based organizations in New York and also co-founded the national intermediary, Social Justice Leadership.
Having worked on the frontlines as an organizer for over 8 years and leading organizations as a Director, including helping to establish Families United for Racial and Economic Equality (FUREE) as it's own 5013(c), Rusia brings grounded expertise to basic to advanced organizing training as well as organizational development.
As a certified somatic coach and trainer, Rusia brings a unique & innovative style to her training & facilitation that creates pathways for individuals to bring their best selves forward toward exacting social change in their organizations and communities.
Rusia is also a proud nerd and is skilled in graphic design, photography, website development, and has worked with many organizations across the country as an IT specialist.[1]
RoadMap
Rusia Mohiuddin is a consultant with RoadMap, a Freedom Road Socialist Organization affiliated consultancy group .[2]New York City
FUREE
Families United for Racial and Economic Equality (FUREE), July 19, 2013;
With Rusia Mohiuddin, Betty Yu, Numi Dee, Krysten Brown-Green, Jumaane D. Williams, Hasan Salaam, Eric Valentin, Jr., Jessica Alfreds, Carrie Gleason, John M. Blasco, Laurie Cumbo, Wanda Imasuen, Irini Neofotistos, Bryan K. Echols, Lynn Lewis, Fahd Ahmed, Joan Gibbs, Andrea Nelson, Lucas Shapiro, Tenelle Breukelen, Peter Hardie, Mo Meazy George, Marquis Jenkins, Imani Henry, Jack Aponte, Tamara Czyzyk, Maurice Moe Mitchell, Elizabeth Yeampierre, Lumumba Bandele, Pamela Hamilton-Brown, Colleen Vincent, Tony Herbert, Cyril Innis, Jr., Jelani Likeitis Mashariki, Fernando Carlo, Lisa Ortega, Shawne Lee, Nathalie Alegre Velarde, Lyrik Tehuti, Fly Guy Yoshi, Kazembe Balagun, Eman Rimawi, Mw Payne, Orlando Green, Nichi Floetic Valentino, Ilana Berger, Byron Hurt and Malik Abu Khalid.
References