Royce Adams (PA)
From KeyWiki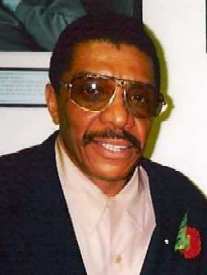 Royce Adamsis a Pennsylvania activist.
Early life
Royce Adams was born and raised in North Philadelphia, attended Benjamin Franklin High School and Lincoln University. At an early age he became actively involved in struggle against racism, and in defense of workers rights.
Radical action
Royce Adams was a founding member of the Young Workers Liberation League.
As a founding member of the National Anti-Imperialist Movement in Solidarity with African Liberation he struggled relentlessly for the defeat of Apartheid in South Africa. In the early 1980s he became a member of the National Preparatory Committee for the 10th World Youth Festival that took place in Berlin.
Active in his union, the International Longshoreman's Association Local 1291, he is now a trustee and a delegate to the Philadelphia AFL-CIO Central Labor Council and he is the Labor Coordinator for the National Black Farmers Association. His active participation has contributed to the work of the A. Philip Randolph Institute, the NAACP and the Coalition of Black Trade Unionists[1].
Communist Party USA
On June 1, 1975, Royce Adams was elected as a member of the District Committee of the Pennsylvania Communist Party at the Party's District Convention.[2]
Communist Party Member
Royce Adams is a member of the East Pennsylvania/Delaware Communist Party USA.[3]
Black Radical Congress
In March 1998 "Endorsers of the Call" to found a Black Radical Congress included Royce Adams, Local 1291 International Longshoremen's Association, New Jersey[4].
Communist award ceremony
The Communist Party of Eastern Pennsylvania & Delaware's 1990 annual Peoples Weekly World banquet honored Jim Moran, director of Philadelphia Area Project for Occupational Safety and Health, and Debbie Bell, local Party chairperson and treasurer of the Black Radical Congress. Royce Adams served as MC, while Eliott Kenin sang and Amina Baraka recited poetry.
Adams read out a tribute to Bell from Julian Bond of the NAACP - he said Bell was "part of a band of brothers and sisters who dared risk life and limb to make American democracy live up to its promise....you could not selected a finer life to celebrate or a finer person to honor."[5]
Free Mumia Abu-Jamal
In 2008 Royce Adams, Former Vice-President of International Longshoremen's Association (ILA) Local 1291, Philadelphia, PA signed a statement circulated by the Partisan Defense Committee calling for the release of convicted "cop-killer" Mumia Abu-Jamal.[6]
Cesar Chavez National Holiday campaign
In 2009, Royce Adams was listed as a Founding Sponsor of the Communist Party USA initiated Cesar E. Chavez National Holiday organization[7]
References