Ross Barkan
From KeyWiki
Ross Barkan is an award-winning journalist and former candidate for office, he is a columnist for The Guardian and a frequent contributor to Gothamist.
He has been a columnist for the Village Voice and his journalism and essays have appeared in a wide variety of publications, including the New York Times, the Washington Post, the New Yorker, New York Magazine, and the Columbia Journalism Review.
In 2017, he was a recipient of the New York Press Club's award for distinguished newspaper commentary. He now teaches journalism at NYU and St. Joseph's College. He also founded, along with volunteers and staff from his campaign, a community center, Solidarity Space, out of his old campaign headquarters.[1]
Muslim Democratic Club endorsement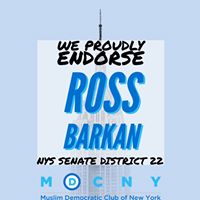 The Muslim Democratic Club of New York endorsed Ross Barkan in 2018.
Socialist Campaign Coordinator
In 2018 Alex Pellitteri was Campaign Coordinator at Ross Barkan for State Senate.
Staffers
Ross Barkan December 1, 2018 ·
With Britton Woodruff, Genna Goldsobel, Elizabeth Melas and Gregory Pottz.
References