Rose Hamid
Jump to navigation
Jump to search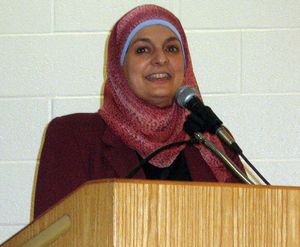 Template:TOCnestleft Rose Hamid is an anti-Israel activist who is known for being removed from a 2016 campaign event in South Carolina featuring presidential candidate Donald Trump.
Background
Rose Hamid grew up a Catholic in Cleveland, Ohio with her father, a Palestinian, and her mother, a South American, according to a bio for a Social Justice Conference - Charlotte held at the Unitarian Universalist Church of Charlotte and sponsored in part by the North Carolina Socialist Party. Hamid graduated from Cleveland State. In 1987 "she moved to Charlotte and converted to the Muslim faith the same year." Hamid is a "flight attendant instructor."[1] She was listed as a "speaker" or "panelist" for the conference, along with Marty Rosenbluth, who accompanied her to a campaign event for Donald Trump in 2016.
Activism
New York Times
The New York Times featured the Muslim convert Rose Hamid in an article about anti-Muslim bias in 1997. The author, Laurie Goodstein, referred to the Muslim Head scarf as a potential "lightning rod for prejudice."[2]
Banned the Christmas song 'Silent Night'
An article at the Catholic League from 2004: "At a recent Charlotte-Mecklenberg school meeting of parents, Rose Hamid, who heads a group called Muslim Women of the Carolinas, expressed her enthusiasm for censoring 'Silent Night' in the schools. She won."[3]
Muslim Women of the Carolinas
Muslim convert Rose Hamid is President of the group Muslim Women of the Carolinas.[4] The "non profit organization" is "dedicated to the unity of the Muslim women and the practice and promotion of Islam." On July 12 2014, The Muslim Women of the Carolinas promoted a fundraiser featuring Imam Saraj Wahaj, an unindicted co-conspirator in the trial of the 1993 World Trade Center bombing.[5]
Meet the Muslims event
Rose Hamid created a "Meet the Muslims" event in 2012 "to bridge the gap between non-Muslims and the Charlotte Islamic community."[6]
Featured in CAIR article
CAIR Chicago quoted Rose Hamid in an article about a 2005 film "Obsession: Radical Islam's War Against the West,"[7] which was inserted in hundreds of thousands of copies of newspapers on September 13, 2008. Rose Hamid was quoted as saying that the film "definitely is something that would be considered hate speech."[8]
Trump Campaign Event Controversy
Rose Hamid and Marty Rosenbluth silently stood together during a Donald Trump campaign event in South Carolina in January, 2016. Both activists were wearing gold stars reminiscent of those imposed on Jewish citizens in Nazi Germany with the word "Muslim." They were removed from the conference. The Council on American Islamic Relations (CAIR) called on Trump to publicly apologize to Hamid and to meet with American Muslim leaders "to discuss how his rhetoric has sparked an 'anti-Muslim hysteria.'"[9]
While the mainstream media reported the incident as if Rose Hamid and Marty Rosenbluth were random targets by Trump, the activists "carefully orchestrated" their appearance at the rally.
Other activists associated with Hamid and Rosenbluth are Jibril Hough, Lowell Fleming, and Edith Garwood of Amnesty International.
Rosenbluth was quoted by The Daily Beast[10] as saying "We've been working toward this moment for months" and then reminded readers that "Keep in mind that Rosa Parks was not a seamstress on her way home from work who just got tired one day. Her protest was also planned out and well choreographed.'"
The article continued:
"Indeed, the activists behind the protest told The Daily Beast the CNN moment was carefully orchestrated, down to the detail of the flight attendant matching her turquoise-colored headscarf with her T-shirt. The activists are connected by years of local activism post-9/11 on issues including civil liberties, war, Palestine, "Black Lives Matter," and immigration, and have been working for months on their anti-Trump organizing campaign."
Jibril Hough, who converted to Islam in 1991, compared himself to Martin Luther King, Jr. Addressing whether the activists attended the Trump event to "cause trouble and get attention," he was quoted as saying, "There may be some truth to that. Dr. Martin Luther King had to strategize to get media attention. These things are orchestrated."
References