Ron Gettelfinger
Jump to navigation
Jump to search
Template:TOCnestleft Ron Gettelfinger was president of the United Auto Workers.
Serving as President[1]of the United Auto Workers Union since 2002, Ron Gettelfinger has advocated for accessible and affordable healthcare for all Americans. He has also led the fight to renew America's industrial base through incentives to manufacture energy-saving advanced technology vehicles and their key components in the US.
Saluting Democratic Left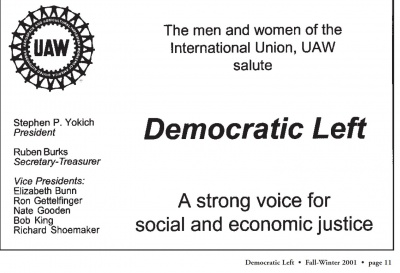 UAW leaders Stephen Yokich (President), Ruben Burks (Sec-Treasurer), and Vice Presidents Elizabeth Bunn, Ron Gettelfinger, Nate Gooden, Bob King and Richard Shoemaker, placed an advertisement in Democratic Socialists of America's Democratic Left, Winter 2001, "The men and women of International Union, UAW salute Democratic Left - A strong voice for social and economic justice". [2]
National Health Insurance Conference
Congressman John Conyers Jr. (D-Mich.) hosted a National Health Insurance Conference, April 16-17, 2004 to kick off a 50-state campaign for passage of national health insurance legislation, HR 676 – the "Expanded and Improved Medicare for All Act." Conyers introduced HR 676 in the House in 2003.
Dr. Quentin Young, national coordinator of Physicians for a National Health Program, keynoted the conference, speaking on "The State of Health Care – The Case for National Health Insurance." Conyers spoke on "Launching a National Movement for HR 676," followed by a session on "Getting the Message Out – Working the Media."
Dean Baker, of the Center for Economic and Policy Research, and Joel Segal, senior assistant to Conyers, presented the details of HR 676 in a session titled, "What Is It and How Do We Pay For It?" They will seek to arm the participants to take the message back to the neighborhoods. There was also a session on strategies to promote single-payer legislation on the state level. Activists were working on state single-payer bills in a number of states, including Massachusetts, California, and Pennsylvania. The agenda includes nuts-and-bolts workshops on working with unions, faith communities, educators, and health workers.
Ron Gettelfinger, United Auto Workers president, and Leo Gerard, Steelworkers president, both advocates of single-payer health care, were invited to address the conference. The conference also extended invitations to Rep. Barbara Lee (D-Calif.) and Democratic presidential candidate Dennis Kucinich of Ohio, two of the co-sponsors of HR 676.
Conference organizers intended to establish a national health insurance citizens' network to begin implementing a campaign to pass HR 676 or its equivalent. They also hoped to open a national health insurance coordination office in Washington.
Dozens of health care and social justice organizations endorsed the conference including Physicians for a National Health Program, the Gray Panthers, Jobs with Justice of Washington, D.C., the National Coalition for the Homeless, the American Medical Students Association, Universal Health Care Action Network, and the National Welfare Rights Union.
"We believe that the leadership should come from the people that do the work, and now is the time to build a serious movement for national health insurance for all in America," asserted conference organizers Michelle Tingling-Clemmons and Rick Tingling-Clemmons. The conference was held at Howard University Hospital and Towers Auditorium, 2041 Georgia Ave. NW, Washington, D. C.[3]
Socialist Debs award
Every year since the mid 1960s the Indiana based Eugene V. Debs Foundation holds Eugene Debs Award Banquet in Terre Haute, to honor an approved social or labor activist. The 2009 honoree, was Ron Gettelfinger.[4]
Economic Policy Institute
Ron Gettelfinger serves on the Board of Directors of the Economic Policy Institute.[5]
References
Template:Reflist Template:Eugene V. Debs Award recipients