Roger Calero
Jump to navigation
Jump to search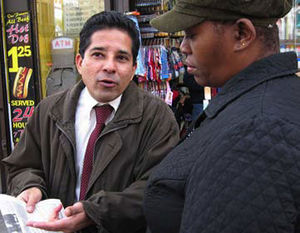 Roger Calero
Socialist Workers Party
Calero was the Socialist Workers Party candidate for president in the 2008 election.[1]
Writing for The Militant
Calero is a writer for the socialist newsweekly, The Militant and an editor of its Spanish-language section, El Militante.[1]
Visiting New Zealand
In early 2008, Calero participated in a 2008 fact-finding trip to New Zealand and Australia meeting with workers and others on "the frontlines in those countries resisting assaults from their rulers."[1]
References