Rod Donald
Jump to navigation
Jump to search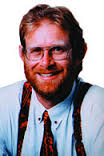 Rod Donald (1956-2005) was a New Zealand Member of Parliament. He died of a viral attack on his heart attack age 48, in June 2005.
Teenage activism
On numerous occasions, including in the months before he died, Donald regaled Murray Horton and anyone else around with a story of him inviting me to speak at his private boys' high school, St Andrews College, (where he was head prefect) and the impression that I made, as the longhaired and bearded leader of the notorious Progressive Youth Movement.
Donald opted to not go on to university. He joined the former Values Party and biked to Nelson to become campaign manager for its local candidate (Gwen Struik, who remains a veteran Green, peace and anti-bases activist to this day).
He did a stint on a Nelson organic farm and then returned to Christchurch where he was a founding member of Ecology Action, specialising in recycling. At 18 he was manager of the newly founded Christchurch Environment Centre. Veteran environmentalist, Janet Holm, described him as "full of fire and vigour".[1]
Resistance Bookshop
In the early '70s Rod Donald "hung around the radical Resistance Bookshop" according to Richard Suggate.[2]
Values Party
1974-79 - active in Values Party. Joined age 16.
Anti Tour
1981 - rep. of Te Whanau Trust, marching against Springbok Tour.[3]
Labour Party
1982 - joined the Labour Party in Christchurch.
1983 - unsuccessfully sought Labour nomination for North Ward in local body election.[4]
1982-88 - member of Labour Party. Active in the Labour Electoral Reform Network in 1988, but resigned from Labour after Geoffrey Palmer reneged on holding a referendum on PR.
Christchurch/Wellington activism
Rod Donald was the Christchurch City Council's recycling publicity officer in 1978-79.
In the late 70s he was best known in Christchurch as the leader of the Loopies i.e the group of "hippies" who moved into the inner city Avon Loop and set up an alternative community there.
This put him at odds not only with the developers who wanted to "develop" the Loop but the formidable Elsie Locke, a renowned author and peace activist for many decades. She headed a group of longterm residents who wanted a different kind of development from that proposed by both the businessmen and the hippies (her son, Keith Locke, became one of Rod's closest colleagues as a fellow Green MP).
Donald's most enduring legacy from that period is Piko Wholefoods, which is still going strong. Piko led to him becoming involved with Trade Aid, after joining a volunteer committee.
In 1981 he plunged into the maelstrom of the protests against the Springbok Tour, being the subject of a TV current affairs profile on anti-tour protestors. In the early 80s he worked for the Tenants Protection Association. It was there that he met his life partner, Nicola Shirlaw. He moved on to become national publicity officer for the Youth Hostels Association, and spent the years 1986-90 in Wellington as public affairs manager for Volunteer Service Abroad.[5]
He was active in the Korokoro Community where he lived. In 1989 he was co-editor of VSA Broadsheet with Rupert Watson.
Trade Aid
Rod Donald returned to Christchurch in 1990 to become the NZ manager of Trade Aid Importers, the job he held until he entered Parliament in 1996.
Trade Aid's co-founder, Vi Cottrell, said that he "brought absolute passion to the job. He was totally committed. He thought about it all the time. We used to joke that when he went on holiday it was a progression from one Trade Aid shop to another…He was a great strategic thinker. He modernised Trade Aid. Without him, it would have gone down the tube" .
This was the period of closest contact between CAFCA and Trade Aid. At one point Trade Aid paid for more than a dozen of its shops to stock Foreign Control Watchdog. Later, as an MP, Donald paid for several copies of Watchdog to be made available in his various offices.[6]
MMP: His Greatest Legacy
Since 1989 Rod had been a high profile public figure as national spokesman for the Electoral Reform Coalition. This really is his greatest legacy – he threw himself heart and soul into the successful campaign to force a binding referendum to change the voting system from the totally distorted and discredited First Past the Post to MMP.
To win that battle, he had to overcome entrenched opposition from the media and leading MPs from both traditional major parties
This was a once in a lifetime opportunity to change the voting system and it ended in victory at the 1993 referendum and Donald entering Parliament as a new MP after the first MMP election in 1996. He continued to campaign, rather less successfully, to get the Single Transferable Vote (STV) system adopted for local body elections.
Donald became involved in the Electoral Reform Coalition shortly after move to Wellington in 1987.[7]
1989 Sept., Donald was elected Vice President of ERC.
1990 April 23, Vice-president of the ERC. Wrote an article on the front page of Socialist Unity Party's Tribune on the need to a PR referendum.
1990 Nov., spoke to Canterbury Y Nationals on PR. Said he was a close personal friend of Harry Duynhoven.
1991 - ERC contact for Christchurch.
1992 - wrote book review in New Zealand Monthly Review on two pro-MMP books: Voters Choice and Making your Vote Count. Quote: "Voter's Choice (an unfortunate name given its similarity to "Voter's Voice" a Citizens Initiative Referendum - CIR - lobby group)"
1994, Donald said of the ERC campaign in a Star-Times profile, that he is amazed that a handful of activists could so profoundly alter the direction of the country.[8]
Relaxed about the SUP
Donald worked closely with members of the pro-Soviet Socialist Unity Party, who had infiltrated the Electoral Reform Coalition.;
He was relaxed about this.
Donald told the New Zealand Monthly Review of January 1993, that while MMP had a downside in that the Christian Heritage Party might gain seats , "The flip side is that of the SUP gaining seats under MMP, which I don't have so much difficulty with,"
Politics
Parliamentary politics seemed the logical next step. Those who branded him a careerist expected it to be with Labour. And indeed he had been a member of that party from 1982-88 "when he quit because he didn't like the party's direction and because it reneged on the electoral referendum". [9]. Instead Donald chose the Greens and didn't muck around, going straight to the top as Co-Leader. He was refreshingly honest. "Donald likes power. 'I'm very keen on it. I don't see why anyone should shy away from it'"
Donald also had problems with Labour's commitment to capitalism. "…But there was a more pressing reason for Donald to turn away from Labour: he is suspicious of the Party's relationship with unions. 'I don't believe in the whole business of the unions affiliating to the Labour Party and holding card votes. Unions have a very important role, but I look for a third alternative, a co-operative model. To some extent unions depend on the continuation of the capitalist system, whereas worker ownership is a completely different path, which doesn't mean the end of unions. I've found it frustrating that unions have opposed the cooperative model because they think it threatens their own future, whereas it's the best way workers can break their shackles'.
'I still feel quite comfortable with anarchy, in principle. It's about people taking responsibility for their own lives and being conscious of the needs of other people. But I'm a realist. And a pragmatist'". Views such as those were definitely bound to cause problems with the old Labourites and unionists who comprised New Labour, the core party of the Alliance. At that stage, Rod was all in favour of the Greens staying within the Alliance. "Why walk away from a coalition where you've already had a significant influence on policy, and then have to form another coalition?"[10]
The Greens lasted one term (1996-99) within the Alliance. Shortly before the 1999 election, when they'd taken the gamble to fly solo, Murray Horton asked Donald why they had left. He replied: "Two words. Jim Anderton".
The gamble nearly didn't pay off – on election night 1999, when Labour came to power, the Greens had missed out, both in their only electorate hope (Coromandel) and in the party vote. They had to endure an agonising wait in limbo until special votes delivered them both Coromandel (which Co-Leader, Jeanette Fitzsimons, held for one term) and enough party votes to get into Parliament under their own banner (but, by that time, Labour had stitched up a coalition with the Alliance Party).
Probably their best chance of getting into Government was in 2002, with Labour unchallenged by an astonishingly feeble National Party campaign. But "Corngate" erupted and Labour and the Greens went bitterly head to head on a key point of difference, namely genetic engineering. Clark chose United Future and the Greens stayed out in the cold. By the time of the 2005 election, the Greens had ensured that there would be no nasty spats but it was one election too late – National won the election[11]
1995 - Banks Peninsula candidate, ranked 2nd on GP electoral list.
1996 - No. 4 on Alliance Party Southern Region Party list.[12]
"Most red Green party in the world"
Said Donald;
We may be, as Chris Trotter said on the recent Assignment programme, the most red Green party in the world but we value the individual as much as society. We are communitarian, internationalist and libertarian all at the same time. [13]
Anti free trade
July 1996 - attended Trading With our Lives anti APEC forum in Christchurch.[14]
2003 - a mini-conference on alternatives to the World Trade Organisation (WTO) began the Week of Action in Wellington, New Zealand, against the WTO and its free trade policies. The international Week of Action coincided with the WTO Ministerial Conference that was held in Cancun, Mexico from 10-14 September.
1:10PM: The Great Trade Debate including Rod Donald (Green Party),Robert Reid (Alliance), and Suse Reynolds (Trade Liberalisation Network).
"Anarchist"
In a 1994 Star-Times profile, it said Donald had been involved in a commune, organic farm, tenants protection agitation, CORSO, YHA, Citizens Advice Bureau, Access Radio.
Donald said "I'm not a fan of capitalism, but not a fan of socialism either. Fundamentally I'm an anarchist, I guess." [15]
CAFCA/ABC/Waihopai
Rod Donald was very supportive of the Maoist leaning Campaign Against foreign Control of Aotearoa, their sister group the Anti-Bases coalition, and their campaign against the United States' Waihopai listening facility.
"One of us"
According to Murray Horton;
Rod literally was one of us. He'd been an ABC member since the late 1990s and a CAFCA member for a similar period. He regularly attended CAFCA Annual General Meetings, making him the only MP (not to mention Party Co-Leader) to do so. In both cases, his active involvement predated his formal membership by years.
He donated to CAFCA and contributed more than $800 to the CAFCA/ABC Organiser Account, which provides my income. He regularly said that he must become a regular pledger to it and asked for the automatic payment forms to be sent to him. But despite the truly heroic efforts of his Parliamentary Executive Secretary, Bronwen Summers, he never got around to filling them in and activating it. This sent him off on a self-inflicted guilt trip every time he saw me.
I can think of only one trip away together before he started regularly coming to the Waihopai spybase protests – a 1980 trip (an extremely uncomfortable one in a van) to Dunedin to take part in activities opposing the proposed transnational aluminium smelter at Aramoana, at the entrance to Otago Harbour (one campaign that was 100% successful). He was a crucial few years younger than me and basically we mixed in different circles, with very different views on whether to work inside or outside of the political system.[16]
2002 CAFCA AGM
The 2002 CAFCA AGM was held at the Christchurch WEA on September 23. Approximately 20 members were present. Bill Rosenberg chaired. Apologies were accepted from Rod Donald, Maurice Ward, the Sisters of St Joseph, Ray Scott, Martin Griffiths and Lois Griffiths, Christine Dann, Ann Rosenberg, Helen Kingston, David Zwartz, Bob Leonard, Gillian Southey and Denis O'Connor. A solidarity message was read from Don Ross of the Organisation for Marxist Unity. The 2001 Minutes were read by the secretary, Murray Horton, and accepted
CAFCA's Key Contact In Parliament
It was during Donald's years as an MP, that he had the closest relationship with both Campaign Against Foreign Control of Aotearoa and Anti-Bases Coalition.
According to Murray Horton;
Unlike so many others who have become MPs with parties such as Labour and the Alliance, Rod never turned his back on the progressive movement from whence he came. On the contrary, he thrived in his dual role as both MP and extra-Parliamentary activist. He never sold out, and he never forgot where he came from.
CAFCA is not affiliated to any party.
"we're an independent organisation, and reserve the right to criticise all of them, including the Greens (and have done so). But it's no secret that we had an extremely good working relationship with the Greens, meaning with Rod. Once they stood on their own two feet in Parliament, it only got stronger. Shortly after that election I went to Wellington and briefed the Green caucus (I started by stating that I was an Alliance voter – by a simple process of elimination, I became a first time Green voter in 2005).
Once the Alliance was gone, the Greens were the only game in town for us. Rod was on the Finance and Expenditure Select Committee and persuaded it to inquire into the workings of the Overseas Investment Commission (OIC). He further persuaded the Labour and New Zealand First MPs on it to agree to recommendations for changing the OIC and tightening up its processes – the Government opted to ignore its own Party's MPs.
During the campaign on the Overseas Investment Bill, Rod initiated a Greens petition to stop foreigners being able to buy rural land in NZ and organized public meetings up and down the country on the issue of foreign control (such as the February 2005 one at Napier at which I also spoke). He was always eager to be personally helpful. On one trip to Wellington, he invited me to Parliament and personally took me around the Press Gallery (where he was part of the furniture), introduced me to every journalist and put in a plug for CAFCA with every one of them.
A glimpse at the Greens' foreign investment policy for the 2005 election shows it to have been heavily influenced by CAFCA, and that was entirely attributable to Rod constantly picking our brains on the subject. Rod worked his charm on both sides of the argument – after his death I received a lot of messages. The most surprising one came from Steven Dawe, the former Chief Executive Officer of the OIC, who is now with the International Monetary Fund in the US. In the more than a decade that he and I had been communicating, on behalf of CAFCA and the OIC, we had never exchanged a personal message. But he e-mailed me, expressing genuine sorrow at Rod's death and asking me to pass that on to his family. I'll give the man full credit for that.
Rod was indefatigable and at times I felt like an on-call researcher for him. He rang me once as he laboured up an East Coast hill to join Maori occupying Young Nick's Head in protest at it being sold to an American; he rang me as he was driving to Comalco's Tiwai Point smelter for a tour as a guest of the company, and wanted a fast briefing on everything to do with Comalco. Another time he rang, from Australia, minutes before he was due to do a Radio NZ national interview on the whole subject of foreign control and wanted some tips. I loved the breathtaking cheek of the fellow. Some of these calls were on sensitive subjects. It's less than a year ago that he rang asking my advice on whether the Greens should vote for the Overseas Investment Bill because one of the amendments arising from its Select Committee stage was attractive to the Party and they were tempted by half a loaf being better than none. Fortunately, Rod and the Party saw sense and retained their credibility by voting against the Bill. I doubt that he ever read a Watchdog or a Peace Researcher (he was neither a reader nor a writer), but he had an exceptionally good intuitive grasp of the subject and all its details. He was a wonderful contact to have in Parliament and ensured that we received a steady flow of material and information. He really is a great loss to CAFCA, possibly irreplaceable.
Throughout his whole time in Parliament, he was the Greens' spokesperson on trade and he ensured that the Party fought all the multitude of free trade agreements being foisted upon the NZ people by both National and Labour. He fought equally hard on the issues of foreign control and free trade. In the latter campaign, I'm basically a foot soldier, so his close working relationships were with colleagues such as Bill Rosenberg and Leigh Cookson.[17]
A Regular Happy Camper At Waihopai
Rod Donald''s relationship with Anti-Bases Coalition was "much more hands on and sociable". From the time he entered Parliament as an Alliance Party MP in Opposition he plunged into the campaign against the Waihopai spybase. He was elected in 1996; he paid his first visit to Waihopai during ABC's January 1997 protest.
He later appeared as a defence witness during the Blenheim court case of the 20 people arrested but got short shrift from the local judge who wasn't going to have his courtroom turned into a "circus". That first time, Rod came with new Labour MP, Marian Hobbs.
We're reliably informed that she got her head bitten off by Helen Clark, who so terrified Marian that she has never contacted ABC again, never been near Waihopai again and never mentioned the subject again (even when she was Minister of Disarmament), preferring to stick to platitudes and bask in the glow of New Zealand being nuclear free.
Once the Greens stood on their own two feet in Parliament, and Keith Locke was elected (both happened in 1999), Rod Donald and Keith Locke became a standard feature of all subsequent Waihopai protest camps. In January 2000, the newly-elected Greens were flavour of the month and the media poured across from Wellington to cover it. The last Waihopai protest attended by both was in January 2004.
He plunged into all our activities – I remember him as compere for a Best Dressed Spy contest, held in Blenheim's central Seymour Square. He loaned us his family tent, he drove people around in his van (quite often having specially driven it from his family's annual holiday in Golden Bay), and he led the trips to the swimming hole further up the Waihopai Valley. ABC didn't go to Waihopai in 2005, instead we went to the other "New Zealand" spybase, at Tangimoana on the North Island's lower west coast. Rod and Keith played a leading role – Rod told me that it was the only time he'd ever been there.[18]
In Jan. 1997 Donald was one of 2 MPs attending the Waihopai demos.
Enthusiastic ABC supporter
Rod Donald never missed a chance to put Waihopai in the spotlight – in August 2005, as part of its election campaign, the Greens toured Andrew Wilkie, an Australian former Intelligence analyst turned Iraq War whistleblower, author and Australian Green candidate. Donald accompanied him through the country, including to the inner gate of Waihopai.
At Wilkie's Christchurch public meeting, Donald kept plugging the ABC and invited Murray Horton to speak. He had every intention of joining ABC again at the January 2006 Waihopai protest. Days after Donald's death Horton was asked to come into his Christchurch office, where his shellshocked secretary handed him the e-mail Horton sent him inviting him to join the 2006 protests.
On it he'd written, "yes". And to my rather tongue in cheek query as to whether he would have come if he had been a Cabinet Minister, he'd emphatically written "I sure as Hell would have come!". [19]
ABC/Greens tribute
In gratitude to his years of work on the Waihopai campaign, the Anti-Bases Coalition dedicated the January 2006 protest to Rod Donald's memory. As master of ceremonies in Blenheim's Seymour Square, Murray Horton started the proceedings with a minute's silence.
The Greens organized a memorial planting of native trees at our campsite (they are also dedicated to Owen Wilkes, at ABC's request). We urged Green Party members, and all the other people who took part in the outpouring of grief after his death, to come to Waihopai as a practical way to honour his memory and continue his work. The Party responded by holding its annual Picnic for the Planet at our campsite, on the Sunday of the protest weekend, complete with bands, and Party Leader Jeanette Fitzsimons delivered her annual State of the Planet Address there. The Greens mounted a major publicity effort among their members and there was a significant increase of people at this year's protest, boosted by many Greens coming for the first time. That could all be attributed to one thing – the Rod Factor. As an inveterate publicist and seizer of opportunities par excellence, he would have mightily approved. We know that he was with us in spirit. See the lead story in this issue for details of the January 2006 Waihopai protest.[20]
References