Robert S. Browne
Jump to navigation
Jump to search
Robert Browne was listed as a among "former Visiting Fellows and Visiting Scholars and current TransNational Institute Fellows" on the Institute for Policy Studies 30th Anniversary brochure in 1993.
REP sponsor
In 1966 Robert Browne was a listed sponsor of the Ann Arbor Michigan, based Radical Education Project, which described itself as "an independent education. research and publication program, initiated by Students for a Democratic Society, devoted to the cause of democratic radicalism and aspiring to the creation of a new left in America.[1]
Socialist Scholars Conference 1966
The Socialist Scholars Conference 1966, held September 9-11, at the Hotel Commodore, New York, included panels such as:[2] Components of Contemporary Revolutionary Movements
Commentators:
North Americans in Support of Angola
The Angola Support Conference ran from May 28 - 30, 1976 in Chicago. The event was sponsored by the U.S. Out of Angola Committee and the National Conference of Black Lawyers.
At the conference, Robert Browne of the Black Economic Research Center was selected to go on the National Steering Committee.[3]
Havana Seminar with the MPLA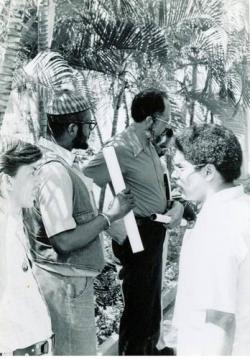 "At the request of the MPLA, in February 1976 the Cuban government hosted a seminar which brought together American sympathetic to their struggle in Angola. Twenty-six Americans attended the seminar representing 19 organizations and five African American publications."[4]
Palestine Human Rights Campaign
A brochure came out in early 1978 announcing "A National Organizing Conference" sponsored by the Palestine Human Rights Campaign to be held on May 20-21, 1978, at American University, with the theme of "Palestinian Human Rights and Peace".
The list of "Sponsors" was a mix of a several groupings including the Communist Party USA and its sympathizers, the World Peace Council, the Hanoi Lobby, black extremists, mainly marxists, radical Christians, and Arab/Arab-American organizations, plus a few phone-booth sized pro-Palestinian Christian groups.
Individual sponsors of the event included Robert S. Browne.
Recommended appointees for a new Administration
In the 1988 book "Winning America: Ideas and Leadership for the 1990s" edited by Marcus Raskin, Chester Hartman, Sean Gervasi recommended Barry Bluestone, Gar Alperovitz, Donald Harris, Robert Browne, Jeff Faux, Carol O'Cleireacain, Jamie Galbraith, Howard Wachtel, Bennet T. Harrison, Michael Tanzer and Arthur MacEwan as recommended appointees for a new Administration page 24, 25).
Opposing Israeli Policy in Gaza
In January 2009 Robert Browne signed a statement circulated by the Magnes Zionist Blog, opposing Israeli policy in Gaza:[5]
As human beings, we are shocked and appalled at the mass destruction unleashed by the State of Israel against the people of Gaza in its military operation, following years of Israeli occupation, siege, and deprivation.
As progressives, we reject the same justifications for the carnage that we heard ad nauseam from the supporters of the Second Iraq War: the so-called "war on terror," the "clash of civilizations," the "need to re-establish deterrence" – all of which served to justify a misguided and unnecessary war, with disastrous consequences for America and Iraq.
References