Robert McChesney
From KeyWiki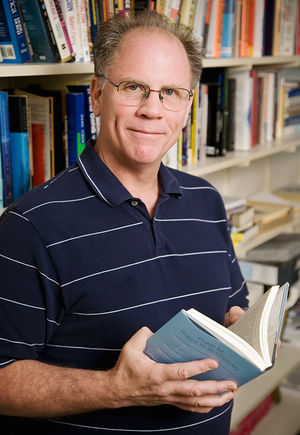 Robert W. McChesney is a professor at the University of Illinois at Urbana-Champaign. He hosts a weekly program, Media Matters, on WILL-AM radio, the NPR affiliate in Urbana, Illinois.[1]
"Back to Basics"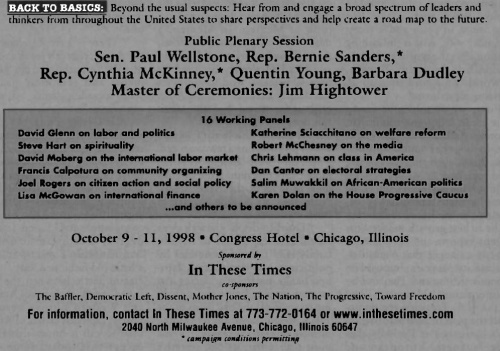 Speakers at the October 1998 Back to Basics Conference in Chicago included;
Public Plenary Session, Sen. Paul Wellstone, Rep. Bernie Sanders, Rep. Cynthia McKinney, Quentin Young, Barbara Dudley, Master of Ceremonies: Jim Hightower
16 Working Panels;
Free Press
McChesney co-founded Free Press and the Free Press Action Fund with Josh Silver in 2002. As at June 19 2010, McChesney served on the Board of Directors for the organization.[1]
Josh Silver is the executive director of Free Press, a national, nonpartisan organization that he co-founded with Robert McChesney and John Nichols in 2002 to "engage citizens in media policy debates and create a more democratic and diverse media system". He has published extensively on media policy, campaign finance and other public policy issues.[4]
Socialist Scholars
At the 2000 eighteenth annual Socialist Scholars Conference in New York, Monthly Review sponsored a well attended panel on culture and contemporary capitalism with Marshall Berman and Robert McChesney[5].
Media Democracy Legal Project
Advisors to the Media Democracy Legal Project, circa 2006, included:[6]
FightingBobFest speaker
Robert McChesney has been a guest speaker at Wisconsin's annual progressive Fighting Bob Fest, in 2004, 2008, 2009.[7]
Colombia Support Network
As of 2009, the Colombia Support Network Advisory Board consisted of ;[8]
Monthly Review celebration
On September 17, 2009, U.S. socialist magazine Monthly Review celebrated its 60th anniversary at the New York Society for Ethical Culture in New York City. Five-hundred enthusiastic supporters gathered to hear remarks by Robert McChesney, Grace Lee Boggs, John Bellamy Foster, Fred Magdoff, Rev. Jeremiah Wright, Michael Tigar and hear music by Toshi Reagon[10].
Izzy Award
The Izzy Award is named after maverick journalist (and Soviet spy) I. F. Stone. Presented annually for "special achievement in independent media," the Izzy Award goes to an independent outlet, journalist, or producer for "contributions to our culture, politics, or journalism created outside traditional corporate structures".
The judges are communications professor and author Robert McChesney; Linda Jue, director and executive editor at the G.W. Williams Center for Independent Journalism; and Jeff Cohen, director of the Park Center for Independent Media at Ithaca College.
The inaugural Izzy Award for 2009 was presented to blogger Glenn Greenwald and Democracy Now! host and executive producer Amy Goodman.
Roughly 800 people attended the award ceremony at Ithaca's State Theatre – including Izzy Stone's son Jeremy Stone, who spoke briefly.[11]
Supporting Wisconsin occupation
An event MEDIA & THE WISCONSIN LABOR STRUGGLE, was held Thursday, March 3, 2011, 7:00PM Orpheum Theatre, 216 State Street, Madison.
Speakers were;[12]
Publications
McChesney is the author or editor of 12 award-winning books, including:
References