Robert Chacanaca
Jump to navigation
Jump to search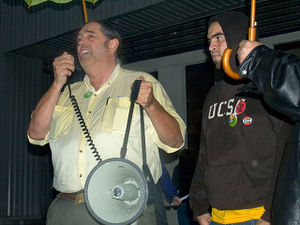 Robert Chacanaca is a Northern California activist. In 2016 he was president of the Monterey Bay Central Labor Council.
Career highlights
Locally educated in the Pajaro Valley Unified School District and UC Santa Cruz
Currently employed by Santa Cruz City Schools for over 20 years
Previously worked for Salinas Union High School District
Former Media Coordinator at Vassar College in Poughkeepsie, NY
Former Media Technician at Dutchess Community College in Poughkeepsie, NY[1]
CFT Executive Council
The 2013 Executive Council of the California Federation of Teachers consists of the above listed officers, plus the following Vice-presidents:
Communist Party reformer
In 1991, Robert Chacanaca, Northern California, was one of several hundred Communist Party USA members to sign the a paper "An initiative to Unite and Renew the Party" - most signatories left the Party after the December 1991 conference to found Committees of Correspondence.[3]
CPUSA
Robert Chacanaca was a California delegate to the 1991 Communist Party USA convention in Cleveland.
CoC National Conference endorser
In 1992 Robert Chacanaca, Native American activist, Watsonville California, endorsed the Committees of Correspondence national conference Conference on Perspectives for Democracy and Socialism in the 90s held at Berkeley California July 17-19.[4]
Conference on Perspectives for Democracy and Socialism in the 90s
The Conference on Perspectives for Democracy and Socialism in the 90s was the Committees of Correspondence's first national conference held in Berkeley, California July 17-19, 1992.[5]
Workshops that were held at the conference on Saturday, July 18 included:[6]
Quincentennial Five hundred years of resistance. The quincentennial: racist distortions and myths
CoC National Coordinating Committee
The following are listed in order of votes they received as members of the Committees of Correspondence National Coordinating Committee, elected at the Conference on Perspectives for Democracy and Socialism in the 90s held at Berkeley California July 17-19.:[6]
Union activities
Robert Chacanaca is president[7]of the Monterey Central Labor Council.
He is also the president of Local 6084, the Santa Cruz Council of Classified Employees. He serves on the national, state, and local levels for the American Federation of Teachers (AFT). He is the Classified Council President for the California Federation of Teachers (CFT) and serves on the Program and Policy Committee for the Executive Council of the AFT. He has been a past dues-paying member of the following unions: International Alliance of Theatrical Stage Employees (IATSE), American Federation of Governmental Employees (AFGE), Communications Workers of America (CWA), Service Employees International Union (SEIU), California School Employees Association (CSEA), and All-China Federation of Trade Unions (ACFTU).
Central Coast Member Receives 'Unionist of the Year' Award
ULTCW member Yadira Real received the Central Labor Council's 'Unionist of the Year Award' on April 29th, 2011.
On hand to preset the award were Congressman Sam Farr, Assemblyman Bill Monning, and Central Labor Council President Robert Chacanaca.[8]
Labor Day picnic
Sharing greetings, shaking candidates' hands, shouting updates over hot dogs and burgers in a DeLaveaga Park picnic grove, Santa Cruz's 2016 Labor Day Picnic made room for local workers and politics alike Monday.
Nearly 200 people, many of them running for local, state and federal offices in November, turned out for the annual event put on by the Monterey Bay Central Labor Council for the 64 unions it represents in Santa Cruz and Monterey counties. At least nine of the 11 Santa Cruz City Council candidates mingled with their Watsonville counterparts, while state Rep. Mark Stone and Jimmy Panetta, candidate for the 20th District U.S. Assembly both gave short speeches in front of those gathered.
"This is a who's who of labor and politics and the symbiotic relationship that exists between labor and Democrats especially," said Tony Russomanno, a Santa Cruz County Democratic Central Committee member. "Democrats need to stop taking our friends for granted. Labor is a friend of Democrats, so we need to renew that friendship all the time."
Russomanno, who served as National Democratic Convention delegate for Hillary Clinton, commended the Monterey Bay Central Labor Council's political coordinator Glen Schaller for bringing the six California Democrat delegates for both Clinton and Bernie Sanders together on labor-related slates while running for delegate positions.
"It's a model for what other political organizers for other labor organizations should be doing around the state," Russomanno said. "Glen realized we're not just supporting Bernie, we're supporting labor, so why not get labor people to vote Bernie and Hillary."
Monterey Bay Central Labor Council President Robert Chacanaca was quick to point out that the celebration, and Labor Day in general, are good for the American people. He listed off some labor-earned working conditions ranging from weekends off and eight-hour workdays to child labor protections and more.
"If you ask, they'll say Labor Day is us," said Chacanaca, gesturing to the crowd in attendance. "If you ask a person on the street, if you ask some kid in school why. They know it. Like Veterans Day. And it still stands."
California Secretary for Natural Resources John Laird gave picnickers a highlights reel of November ballot measures he felt they should remember to vote on.
"Don't forget, this isn't just about dumping Trump," Laird, of Santa Cruz, said. "This is about the ballot measures and local offices and the things where people will make decisions and money is appropriated. So make sure you vote, make sure tell everybody about it, make sure that they don't get so tired they don't vote appropriately on the 17 propositions."
Marina Mayor Bruce Delgado wrapped a "living necklace" — his rescue 25-year-old pet gopher snake Rosco — around the necks of willing picnic attendees while a Donald Trump pinata was batted around with soft foam noodles by children nearby. Delgado said many people get caught up in thinking of Labor Day as a holiday for play.[9]
Panetta connection
Unite Here Local 483 September 5, 2016
From Left to Right, Hector Azpilcueta, Robert Chacanaca, Jimmy Panetta, candidate for USA Representative, CA District 20, Robert Chacanaca, CLC president, Sergio Rangel, Local 483 president and David Kong.
References
Template:Reflist Template:Endorsers of the Conference on Perspectives for Democracy and Socialism in the 90s