Ricardo Muñoz
Jump to navigation
Jump to search

Template:TOCnestleft Ricardo "Rick" Munoz is a Chicago Alderman. he was appointed to the position by Mayor Richard Daley in 1993.
Remembering Ed Sadlowski
John Bachtell July 27, 2018 ·
A packed house celebrating the life of this "larger than life" working class champion, furnace of justice and steelworker leader Ed Sadlowski. Lots of laughter, tears and inspiration from family, friends and comrades. In the immortal words of Mother Jones, "Pray for the dead, fight like hell for the living." — with Clem Balanoff, Sue Sadlowski Garza, Moises Zavala, Scott Marshall, Ricardo Munoz, Tom Shepherd, Roberta Wood and Ed Sadlowski, Jr. in Chicago, Illinois.
2001 People's Weekly World Banquet
Excitement filled the House of Fortune restaurant in Chinatown here as Donna DeWitt, president of the South Carolina AFL-CIO, addressed the annual People's Weekly World banquet Nov. 18. The banquet raised $8,000 for the People's Weekly World fund drive.
The banquet presented its annual "Chris Hani/Rudy Lozano Awards" to three distinguished Chicagoans. Alderman Ricardo Munoz, a Mexican-American member of the Chicago City Council, was honored for his work in the fight for a living wage ordinance and for a new high school for his largely Mexican-American ward.
In his remarks, Munoz denounced the anti-worker trend of the city, state and federal governments. "In the country we have a president who wants to bail out corporations and leave workers hungry and without a job."
The second award recipient, Bernice Bild, has a long, distinguished resume as a fighter for social justice and peace, and has been the chief source of energy and inspiration behind Chicago Jobs with Justice's Committee for New Priorities.
Rev. Dr. Marshall Elijah Hatch, pastor of the New Mount Pilgrim Missionary Baptist Church and coordinator of ministry for the Rainbow/PUSH Coalition, has been a major figure in the movements against police brutality and for housing, among other struggles.[1]
Committees of Correspondence connection
Rick Munoz also had ties to Communist Party USA splinter group Committees of Correspondence.
According to Chicago DSA's New Ground of September 1994[2];
"Over 500 delegates and observers (including 140 from Chicago) attended the founding convention of the Committees of Correspondence (CoC) held here in Chicago in July.
New Ground reported that speakers…included Charles Nqukula, General Secretary of the South African Communist Party, Dulce Maria Pereira, a senatorial candidate of the Workers Party of Brazil, Angela Davis of CoC, Andre Brie of the Party of Democratic Socialism of Germany (a revamp of the old East German Communist Party). Guests during the Convention included Cook County Commissioner Danny Davis, Chicago Aldermen Helen Shiller and Rick Munoz, a representative of the Green Left Weekly of Australia and a representative of the Cuban Interest Section."
In 1994 Ricardo Munoz, Alderman, was listed on a "Membership, Subscription and Mailing List" for the Chicago Committees of Correspondence, an offshoot of the Communist Party USA[3]
On Oct 18 2003, at Chicago's Lutheran School of Theology, Alderman Ricardo Munoz and two Committees of Correspondence members Ronelle Mustin & Ted Pearson spoke on Multi-Racial unity:Key to changing the Bush regime in 2004". The event was sponsored by the National Alliance Against Racist & Political Repression[4].
Immigration activism
On August 31, 1996, several Illinois Latino political leaders including State Senators Miguel del Valle, Jesus Garcia, and Congressman Luis Gutierrez and Alderman Rick Munoz held a press conference in Chicago to condemn, what they determined was "bad faith" on the part of the INS, over immigration raids, and citizenship applications.[5]
Anti Iraq War activism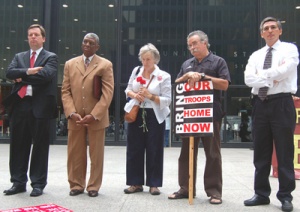 Supporting Barack Obama
In 2008 Rick Munoz, was an Illinois delegate for Obama at the Democratic Party Convention in Denver.
Lozano tribute
About 250 family, friends, colleagues and inspired young activists who gathered at the University of Illinois at Chicago June 2008, 25 years after Rudy Lozano's murder at age 31, to celebrate his short but influential life.
Several speakers, including former state senator Jesus Garcia and Ald. Ricardo Munoz (22nd), credited Lozano with fighting for improved education, labor reform and minority representation in city government. Many said he was a crucial ambassador in forging a relationship between Latino and black voters that helped elect Harold Washington as the city's first black mayor in 1983. [6]
Endorsed Communist Party affiliate's State Rep. run
On June 25, 2011, Communist Party USA affiliate Rudy Lozano, Jr. announced his second bid for State Representative, for the 21st District.[7]
Lozano's listed endorsers were;
Communist assistant
Living and working in the Little Village Community for a number of years, Abdul-Aziz Hassan, in 2015, now works in the 22 ward as the assistant to Alderman Ricardo Munoz.
Chicano movement
The 40th Anniversary Commemoration Committee of the Chicano Moratoriums was formed in the summer 2009 by the Chair of the National Chicano Moratorium Committee of August 29, 1970 along with two independent Chicano Movement historians whom although not of the baby boomer generation, have become inspired by the Movimiento. The organization posted a list of significant "Chicano movement" activists on its website which included Ricardo Muñoz.[9]
Latino Leadership Council
Two high-profile Chicago Hispanic officials are launching a new political action committee designed to help political candidates and highlight issues important to Latinos.
Incoming U.S. Rep. Jesus "Chuy" Garcia and the man he's replacing in Congress, Luis Gutierrez, announced the new organization November 24 2018, with business people and young elected officials taking part, Gutierrez said.
"We want to create opportunities for people, both in politics and business, by making sure everybody knows the buying power of Hispanics, the entrepreneurial spirit of Hispanics, and that Hispanic representation matches that, which hasn't always been the case," he said.
Garcia said the Latino Leadership Council sprang out of discussions about how to build on higher voter turnout in the Hispanic community in recent elections that has been spurred in part by opposition to President Donald Trump.
"We need to take advantage of this enthusiasm," Garcia said. "What we lack in the community, and what we hope to instill, is a culture of giving, to candidates, potentially to ballot initiatives that are important to the Hispanic community."
The group will raise money and use it to back political candidates who will tackle problems important to Hispanics, such as immigration issues, neighborhood gentrification and income inequality, Gutierrez said.
Chicago's history is full of examples of Latino political power centers, from the now-defunct Hispanic Democratic Organization allied with Mayor Richard M. Daley to onetime Cook County Democratic Party chairman Joe Berrios' Northwest Side Organization.
Gutierrez said he sees this new organization less as a progressive answer to those groups than as a public policy board. It will contribute money to candidates, he said, but also seek to bring attention to Latinos' entrepreneurship and financial heft.
"We want to elect people, but also educate people about our social and economic contributions," Gutierrez said.
But Garcia said the organization also will be seeking specifically to build on momentum around progressive positions. "We recognize progressive values play an important part in the higher turnout," he said.
Also part of the group: Alds. George Cardenas, Danny Solis, Rick Munoz, Gil Villegas and Joe Moreno, as well as state Rep. Celina Villanueva and two state lawmakers who will be sworn in next year.[10]
References