Richard Rorty
Jump to navigation
Jump to search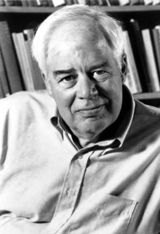 Template:TOCnestleft Richard Rorty (1931-2007) was a leading member of the Democratic Socialists of America Religion & Socialism Commission.
In the early 1980s, he left his professorship at Princeton for the University of Virginia; upon retiring, in 1998, he accepted a five-year appointment at Stanford.
In 1981, he was awarded a MacArthur Foundation "genius" award. It was around that time that he emerged as one of those "all-purpose intellectuals … ready to offer a view on pretty much anything" that he extolled in his book "Consequences of Pragmatism" (1982).
Campaign for America's Future
In 1996 Richard Rorty, University of Virginia was one of the original 130 founders of Campaign for America's Future.[1]
Speaking with Bernardine Dohrn
Richard Rorty and former Weather Underground Organization terrorist Bernardine Dohrn spoke together at a public gathering sponsored by The Center for Public Intellectuals & the University of Illinois-Chicago, April 19th-20th, 2002, at the Chicago, Illini Union; Bill Ayers and Barack Obama shared another panel at the same event.
"Intellectuals: Who Needs Them?
Panel I. Why Do Ideas Matter?
References
Template:Reflist Template:Campaign for America's Future co-founders