Richard Kim
Jump to navigation
Jump to search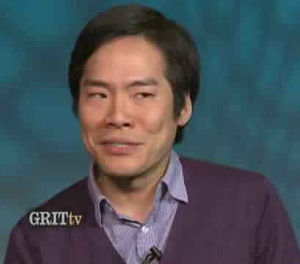 Template:TOCnestleft Richard Kim
Social Text
Kim is listed among the editorial collective of Social Text, a journal published by Duke University Press that covers social and cultural phenomena, focusing attention on gender, sexuality, race, and environmental theories.[1]
JournoList
Richard Kim, of The Nation, was an identified member of JournoList - an email group of approximately 400 "progressive" and socialist journalists, academics and "new media" activists.
JournoList members reportedly coordinated their messages in favor of Barack Obama and the Democrats, and against Sarah Palin and the Republican Party. JournoList was founded in 2007 and was closed down in early 2010.[2]
Progressive Democrats of America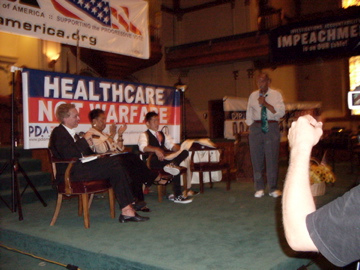 On August 25, 2008, Richard Kim spoke alongside Rep. Barbara Lee and Rep. John Conyers, Jr. on a panel about tackling the big issues of universal health care and AIDS. John Nichols of The Nation moderated. The panel was part of the week-long series of events sponsored by the Progressive Democrats of America.[3]
The Nation
In 2009 Richard Kim was listed as Senior editor of The Nation[4].
Campaign for Peace and Democracy
Kim is listed as an endorser of the Campaign for Peace and Democracy, as of March 15, 2010.[5]
External links
References