Richard Gottfried
Jump to navigation
Jump to search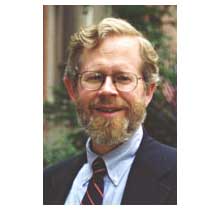 Richard Gottfried is a State Assembly member from New York representing Assembly District 75. He was born in New York City on May 16, 1947 and lives in Manhattan with his wife, Louise, a nursery school teacher. Their son Michael and his wife have a daughter. [1]
Education
He is a graduate of Stuyvesant High School, Cornell University (BA, 1968), and Columbia Law School (JD, 1973). He is a lawyer, but does not maintain a private practice. He works full time as a legislator.[2]
Affiliations
He is a fellow of the New York Academy of Medicine, and a member of the American Public Health Association, the New York Civil Liberties Union, the Association of the Bar of the City of New York, the Art Students League, and the China Institute.[3]
New York Legislature
Gottfried was first elected to the Assembly in 1970, at the age of 23, while a student at Columbia Law School. He represents the 75th Assembly District, covering Chelsea, Clinton, Murray Hill, Midtown and part of the Lincoln Center area in Manhattan. He is chair of the Assembly Health Committee. He is a state health policy-maker not only in New York but also nationally. Examples of his legislative work include: the Prenatal Care Assistance Program for low income women; the Child Health Plus Program, which allows low- and moderate-income parents to get free or low-cost health insurance for their children; the Physician Profiling Law, which gives patients access to information about a doctor's record; Family Health Plus, which provides free health coverage for low-income adults; the Health Care Proxy Law, which allows people to designate an agent to make health care decisions for them if they lose decision-making capacity; simplification of enrollment in publicly-financed programs (such as Medicaid); and the HIV Testing and Confidentiality Law.
Among other bills he sponsors are: "Right to Marry," to allow same-sex couples to marry; Family Health Care Decision Making, to allow family members to make health care decisions when a person is incapacitated and has not filled out a health care proxy; the Gender Non-Discrimination Act (GENDA), to prohibit discrimination based on gender identity (transgender); and the bill to legalize the use of medical marijuana. He was the sponsor of the 1998 Hudson River Park law that establishes the park and protects the River and the waterfront for all New Yorkers. He sponsored the legislation that created the Javits Convention Center and the recent law that expanded it.
Gottfried is a member of the Assembly Majority Steering Committee and the committees on Rules and Higher Education, as well as Health. He is head of the Manhattan Assembly Delegation.
He is a leading advocate in the Legislature for civil liberties, reproductive freedom and gay rights. He has been repeatedly named to the New York Civil Liberties Union's Honor Roll. He was named "Environmental Legislator of the Year" by the Environmental Advocates, and has been honored by the Family Planning Advocates three times. Mr. Gottfried was the author of legislation to provide legal services for the disabled, strengthen the criminal laws against hazardous waste violators, provide health insurance coverage for midwife services, strengthen Small Claims Court, prevent illegal evictions, and reform the J-51 tax exemption program. Mr. Gottfried was a pioneer in enacting legislation to recognize and protect the rights of crime victims. He was an architect of the 1978 Omnibus Crime Act and wrote laws to reform the grand jury system, strengthen the rape laws and decriminalize marijuana. He drafted the Juvenile Justice Reform Act of 1976 and sponsored revisions of the laws on foster care, adoption, and child abuse. He previously served as Deputy Majority Leader; Assistant Majority Leader; chair of the Assembly committees on Codes (covering the criminal justice system), and Children and Families; and chair of the Assembly task forces on the Homeless, Campaign Finance Reform, and Crime Victims.[4]
History with the Communist Party
As a high school student Gottfried did a term paper on the history of the Communist Party USA paper, the Daily Worker for a journalism class. He came to the party office in New York to do research, where he was introduced to Gus Hall.
PWW citations
On November 4, 1999 Gottfried presented State Assembly citations to four honorees, Iris Baez, Ron Daniels, Elizabeth Hall and Bobbie Rabinowitz, at the Peoples Weekly World 75th anniversary celebrations at the Henry Winston Unity Auditorium in New York.
Said Gottfried;
What means so much about the PWW is there are an awful lot of people who ought to understand more than they do about the struggle we are involved in.They don't understand the fight against corporate power and the fight for the people is the same fight, whether you talk about education, housing, or healthcare." [5]
Bassett, Kryzak, Gale fundraiser
On May 7 1994, the New York State Communist Party held a fundraising banquet to honor three Party activists Ted Bassett, Rose Kryzak and Mary Gale. Grace Bassett accepted the award on behalf of Ted Bassett. Almost 3,000 was contributed in honor of the three.
New York District chair John Bachtell MCd the event. Communist Party USA leader Gus Hall was keynote speaker while Maria Ramos introduced the honorees. Dorothy Burnham reminisced about her work with Bassett. Etta Glaser spoke of helping to organize the 1963 March on Washington with Ted Bassett.
Kryzak became a Party organizer in 1940. Esther Brall, who worked with Kryzak for years, recalled her work as chair of the New York Committee to Aid the Families of Smith Act Victims.
Richard Gottfried, chairman of the New York Assembly Committee on Health sent a letter congratulating Gale and Kryzak on their "many years of tireless effort" they had given to "the fight for peace and social justice...Your energy, spirit, commitment and cheer" had spurred "countless others in many struggles and helped win important victories".[6]
Paul Robeson celebration
On May 31 1998 the Peoples Weekly World held a Paul Robeson birth centennial celebration in New York, at the Henry Winston Auditorium.
Attendees included;
Tributes came from ;
Tom Duane authored a City Council proclamation praising Robeson's lifelong fight for a "world at peace, free of racism, inequality and for unity"...and his fight against the erosion of domestic freedom of expression and fanatical anti-communism....Paul Robeson has become a model and an inspiration to all of us..."
Richard Gottfried, presented a resolution from the New York State assembly honoring Robeson. Democrat David Paterson introduced the resolution in the State Senate. Republican John Marchi and Democrats Richard Gottfried and Roger Green, introduced it in the State Assembly.[7]
2000 PWW award luncheon
On October 22, 2000 the Peoples Weekly World held its 4th annual celebration luncheon in New York, at the Henry Winston Auditorium.
Awardees were;[8]
Speakers included City Councilmembers Bill Perkins and Christine Quinn, Assemblymember Richard Gottfried, State Senator Tom Duane, Larry Moskowitz of the Communist Party USA and Working Families Party and Elena Mora for the Communist Party.
US Rep. Charles Rangel sent greetings and State Senator Eric Schneiderman sent a letter of commendation to the honorees.[9]
Communist history event
On March 23, 2007, "people jammed in to sit on folding chairs or stand shoulder-to-shoulder and listen to speakers tell of the Communist Party USA's contributions to American labor and democratic rights". The crowd studied display cases full of photos, buttons, leaflets and letters from the 2,000 boxes of archives donated by the Communist Party to New York University's Tamiment Library, which specializes in left and labor history.
The presence of dozens of party and Young Communist League members in the crowd indicated that the Communist Party continues to be an important and growing part of the American political scene.
Speakers included, Tamiment Library director Michael Nash, Committees of Correspondence leader Leslie Cagan, a leader of United for Peace and Justice, Rutgers University professor and CPUSA member Norman Markowitz, Steve Kramer, executive vice president of Service Employees Union Local 1199, New York State Sen. Bill Perkins, New York State Assemblyman Richard Gottfried, CPUSA Executive Vice Chair Jarvis Tyner , American Communist History editor Daniel Leab , University of Houston professor Gerald Horne and CPUSA leader Teresa Albano
New York State Assemblyman Richard Gottfried spoke humorously of representing a district that includes Manhattan's Chelsea neighborhood where the Communist Party has its offices.
"Is Estelle Katz here?" Gottfried asked, looking for the well-known Chelsea retiree and Communist peace activist. "My district may be the most unique in the nation where the 'red-baitees' out-number the 'red-baiters,'" he said.[10]
Endorsed the PWW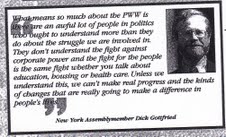 Richard Gottfried made a personal endorsement of the Communist Party USA's People's World of June 2, 2007, on page 2 of the publication.
On Estelle Katz
When Estelle Katz, a member of both the Communist Party USA and the Chelsea Reform Democratic Club, died in November 2012, fellow club member Richard Gottfried said this of her;
"Estelle Katz worked with the confidence of someone who fervently believed there is a strong current in history towards social justice,"... "She once said to me, 'If you're a Marxist, you can never be a pessimist.' It was inspiring to have her among my constituents. I miss her." [11]
DSA "Socialized medicine" forum
The New York City Democratic Socialists of America local's most successful event in 2008 was a forum called "Socialized Medicine? You Bet!" at Judson Memorial Church, with NYS Assembly Dean and Health Committee chair Dick Gottfried and DSAers Naomi Zauderer of the New York Professional Nurses Union, Jeff Gold of the Health Care for All Campaign, and, from the Midwest Academy, "organizing legend" Steve Max. The local has joined the campaign against the privatization of two health insurance programs (GHI and HIP) that serve 93% of city workers and retirees as well as other New Yorkers. They held a second forum on that issue with YDS and the N.Y. chapters of Democracy for America and Progressive Democrats of America. [12]
New York City honors Medicares 50th Birthday
July 30, 2015 marked the 50th anniversary of Medicare and Medicaid which were enacted in 1965 during the Lyndon Johnson administration. Various activities around the country celebrated these remarkable programs and called for defending, improving and expanding them and Social Security
In New York City an uplifting celebration at the Professional Staff Congress (City University staff) union hall started off the day's activities that included Metro NY Committees of Correspondence for Democracy and Socialism members.
Several elected officials spoke, including Rep. Nydia Velazquez (NY-7th CD), NY State Assembly Health Committee Chair Richard Gottfried, NYC Public Advocate Letitia James and a representative of Congressman Joseph Crowley. They were joined by speakers from several unions (SEIU 1199, Doctors Council SEIU, Committee of Interns and Residents/SEIU, Professional Staff Congress, NY State Nurses Association, etc.), and advocacy organizations including Children's Defense Fund, Medicare Rights Center, Physicians for a National Health Program, Metro Health Care for All, AARP and NY Statewide Senior Action Council.[13]
Albany rent control arrests
June 3, 2015 ALBANY, N.Y. (NEWS 10) - The New York State Police arrested dozens of people, including a few lawmakers, at the Capitol Wednesday afternoon. Protesters blocked the entrance to the Hall of Governors and refused to move. They were protesting rent control regulations. State Police arrested 55 people for Disorderly Conduct. According to police, three Assembly members, three Senators, and three New York City council members were arrested.
Senators Bill Perkins, Adriano Espaillat, and Brad Holyman, as well as Assembly members Richard Gottfried, Rodneyse Bichotte, and Maritza Davila-Amador were among the lawmakers charged.
Everyone who was arrested was issued appearance tickets for the City of Albany County split among June 10, June 11 and June 12.
The following were arrested, according to NYSP:
People's Climate March endorsements
According to their website:[15]
"Here are some of the leading artists, athletes and influencers helping to spread the word about the People's Climate March, including Richard Gottfried."
References