Richard Barnet
From KeyWiki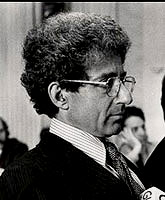 Richard J. Barnet was a founder of the Institute for Policy Studies. He died in Washington DC in 2004, age 75.
Beginnings
Richard Jackson Barnet was born in Boston and received his undergraduate degree from Harvard University in 1951 and his law degree, also from Harvard, in 1954. After two years in the U.S. Army, he practiced law in Boston. In 1959, he became a fellow at Harvard's Russian Research Center. He joined the State Department in 1961[1].
Birth of IPS
Richard Barnet was 33 when he and Marcus Raskin, then 30, founded the institute for policy Studies in 1963. Both had recently departed from the Kennedy administration.
According to Raskin, they met when they were in a State Department meeting chaired by John J. McCloy, an assistant secretary of war during World War II. Also at the meeting were an assortment of generals and prominent representatives of the military-industrial complex. The topic was disarmament.
"If this group cannot bring about disarmament, then no one can," McCloy said.
The two young men both laughed, spontaneously, at the incongruity of the remark, and a friendship was struck.
Deciding that they preferred "speaking truth to power" from outside the citadels of authority, they left the government and founded the think tank at a time when such institutions were relatively rare.
"We both believed that the major questions of government are not administrative but moral questions," Raskin said[2].
IPS service
Barnet was co-director of the Institute for Policy Studies from 1963 to 1978, then a senior fellow and a distinguished fellow from 1978 until his retirement in 1998. The Institute's director, John Cavanagh, said that during that time, Barnet produced 15 books -- about one every four years[3].
Religious belief
Richard Barnet was associated for many years with the Church of the Savior and its affiliate, Church of the Servant Jesus[4].
Mr. Barnet said his faith informed his views on war and peace, civil rights, national security and other issues.
Citizens Party
In 1979 Stanley Weiss, an Institute for Policy Studies (IPS) Trustee was a founding member[5]of the IPS connected Citizens Party. Other founders included IPS co-founder and senior fellow Richard Barnet, Adam Hochschild of Mother Jones magazine, Archibald Gillies, director of the John Hay Whitney Foundation, Julian Bond, a trustee of the IPS spin-off Institute for Southern Studies, Chicago activist organizer Don Rose, campaign manager and adviser to Chicago Mayor Jane Byrne, and Quentin Young, the Director of Medicine at Cook County Hospital, Chicago.
Cuba normalization
After congressman George Crockett returned from Cuba in September 1981, where according to Prensa Latina he expressed approval of [Castro's] statements on the situation in Central America and the U.S. responsibility for the current crisis in El Salvador, he joined with Richard Barnet, Robert Pastor and others in a Capitol Hill symposium "The US and Cuba:Prospects for the '80s", sponsored by the Center for Cuban Studies, an organization backed by the Rubin Foundation. The seminar was convened to drum up support for normalization of relations with Cuba.[6]
Advising Presidential hopefuls
During the 1984 Democratic primaries, Institute for Policy Studies founders Marcus Raskin and Richard Barnet advised George McGovern and Sen. Alan Cranston (D-Calif.), and IPS fellow Saul Landau, an Emmy-winning filmmaker, shot some of McGovern's spots.[7]
Working Together conference
In February 1986, the Youth section of Democratic Socialists of America sponsored a conference at Columbia University, "Working Together:Beyond Single Issue Politics".
Barbara Ehrenreich, Michael Harrington, Hulbert James, Richard Barnet and Maggie Kuhn spoke at this conference for student activists.[8]
Writing
Barnet's books include "Global Reach" (1974); "The Giants" (1977), an assessment of Soviet-American relations; a book on the environmental movement called "Lean Years" (1980); and, with Cavanagh, "Global Dreams" (1994), a portrait of five "imperial corporations" and their influence over world affairs.
In addition to his frequent contributions to the New Yorker, he wrote for Harper's Magazine, The Nation, Sojourners and numerous other publications[9].
30th Anniversary speaker
In October 2, 1993, the Institute for Policy Studies celebrated its 30th anniversary by holding a conference "Progressive Thought in the Post WWII Era" featuring discussions about a wide range of public policy issues. The panelists discussed a progressive approach to public policy issues since World War II. A key part of the conference was a panel consisting of Garry Wills, Northwestern University history Professor; Eleanor Holmes Norton, member of the House of Representatives; Marian Kramer, President of the National Welfare Rights Union. It was moderated by IPS founder Richard Barnet.[10]
"Eliminating Corporate Welfare"
10/10 95 - "Eliminating Corporate Welfare" with Rep. Nydia Velazquez (D-NY), Richard Barnet (Institute for Policy Studies), Chuck Collins (Share The Wealth Project). Learning Alliance.[11]
References