Restore the Fourth
From KeyWiki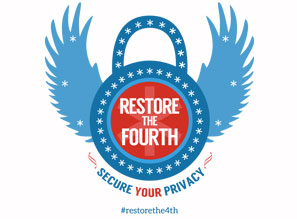 Restore the Fourth
'Restore the Fourth' Rally in D.C.
On July 4th, 2013, representatives of the Council on American-Islamic Relations, the nation's largest Muslim civil rights and advocacy organization, joined "concerned citizens" in Washington, D.C., to demand the protection of Fourth Amendment rights against unreasonable searches and seizures.
The event is part of a nationwide movement called Restore the Fourth. Rallies will take place in 81 cities and towns across the country to voice concerns about recent revelations of domestic spying.
Location: McPherson Square, Washington, D.C. Time: Noon - 2 p.m.
Endorsed by: StopWatching.Us, Demand Progress, Bill of Rights Defense Committee, Institute for Policy Studies, National Lawyers Guild, Get FISA Right, Washington Peace Center, Montgomery County Civil Rights Commission, Defending Dissent, Council on American-Islamic Relations, CAIR-MD.
Speakers: Senator Rand Paul (R-KY, recorded video); Governor Gary Johnson (L, recorded video); Congressman Alan Grayson (D-FL, recorded video); Carla Howell, Libertarian Party President; Thomas Drake, former senior executive of the NSA and whistleblower; Craig Aaron, president and CEO of Free Press; Robert McCaw, CAIR Government Affairs Manager; representatives of CAIR-MD.[1]
Resolution to Honor Civil Rights Hero Fred Korematsu
February 6, 2017, Senators Ron Wyden and Jeff Merkley introduced a resolution honoring Fred Korematsu, who challenged the internment of Japanese Americans.
Wyden and Merkley said the resolution honoring Korematsu's work and advocacy of the civil rights and liberties of all people is timely, given the president's executive order establishing a Muslim ban.
"Fred Korematsu's brave advocacy for the civil rights of 120,000 Japanese Americans remains a timeless example of courage that resonates today and every day," Wyden said. "I am committed to fighting for the continued advance of civil rights he spent his life defending, and against those who would betray both the law and our history to impose an unconstitutional religious test on immigrants."
"Heroes like Fred Korematsu demonstrate the importance of fighting fiercely for our core American values, even when it is hard," said Merkley. "His story reminds us that the time is always right to stand up for what is right. We must keep fighting for the freedom and equality that define our nation, and ensure that the Statue of Liberty continues to stand as a beacon of hope around the world."
The resolution is cosponsored by Senators Mazie Hirono, Bernie Sanders, Cory Booker, Brian Schatz, Sherrod Brown, Sheldon Whitehouse, Maria Cantwell, Elizabeth Warren, Richard Blumenthal, Tim Kaine , Patty Murray, Chris Coons, and Dick Durbin.
A broad coalition of advocacy organizations support the resolution, including the Fred T. Korematsu Institute, the Bill of Rights Defense Committee & Defending Dissent Foundation, Demand Progress, Free Press Action Fund, Restore the Fourth, The Yemen Peace Project, and Fight for the Future.[2]
References