Renee Carter
From KeyWiki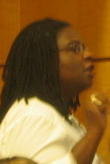 Renee Yvonne Carter is an internist in Richmond, Virginia. She received her medical degree from University of South Carolina School of Medicine and has been in practice for 24 years.
CCDS leader
Rennee Carter is a National Executive Committee member of[1] of Committees of Correspondence for Democracy and Socialism.
CCDS Co-Chair
Renee Carter, Virginia, was elected[2]one of four CCDS co-chairs at the party's national conference July 25 2009 in San Francisco.
IPS Connection
On Monday, October 12, 2009, David Schwartzman gave a presentation at the Institute for Policy Studies in Washington, DC on the science and politics of catastrophic climate change. The event was sponsored by the Metro DC chapter of Committees of Correspondence for Democracy and Socialism and the DC Metro Science for the People.
Renee Carter chaired the meeting which was attended by over 20 mostly activists and representatives of environmental and progressive organizations. After David's in-depth, but clear explanation of the complex science of both climate change and how the catastrophic results can be prevented, Ted Glick of CCAN spoke about the latest environmental legislation and the organizing of the Chesapeake Climate Action Network, a major environmental group in the Washington area.
Walter Teague discussed the political and strategic issues of prevention of C3 and Renee Carter described the political work and approach of CCDS. Valuable contacts both new and renewed were made and the impassioned discussion continued for over two hours.
Presented as an IPS/SALSA CLASS, David Schwartzman's address on the threat of catastrophic climate change ("C3") that now confronts all humanity, explored the questions: "What are the biggest obstacles to prevention? Why this challenge is also an unprecedented opportunity to end the global rule of capital. Why is it critical to take seriously the sciences of climatology and thermodynamics for C3 prevention and to construct the other world that is possible? And why 21st Century Socialism will either be Ecosocialism or simply will remain the narrow vision of political sects?" [3]
References