Raquel Lavina
Jump to navigation
Jump to search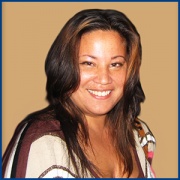 Raquel Lavina...is the Program Director at Social Justice Leadership. During the last decade, she has focused on using her experience to help organizations develop efficient and healthy systems and relationships guided by transformative values, in the hopes that their internal relationships strengthen their external impact. She served as the National Program Director of the Ella Baker Center for Human Rights, supervising multiple staff in 3 cities; the Interim Director of the Youth Empowerment Center, which housed 5 youth groups in Oakland, CA including SOUL, the School of Unity and Liberation; and as the Interim Executive Director of FIERCE, a nationally recognized LGBT youth organization.
Advisory Board
The Wildfire Project is grateful to have the support of an esteemed board of writers, thought leaders, organizers, trainers, activists, artists and facilitators. The hundreds of years of experience between them helps to guide Wildfire's direction, strategy and practices.
Brooke Lehman, Carinne Luck, Clayton Thomas Muller, Farhad Ebrahimi, George Lakey, Harmony Goldberg, Jonathan Smucker, Naomi Klein, Rafael Navar, Raj Patel, Raquel Lavina, Sumitra Rajkumar, Willie Baptist.
Center for Political Education
In 2005 San Francisco's Center for Political Education hosted a forum[1]"Reclaiming Revolution: Evaluating the Experience of Standing Together to Organize a Revolutionary Movement (STORM)" with former STORM members Harmony Goldberg and Raquel Lavina.
A look at lessons learned from the organization STORM, a revolutionary organization in the Bay Area in the 90s.
"All that is Solid Melts Into Air"
Brecht Forum, July 26th, 2012 OPENING NIGHT OF 3-DAY INTENSIVE SEMINAR "All that is Solid Melts Into Air" Between the 501c-3 & Zuccotti The Question of Political Organization in the US Today.
Join us for the opening of our 39th annual Marxist intensive as we continue the conversation with all of you!
Speakers Kali Akuno, Raquel Lavina, Meaghan Linick, Shaun Lin, Eric Odell, Chloe Tribich, Max Uhlenbeck & Helena Wong (With Special Performance by Desis Rising Up and Moving Youth).[2]
LeftRoots hangout
LeftRoots HangOut - Transformation of Self & Society with Raquel Lavina, Staci Kay Haines & Spenta Kandawalla (2013.11.08).[3]
References