Raheem Hanifa
Jump to navigation
Jump to search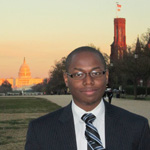 Template:TOCnestleft Raheem Hanifa received his Master of Public Policy degree at University of California-Berkeley in 2014 and is currently an Analyst at the U.S. Government Accountability Office.
Background
Raheem Hanifa "has worked as the Outreach Coordinator for the Council on American Islamic Relations-Michigan (CAIR-MI). He has been responsible for CAIR-MI workshops and trainings, including the PITFA workshop (Presenting Islam to Fellow Americans), Speaker's Bureau Emerging Leadership trainings, coalition building and political outreach. Raheem graduated with a B.A. in Political Science and Sociology from Michigan State University and has experience working on political and social grassroots campaigns.
Raheem interned with the Congressional Research Service (CRS), the official think-tank of Congress, in Washington DC.
In addition to taking policy courses with leading academics and former high ranking government officials Raheem worked closely with former U.S. Labor Secretary Robert Reich as a Graduate Student Instructor (GSI) teaching two sections of Robert Reich's "Wealth & Poverty" course.
As a campaign organizer and Michigan House of Representatives intern, Raheem has extensive advocacy and political organizing experience. He has worked as an assistant director for political and social grassroots campaigns across the country. Raheem has run campaign offices in Nevada, New Hampshire, and throughout Michigan. As an intern within the House Communications office for the Michigan House of Representatives, Raheem worked in different areas pertaining to media and communications. He assisted Michigan House of Representative staff with press releases, television broadcasting, and research."[1]
Islamic Scholarship Fund
Raheem Hanifa was a recipient of the Islamic Scholarship Fund in 2012.
CAIR Michigan 2010 Banquet
The 2010 Michigan CAIR gala, was held on March 31, with about "1,000 attendees including many powerful audience members from the business, media, and political community". Present at this year's fundraiser was Nihad Awad, who founded CAIR and set it up as a not-for-profit franchise operation of sorts, with now branch offices across the country to advocate for Muslims.
But the real jewels in the crown of the 2010 CAIR Michigan fundraiser were the civil rights workers who for sixty years have been deeply involved at their own personal peril with the struggle for civil rights in the USA.
Jesse Jackson , the keynote speaker, was one of those. But there was also Rep. John Conyers (D-MI-14), whom Jackson described as "perhaps the only man who was ever endorsed by Martin Luther King." There was Rep. John Dingell (D-MI-15). There were many others, including the strong gubernatorial candidate Virg Bernero (currently Lansing's mayor).
Other attendees included Wendell Anthony, Imam and CAIR Michigan Executive Director Dawud Walid, CAIR Michigan Attorney Lena Masri, Ron Scott, Raheem Hanifa, and Jukaku Tayeb of CAIR Michigan.[2]
References