Rachel LaForest
From KeyWiki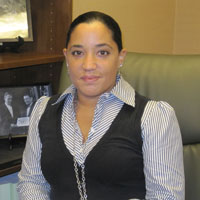 Rachel LaForest is Executive Director at Retail Action Project. Former Director of Organizing at TWU Local 100.
Rachel LaForest was the Executive Director of Right to the City Alliance since May 2011. During her time at the Alliance, the membership has doubled, movement-building work has expanded and the organization has launched a highly successful national campaign, Homes For All. Rachel LaForest joined the Alliance after eight years of working with progressive labor, directing the Organizing and Public Policy departments of the Transport Workers Union (TWU) Local 100 and Actors Equity Association (AEA). She organized and led multiple mobilizations of thousands of TWU members to City Hall and the state government in Albany; conducted extensive research and designed education and training in public policy for rank-and-file union members and officers; and was one of the lead coordinators of the 2005 New York City transit strike, after which the union leadership was jailed. Prior to her career with TWU and AEA, Rachel LaForest served as Lead Organizer/Co-Campaign Coordinator for Jobs with Justice – New York, building community-labor solidarity organizing joint actions and co-coordinating the campaign that won an increase of $2 per hour in the minimum wage for New York State. She holds a BA from Hunter College/CUNY in Political Science (Black and Puerto Rican Studies) and Education.[1]
SLAM
Circa 1999 Student Liberation Action Movement leaders (included Rachel LaForest and Kai Barrow.[2]
Rachèl LaForest was president of Hunter College's Black Student Union in 1995 and Student Liberation Action Movement's first student government president in 1996. Before leaving Student Liberation Action Movement in 2003, she defended open admissions and worked on SLAM's High School Organizing Program and the Mumia Youth Task Force. She is Director of Organizing for New York City's Transport Workers Union (TWU, Local 100).
Rachèl: I was a red diaper baby. My parents were an interracial couple at a time when that wasn't popular in any way. My mom's parents had been union organizers; both were involved in the Communist Party during the 1920s and '30s. When I was younger, my mom was a tenant organizer. My father participated in one of the first formations of the Communist Party in Haiti. His family was asked to leave the country because of it. I learned that if there were liberation struggles that affected your life, you participated in them no matter what. SLAM was unique because most of the core group came from that kind of background.[3]
Left Forum 2013
Economic Democracy in Action Participants:
Urban redevelopment. From NJ Nets and Atlantic Yards to FreshDirect's Plans to move to the Bronx. Can Gentrification and Corporate Development Benefit the Poor? Sponsored by: The Black Institute, The National Housing Institute/Shelterforce Magazine
Left Forum 2015
Whose City? Our City! Fighting Gentrification in the U.S. & Europe Sponsored by: Rosa Luxemburg Stiftung--New York Office
"The 99% Spring"
Individuals and organizations supporting The 99% Spring, as of April 20, 2012, included Rachel LaForest - Right to the City .[4]
People's Climate March
Christine Cordero September 19, 2014 ·
NYC. I'm in here. So many rockstars. @OurPower contingent alone is about 4,000 folks, 50 buses from all over. Frontlines of Crisis, Forefront of Change.
Frontlines are actually out front becuse it takes roots to weather the storm... #PeoplesClimate #OurPower — with Rachel LaForest, Michael Leon Guerrero, Janet Redman, Ananda Lee Tan, Sara Mersha, Yuki Kidokoro, Sharon Lungo, Shaun Grogan-Brown, Cindy Wiesner, Helena Wong, Marjorie Childress, Samantha Corbin, Joshua Kahn Russell and Nene Igietseme.
WE ONLY WANT THE WORLD
The Occupied Wall Street Journal, June 2, 2013 ·
WE ONLY WANT THE WORLD.
"All the powers of old Europe have entered into a holy alliance to exorcise this spectre: Pope and Tsar, Metternich and Guizot, French Radicals and German police-spies. Where is the party in opposition that has not been decried as communistic by its opponents in power? Where is the opposition that has not hurled back the branding reproach of communism, against the more adv... See More — with Sopo Sofia, Amin Husain, Jenna Pope, Christopher Gunderson, Kazembe Balagun, Jed Brandt, Liam Wright, Mint AltoMints, Doug Greene, Lenina Nadal, Bikkil Sthapit, Brandon Jourdan, Priscilla Grim, Rachel LaForest, Eric Ribellarsi, Justine Ní Thonnaigh, Joe Ramsey, Kali Akuno and Callisto Pishtova.
RTC 2012 staff
Right to the City Alliance September 14, 2012
RTC Staff and Professor David Harvey with his mandatory branding at the La Congress. — with Yasmeen Perez, Lisa Adler, Rachel LaForest, Mark Swier, Lenina Nadal, Luz Schreiber, Lisette Le and David Harvey.
Right to the City connection
Right to the City Alliance January 25, 2013 ·
The city never sleeps. — with Marvin Mitchell, Jessica Klonsky, Ilana Berger, Sofia Quintero, Monse Santana, Max Uhlenbeck, Carmen Pineiro, Luz Schreiber, Carlos J. Serrano, Stuart Ewen, Priscilla Grim, Kelly Anderson, Anna Ortega-Williams, Sonny Singh Brooklynwala, Doyle Canning, Laurie Davidson, Kassia Ringell, Janvieve Williams Comrie, Sasa Garcia, Hank Williams, Rachel LaForest, Yasmeen Perez, Amaka Okechukwu, Christopher Gunderson, Valery Jean, Alexandra Lopez Reitzes, Doug Cunningham, Imani Henry, Kazembe Balagun, Irini Neofotistos, Evan Siegel, Mark Swier, Karen Oh, Heidi Easton Chua Schwa, Lisa Asedillo Pratt, Gilda Haas, Chepe Nangara, Maribel Cordero-Garcia, Crecensio Morales, Taleigh Bicicleta, Jatnna Ramirez, Orlando Morales, Ismael Nunez, Tania Romero, Vicente Alba-Panama and Fanshen Wong.
National Leading From the Inside Out Alum
Rachel LaForest, Right to the City, was a 2013 Rockwood Leadership Institute National Leading From the Inside Out Alum.[5]
Mapping Socialist Strategies
Mapping Socialist Strategies was convened from August 1-4 in Briarcliff Manor, NY, by the Rosa Luxemburg Stiftung—New York Office. It brang together 100 influential progressives and leftists from across the United States, Canada, and Europe for an "un-conference" on socialist strategies.
The "Advisory Group" consistied of Greg Albo, Laura Flanders, Bill Fletcher, Jr., Rachel LaForest, Sarah Leonard, John Nichols, Frances Fox Piven, Bhaskar Sunkara, Maria Svart, Sean Sweeney, Bill Tabb, and Steve Williams.[6]
Ear to the Ground Project
We would like to express our deep respect and appreciation for everyone who took the time to talk with us, and the organizations that generously hosted us during our travels. Interviews were confidential, but the following people have agreed to have their names listed for this publication:
Most of those listed were connected to Freedom Road Socialist Organization.
Rachel LaForest was among those on the list. [7]
Right to the City
Right to the City is associated with the Freedom Road Socialist Organization.
2011 staff
The Right to the City national staff went through some changes in 2011, and has come out strong. The Alliance was very fortunate to hire an experienced and dynamic organizer, Rachel LaForest, as its new Director of Organizing, while it said farewell to its dedicated Lead Organizer, Marisa Franco. Lisette Le joined RTTC as the new Regional Organizer for Boston. Avi Rosenthal is came on board as the New York City Regional Coordinator and we said goodbye to New York City Organizer Shannon Barber. RTTC bade a fond farewell to Carl Lipscombe, and welcomed Mark Swier as the new Operations Coordinator. Claire Tran remains as our now-veteran RTTC staffer, leading the way as National Organizer for Civic Engagement.[8]
Executive director
As of 2015;[9]
SURJ Accountability Council
The Accountability Council is designed to engage leaders of color who offer feedback and counsel on SURJ's strategy, organizing and political direction.
Showing Up for Racial Justice Accountability Council as of 2015;[10]
Revolutionary Strategies to Beat the Rising Right Wing
Revolutionary Strategies to Beat the Rising Right Wing, was a nationwide conference call organized by Freedom Road Socialist Organization, Sunday October 30, 2016.
What's the nature of this right-wing threat? What has this election cycle changed about the political terrain we're fighting on? How do we need to prepare for whats coming after the election? Hear about these crucial questions from our panel of top political strategists, including Nelini Stamp, Bill Fletcher, Jr., Linda Burnham, and Sendolo Diaminah.
Those invited, on Facebook included Rachel LaForest.[11]
References