R.L. Stephens
From KeyWiki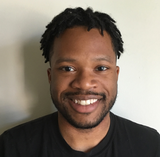 R.L. Stephens is a Chicago activist.
DSA Dank Meme Stash
Democratic Socialists of America Dank Meme Stash was a closed Facebook page affiliated to Democratic Socialists of America.
Members, September 1, 2017 included R.L. Stephens ..
Democratic Left
R.L. Stephens Byran, Texas, was in 2018, Editor-in-Chief of Democratic Left.[1]
NPC candidate
In August 2017 R.L. Stephens stood for election to the Democratic Socialists of America National Political Committee, at the National Convention in Chicago, from Chicago Democratic Socialists of America.[2]
I spent my teenage years in suburban Minnesota, in Michele Bachmann's district. It was the Bush years, so living there was a deeply racist and isolating experience. In high school I was featured on the front page of the biggest newspaper in the state talking about how racism affected my life as a student. I had just graduated from middle school and the article came out my first week in high school. My white classmates were incensed. They ridiculed me and tried to intimidate me. I was 15 and I was afraid. I backed down and I felt ashamed about it. I told myself I'd never back down again. But I couldn't do it alone.
I graduated from college and then law school, all the while committing myself more and more to political work. I was deeply involved in Occupy, my first public attempt at political practice as an adult. That's how I met my fellow DSA Praxis candidate Michael Patterson. It felt good to be in a team, even though the movement collapsed. Knowing that I didn't want to practice law, I tried to get jobs outside my educational background, but to no avail. I found myself working at the Gap. So, I decided to organize. I fumbled around on my own for a while, until I connected with some other groups and pushed a campaign to get scheduling policy changed nationwide. The Gap changed the policy. But, we had no power on the shop floor to actually enforce the change. I had leadership ability, but I didn't actually know how to organize people into a collective force. It was then that I realized that I need to learn more about organizing methods and campaign strategy.
I became a staffer at a union, Unite Here. I had organizing responsibilities, but my main job was strategic campaigning. I threw myself into organizing and research, and we won campaigns. But I wanted something more. I liked the union, but I felt compelled to embrace political organizing beyond the union context, to embrace a wider political struggle. When Trump was elected, the compulsion to act grew stronger. A few months later I quit the union and joined DSA.
I'm running with DSA Praxis (dsapraxis.org) because we want to bring an emphasis on base-building and trust-based organizing relationships to the national level. My teammates are Leslie Driskill, Michael Patterson, Celeste Earley, Allie Cohn, Zac Echola, and Ravi Ahmad.
Power is relational. I realized that if we want to change the world, we're going to have to do it together. There are no heroes and no shortcuts. So I committed to DSA. I began building a training program. I started teaching people basic organizing skills. I created development opportunities for my fellow members. I planned meetings, so many meetings. I've led research trainings, organizer trainings, and recruited a worker from the CWA picket line to come with me and give a talk during DSA's Socialism 101.
At every step, it's about creating leadership opportunities for others so they have the chance to live out their political dreams too. I've seen people I've trained, all of whom are women and people of color, go on to lead mass trainings, and develop DSA programs. I was even able to recruit one of the people I trained to become a salt, an underground organizer at a non-union business. I've also participated in the national training team, which is how I met DSA Praxis candidate Ravi Ahmed and so many other amazing leaders from around the country..[3]
2017-2017 DSA NPC members
Members elected to the Democratic Socialists of America National Political Committee, August 2017;
Chicago DSA Closed Facebook group
This is the official Facebook group for Chicago DSA and its branches (South Side, Northside, and Oak Park)
Members of the Chicago Democratic Socialists of America closed Facebook group, as of April 21, 2017 included R.L. Stephens .[4]
"Wholesome Meme Stash"
Members of the Democratic Socialists of America Wholesome Meme Stash closed Facebook group, accessed November 14, 2017 included R.L. Stephens.[5]
References