Progressive Majority
Jump to navigation
Jump to search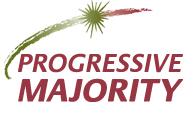 Progressive Majority is a group with the mission of promoting progressives into positions of power. Their tagline is, A Future Worth Fighting For.
Mission
The mission statement of Progressive Majority is found on their website,
Progressive Majority's mission is to elect progressive champions. We accomplish this by identifying and recruiting the best progressive leaders to run for office; coaching and supporting their candidacies by providing strategic message, campaign, and technical support; prioritizing the recruitment and election of candidates of color; and bringing new people into the political process at all levels.[1]
In 2015, longtime partners Wellstone Action (Wellstone) and Progressive Majority announced that Wellstone would assume responsibility for carrying forward Progressive Majority's critical public and political leadership development work. Wellstone is honored to continue the work of the organization that pioneered the field of identifying, recruiting and supporting a new generation of diverse, effective progressive candidates and champions in elected office over the last 13 years.
"Progressive Majority has been our closest partner in our political leadership development work for more than a decade – more so with each passing year," says Ben Goldfarb, Wellstone's Executive Director. "We're so excited by this opportunity to take our partnership to the next level as we ramp up our work to win progressive political power, ensure elected officials and campaigners are truly representative of our communities and that those in office are effectively moving the bold policy agendas we so desperately need. We are humbled by the opportunity to support even more candidates, campaigners and elected leaders who share Paul Wellstone's core belief that 'we all do better when we all do better'."
"This is an exciting moment for our movement," says Progressive Majority founder and President Gloria Totten. "We have a deep, trusting relationship from many years of fighting side by side in this work with Wellstone. Given the challenges we face at the state, local and federal levels, I couldn't be more confident that this is the right time for us to create a single home for comprehensive public and political leadership pipelines – and to take that work to an even greater scale. I'm proud of what we've built and contributed to our movements for justice and equity and am thrilled that our work will continue under Wellstone's leadership."
Founded in 2003 to carry on the legacy of the late Senator Paul Wellstone (D-MN), Wellstone is the progressive movement's largest and most trusted center for training and leadership development with 75,000 alumni and 350 partner organizations in all 50 states and more than 800 alumni elected to office.
Totten will serve as an advisor to Wellstone during the transition of programs and will continue to serve as the President of the Public Leadership Institute, a nonprofit, nonpartisan policy center organized to raise public awareness on key issues of equity and justice.[2]
Target States
Progressive Majority supports the strongest progressives to run for office in the toughest states in the nation.
Our strategy is to fill the political pipeline with vibrant, politically viable candidates who can win at every level of government. This strategy has helped elect 411 progressive champions to office and we have no intention of slowing down.
2012 target states were;[3]
Arizona
Colorado
Michigan
Minnesota
Ohio
Pennsylvania
Virginia
Washington
Wisconsin
Board
Board of Directors as at Jan. 11, 2010:[4]
Progressive Majority Advisory Committee
As of 2003;[5]
References