Progressive Jewish Alliance
From KeyWiki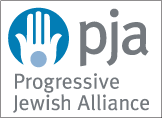 The Progressive Jewish Alliance was founded in 1999 by Jews within Los Angeles. Their aim was to assert an authentic progressive Jewish presence in the campaigns for social justice in Southern California which is home to the nation's second largest Jewish community.[1]
About
The PJA educates, advocates and organizes on issues of peace, equality, diversity and justice, as a progressive voice in the Jewish community and a Jewish voice in the progressive community. They fight for economic justice by educating Jews about their obligation to stand with the working poor, and then organize the Jewish community to join in campaigns to improve working conditions and secure a living wage for low-wage workers. They work to reform the criminal justice system and to promote a more just and humane system of restorative, rather than retributive, justice through a program that trains volunteers to mediate between non-violent juvenile offenders and their victims throughout Los Angeles. They work to promote understanding and tolerance between Muslims and Jews. They also seek to build a vibrant, creative and engaged community through education programs and quarterly holiday events that explore the intersection of art, culture and politics.
With the desire to impact future generations, the PJA has established the two-year Jeremiah Fellowship which trains young Jews to be the next generation of Jewish social justice leaders.[1]
NewGround
NewGround is a joint project of the PJA and the Muslim Public Affairs Council which was launched in February, 2007. The stated mission of the alliance is,
"NewGround provides opportunities for Muslims and Jews of all backgrounds to build honest, authentic relationships with one another, to establish a common commitment to change, and to become a new cadre of leaders who inspire hope in a troubled world."[2]
Personnel
The following were listed as staff and board members as at March 4, 2010:[3]
Staff
Southern California
Northern California
Statewide Board of Directors
Los Angeles Regional Council
Bay Area Regional Council
Founders
References