PowerPAC+
From KeyWiki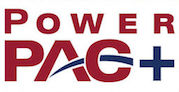 PowerPAC+ is building the political power of the multiracial majority in America.
We work to elect progressive leaders to public office for one simple reason. America's politics should evolve as people of color become the majority.
Since 2004, PowerPAC+ and PowerPAC.org have helped progressive, diverse leaders win election to local, state and federal offices. PowerPAC+ ran the first large-scale independent campaign to support Barack Obama's presidential bid. PowerPAC has powered major social justice movements of our day - defending marriage equality in California, protecting the Latino vote in Arizona, and passing the groundbreaking online voter registration process that has significantly increased participation of voters of color and younger voters.
We concentrate our efforts in states where people of color can change the balance of political power. We've had victories in California, Texas, Ohio, Arizona, New Mexico and Georgia. But we don't stop there. We support social justice champions in strategic races across the country - backing those who make progressive change the centerpiece of their public service. Issues like education, income equality, and immigration are important to the multiracial majority and to the future or our country.[1]
History
Originally called PAC+, PowerPAC+ is a political action committee formed in 2012 to build the political power of America's multiracial majority. It emerged from the groundbreaking work of Vote Hope in 2007-08. At that time, then-Senator Barack Obama was assembling his Presidential campaign and California's primary moved from June to a more influential month, February. "We created Vote Hope, the first super-PAC aimed at supporting Barack Obama's bid for president. Vote Hope was the largest independent effort in the nation to increase voter turnout in communities of color. It drew in $10 million, and expanded to 18 states during the primary season".
After President Obama's election, "we set up a DC office and worked closely with the administration's personnel staff" to build a Diversity Talent Bank that the White House used to identify and hire more than 60 people including Associate Attorney General Tony West. During that same period, many in our network became leaders in non-profits, philanthropy, and government such as Vote Hope fundraiser and former board member Benjamin Jealous who became NAACP president".
In 2009, "we convened" the leadership of the largest civil rights groups in the country and helped execute a media campaign targeting senators who were wavering on the health care reform bill. That effort led to the creation of a coalition of labor, civil rights, and progressive groups who conducted the One Nation Working Together 10/2/10 March on Washington.
Since then, PowerPAC+ has consulted with the leadership of the Democratic Party, organizations and campaigns about how to best build support in the communities of color.
Thanks to our many donors, we have been able to support some of the most exciting leaders to emerge in modern politics. From Hawaii Congresswoman Tulsi Gabbard – a two-time veteran and first Samoan in Congress, to Congressman Mark Takano – the first non-white openly gay member of Congress, to Ohio Minority Whip Nina Turner – who is standing up for voting rights in this important swing state – our group of social justice champions represent an exciting future for American politics.[2]
Santa Monica founding
From the founding of PAC+! This event was hosted in Santa Monica by Beth Broderick, Carol Coote, Nancy Stephens, Sara Nichols, Yolanda (Cookie) Parker, Steve Phillips, Ana Grande, Marcelo Gaete, & Greg Akili. Steve Phillips shares the plans for PAC+, a new national social justice political action committee with chapters in 15 states across the country.
This event was an advance preview of the strategic goals and targeting that PAC+ will be pursuing in 2012 and over the next ten years.[3]
PAC+ Oakland kick-off event
Steve Phillips October 30, 2013 near Oakland, CA ·
At PAC+ Oakland kick-off event. Happy to be in Oaktown!! — with Gloria Totten, Cedric Brown, Jennifer Pae, Aimee Allison and Ludovic Blain.
Mission
PowerPAC+ builds the political power of the "multiracial majority".
Our national network coordinates political giving to foster justice and equality in America. We work to elect social justice champions to public office for one simple reason. When we have a strong voice, America is better.[4]
Modus Operandi
PowerPAC+'s process for electing social justice champions to all levels of government is simple.
We identify the very best candidates. Our political team identifies the most capable and promising leaders representing the multiracial majority and helps them build winning campaign teams.
We pool financial support on behalf of candidates. We have many donors, not mega donors. Our approach encourages everyone - regardless of income - to invest in candidates that work for the multiracial majority. Together, we create a fundraising force that puts millions of dollars into the campaigns of social justice champions.
We get people of color to the polls. We bring polling, research, sophisticated message testing, the latest innovations in data and technology, as well as good old-fashioned voter contact to mobilize millions of voters across the country.
We connect people. PowerPAC+ is a community. We host a variety of events that bring together our community with thought leaders, endorsed candidates, and elected leaders.[5]
Race Will Win the Race conference
PowerPAC+ June 25, 2014 Race Will Win the Race;
Today's the day! #WINin2014 Race Will Win the Race conference is finally here. Check out what's to come and join us on Twitter @PowerPAC_Plus using #WINin2014. — with Stacey Abrams, Cory Booker, Trey Martinez Fischer, Representative Marcia Fudge and Mark Takano in Washington, District of Columbia.[6]
Plus speakers Aimee Allison, Deepak Bhargava, Susan Sandler, Steve Phillips, Ingrid Nava, Andy Wong, Subodh Chandra, Linda Darling-Hammond, Alida Garcia, Julie Martinez Ortega.
Defended Voting Rights in Ohio and Georgia
In 2014 PowerPAC+ partnered with national and local groups Color of Change, Campaign for America's Future, the New Georgia Project and the Ohio Legislative Black Caucus.
We took the fight to protect voting rights from Ohio to Georgia. And thousands of you nationally signed petitions, donated money, and spread the word about our work to make sure we protect the rights of every voter.[7]
Ferguson
From the PowerPAC+ blog;[8]
We worked with the Organization for Black Struggle to get organizers on the ground immediately. We are registering voters, identifying candidates and conducting voter education. Our work is ongoing and PowerPAC+ is dedicated to building political power in Ferguson.
PowerPAC+ Top 10 Priority Districts to take back House in 2018
From Steve Phillips:[9]
Here are my recommendations for the top ten congressional district races to support to take back the House in 2018. To learn more about how I came up with this list, read my full explanation in my September 2018 column in The Nation magazine.
If you would prefer to donate to one source, the PAC that I have created, PowerPAC+, will be distributing resources between all of these organizations.
Elected and Appointed Leadership
The list of PowerPAC+ leaders is growing.
Here are the social justice champions we have helped elect.
2018 Endorsements
2016 Endorsements
2014 and 2015 Endorsements
2013 Endorsements
2012 Endorsements
Leaders
PAC+ founders, listed 2012;[14]
As of 2014;[15]
Board of Directors
PAC+ PAC+ board, as of 2012;[16]
PowerPAC+ PowerPAC+ as of 2014;[17]
PAC+ board, as of 2017;
Fannie Lou Hammer report
References