Phil Wheeler
Jump to navigation
Jump to search
Phil Wheeler
Kushner connection
Richard Bensinger December 9, 2018 ·
It was wonderful to see Bob King, Moe Fitzsimons, Julie Kushner and others including Phil Wheeler, in celebrating Julie's UAW retirement and election to the Connecticut state senate.
Supporting DSA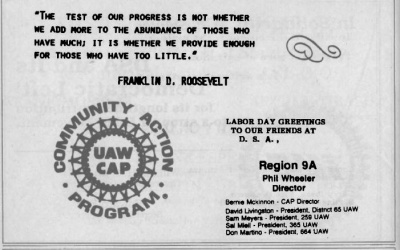 DSA May Day "bash"
The Cathedral of St. John the Divine was the site of New York City Democratic Socialists of America's 1996 May Day "bash". New York City Council member Guillermo Linares received the Paul Dubrul award for community action and leadership while UAW Region 9A Director Phil Wheeler garnered the Debs/Thomas award.
Barbara Ehrenreich, a DSA founder and honorary chair, was the recipient of a special award honoring her for her contributions as a leading feminist, cultural critic, and political satirist. Over 150 people joined in the celebration, including special guests Dolores Huerta of the United Farm Workers, DSA Vice Chair Jose LaLuz, Manhattan Borough President Ruth Messinger, and Connecticut Secretary of State Miles Rapoport.[1]
References
↑

Dem. Left May/June 1996