Phil Pardi
From KeyWiki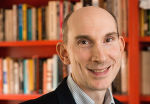 Phil Pardi is Director of College Writing and faculty associate of the Institute for Writing and Thinking, Bard College. He has worked as both a human rights activist in Central America as well as a labor organizer in upstate New York.
Academic career
B.A., Tufts University; M.F.A., Michener Center for Writers, University of Texas. Poet and translator. Author, Meditations on Rising and Falling (University of Wisconsin Press, 2008); has published poems and translations in Gettysburg Review, Best New Poets 2006, Exile Quarterly, Marlboro Review, Mid-American Review, New Orleans Review, Nimrod, Seneca Review, others. Editor, Borderlands: Texas Poetry Review (2003–05). Has worked as human rights activist in El Salvador and as labor organizer in the Hudson Valley; taught writing at Marist College; led poetry workshops at University of California–Los Angeles Writers' Program. Recipient, Brittingham Poetry Prize; American Literary Translators Association Conference Fellowship; Adele Steiner Burleson Poetry Award. Codirector, Center for Faculty and Curricular Development (2012– ); Faculty, Institute for Writing and Thinking. At Bard since 2005.
Forward Motion
In 1991 Jonathan Hoffman, Tom Goodkind, Susan Cummings, Lucy Marx, Vivien Morris, Phil Pardi, Charles Sarkis, Claire Welles were members of the editorial collective of Forward Motion, the journal of Freedom Road Socialist Organization.
Activism
Pardi spent several years in El Salvador, during the last years of the civil war, in the early 1990s, working with a group called Peace Brigades International.
Our work was to accompany Salvadoran activists; we were "armed" with cameras to provide an international presence or accompaniment for them in their work, the idea being that our very presence gave them some measure of safety. The last thing the military governments wanted was for an American (or European) to be witness to any repression, because they relied heavily on foreign aid and arms.
When I returned, I was interested in working in Spanish on some issue related to organizing, and that's when I got involved working with migrant farm workers in the Hudson Valley of New York...[1]
References