Peter Turkson
From KeyWiki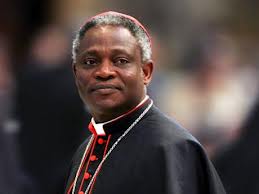 Peter Kodwo Appiah Turkson(born 11 October 1948) is a Ghanaian cardinal of the Catholic Church. He is the president of the Pontifical Council for Justice and Peace since his appointment by Pope Benedict XVI on 24 October 2009. He had served as Archbishop of Cape Coast. He was elevated to the cardinalate by Pope John Paul II in 2003, and is widely regarded as a likely next Pope.
Background
Turkson was born in Wassa Nsuta in Western Ghana to a Methodist mother and a Catholic father. He is the fourth child among ten children. His mother sold vegetables in the open market while his father worked as a carpenter. He had a paternal uncle who was a Muslim.[7] He studied at St. Teresa's Seminary in the village of Amisano and Pedu before attending St. Anthony-on-Hudson Seminary in Rensselaer, New York, where he graduated as a Master of Theology. He was ordained to the priesthood by Archbishop John Amissah on 20 July 1975.
Turkson was a professor at St Teresa's Minor Seminary from 1975 to 1976, whence he entered the Pontifical Biblical Institute in Rome, earning a licentiate in Sacred Scripture in 1980. He returned to St Teresa's for a year, 1980–81, and became vice-rector at St Peter's Seminary in 1981. He also did pastoral work in a parish annexed to the seminary. From 1987 to 1992, he did doctoral studies in Sacred Scripture at the Pontifical Biblical Institute.
Reform of the international financial system
In response to the global economic crisis started in 2008, Cardinal Turkson, together with bishop Mario Toso, elaborated a proposal to reform the international financial system by creating a Global Public Authority and a Global Bank that consider the interest of all developing countries. The document of 40 pages was officially presented in October 2011 and criticizes the current structure of International Monetary Fund and other institutions.[1]
Africa Faith and Justice Network's 30th Anniversary
Martin Sheen, Cardinal Peter Turkson of Ghana, and Emira Woods were all invited guest speakers at the Africa Faith and Justice Network's 30th Anniversary, March 1, 2013 through March 3, 2013, University of Notre Dame. South Bend, IN, USA.[2]
References