Peter Steinfels
Jump to navigation
Jump to search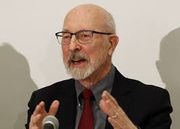 Template:TOCnestleft Peter Steinfels is affiliated with the Fordham Center on Religion and Culture in New York, NY.
Associates for Religion & Intellectual Life
In the 1980s Associates for Religion & Intellectual Life Advisory Board members included Robert Bellah, Robert Coles M.D., Harvey Cox, James Forbes, Arthur Green, Ronald Sider, Rosemary Radford Ruether, Peter Steinfels, Arthur Waskow.
DSOC Religious Commission
In 1977, John Cort attended the Democratic Socialist Organizing Committee convention in Chicago. At the convention Cort and others organized a DSOC Religion and Socialism Committee (later Commission). Cort was elected coordinator and editor of the newsletter.
Among early leaders, co-editors and contributors to the newsletter were Peter Steinfels, Sister Mary Emil, Rosemary Ruether, Harvey Cox, Cornel West, Arthur Waskow, Joe Holland, James Luther Adams, Jim Gorman, Maxine Phillips and Jim Wallis. Monsignor George Higgins was also a contributor.[1]
DSA member
Steinfels is a "paper member" of Democratic Socialists of America.[2]
American Solidarity Movement
The American Solidarity Movement was announced in early 1984 by Democratic Socialists of America, as a vehicle to support American labor unions it considered under attack, or on strike and in need of support.
Members of the Initiating Committee for an American Solidarity Movement were: Michael Harrington (convenor), Stanley Aronowitz, Balfour Brickner, Harry Britt, Harvey Cox, Rep. Ron Dellums, Bogdan Denitch, Barbara Ehrenreich, Cynthia Epstein, Jules Feiffer, Rep. Barney Frank, Msgr. George Higgins, Irving Howe, Eleanor Holmes Norton, Frances Fox Piven, Jose Rivera, Ray Rogers, Gloria Steinem, Peter Steinfels, Ellen Willis.[3]
Council on Foreign Relations
Steinfels serves on the Council on Foreign Relations - Religion Initiative Advisory Committee, as of March 15, 2010:[4]
External links
References