Peter Camejo
From KeyWiki
Peter Miguel Camejo was a Venezuelan born United States activist.
Socialist Workers Party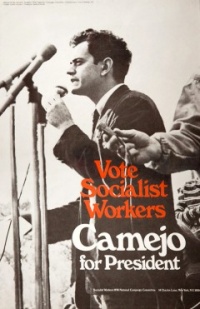 Peter Camejo left the Socialist Workers Party in 1981.
SWP rebel
Peter Camejo with Ray Markey and Victor Nieto, had advanced an innovative proposal for the 1981 New York City elections—that the Socialist Workers Party attempt to initiate a broad "united front electoral campaign by those willing to break with bourgeois politics now," geared at drawing together left-wing (non-Stalinist and non-Social Democratic) forces, particularly those "in the labor movement, Black and Latino organizations, etc." A campaign of violent denunciation was unleashed by Barnes against this proposal, and Camejo suddenly found himself isolated. Shaken, he requested a leave of absence in the summer of 1981 and went to spend some time in Venezuela, where he had spent much of his childhood. The SWP leadership then asserted that he had "resigned" and refused to "re-admit to membership" such an "irresponsible" element. After returning to the United States, Camejo drifted away from the Trotskyist movement—seeking to draw together a grouping of ex-Trotskyists, ex-Maoists, and others into a nonsectarian, Fidelista-oriented "North Star Network" in 1984, which soon collapsed. (Camejo also maintained close ties with the Australian Socialist Workers Party, which walked out of the Fourth International in 1985.)[1]
North Star Network
In the early 1980's Peter Camejo was in the process of forming the North Star Network with members of the Bay Area Socialist Organizing Committee. BASOC involved veteran Maoist leaders including Steve Hamilton, who had at one time been a leader of the Progressive Labor Party. Along with former Guardian writer John Trinkl, Camejo and the BASOC leaders sought ways to regroup the left on a nonsectarian basis. The survivors and the North Star Network launched a magazine called Crossroads that tried to popularize nonsectarian ideas and regroup broad sectors of the left.[2]
The North Star Network was led by Byron Ackerman, Peter Camejo, and Gene Lantz.[3]
Frontline Forum
Peter Camejo National Committee for Independent Political Action, Duane Campbell Democratic Socialists of America Anti-Racism Commission, , Gerald Lenoir Line of March, James Vann co chair Berkeley/Oakland Rainbow Coalition took part in a Frontline Forum December 9, 1988 in Oakland "Lessons of the 1988 Election"
CoC National Conference endorser
In 1992 Peter Camejo, CrossRoads, endorsed the Committees of Correspondence national conference Conference on Perspectives for Democracy and Socialism in the 90s held at Berkeley California July 17-19.[4]
Conference on Perspectives for Democracy and Socialism in the 90s
The Conference on Perspectives for Democracy and Socialism in the 90s was the Committees of Correspondence's first national conference held in Berkeley, California July 17-19, 1992.[5]
Workshops that were held at the conference on Saturday, July 18 included:[6]
Left Unity Getting it together: How should broad left unity be built? Speaking freely of differences and defining the basis for united action
Peter Camejo, CrossRoads Advisory Council, Oakland
Vivian Stromberg, exec. director, MADRE, NY
Pat Harris, VP, Local 1199, NY
Judith Pasternak, managing editor, National Guardian, NY
Carla Wallace, steering committee, Kentucky Rainbow Coalition, Louisville
Ron Johnson, housing activist, San Jose
CoC National Coordinating Committee
The following are listed in order of votes they received as members of the Committees of Correspondence National Coordinating Committee, elected at the Conference on Perspectives for Democracy and Socialism in the 90s held at Berkeley California July 17-19.:[6]
Committees of Correspondence
In July 1994 Camejo was elected[7]to the 15 member National Co-ordinating Committee of Committees of Correspondence at CoC's founding conference in Chicago.
In July 1996 Peter Camejo was a member of the National Co-ordinating Committee of Committees of Correspondence. [8]
DSA
At one point Peter Camejo paid dues to Democratic Socialists of America.[9]
International Green Left Conference
Easter 1994, Peter Camejo spoke at an International Green Left Conference in Sydney.
Well-known environmental author Ted Trainer and Peter Camejo, a leader in the US environmental and socialist movements, discussed different paths towards sustainable development and environmental justice.
The panel at which they both spoke, "How can we build a sustainable society", was one of the best attended and included Jeanette Fitzsimons, Graham Mathews from the Democratic Socialist Party, and Dr Nguyen Khac Kinh, deputy director of Vietnam's National Environment Agency.
The broad and open views discussed highlighted the importance of linking green and left perspectives in reaching common strategies and goals.
Another highlight was the launching at the conference dinner of LINKS magazine, a new international journal of socialist renewal and discussion.
This project involves a range of activists from left parties and organisations including the Democratic Socialist Party, the Committees of Correspondence (USA), Brazilian Workers Party, South African Communist Party, the New Zealand Alliance Party and the Leninist opposition in the Communist Party of the Philippines.
It is aimed at promoting discussion and greater understanding between the forces for socialism that are actively involved in building parties and organisations.[10]
CrossRoads
In the mid 1990s Camejo was[11]a contributing editor to Oakland based Institute for Social and Economic Studies- sponsor of CrossRoads magazine, which sought to promote dialogue and building new alliances among progressives and leftists... and to bring diverse Marxist and socialist traditions to bear while exploring new strategies and directions for the progressive political movements.
Key CrossRoads supporters
Among the more illustrious supporters of CrossRoads were Gil Green, Harry Hay, Elizabeth Martinez, Roxanne Dunbar-Ortiz, David McReynolds, Muhammed Ahmad [Max Stanford] and Peter Camejo.[12]
Progressive Alliance of Alameda County
In the mid 1990's, Peter Camejo formed the Progressive Alliance of Alameda County to which he donated twenty thousand dollars of his own money and hired Sushawn Robb as his director. However, within a year the project failed.[13]
Founding convention
The Progressive Alliance of Alameda County held its founding conference June 1 and 2,1996, Federal Building Auditorium, Oakland California.
Individuals came from the New Party, Peace and Freedom Party, Green Party and the left wing of the Democratic Party.
Supporting individuals included;[14]
Building a Third Party
Peter Camejo, addressed[15]the Third Party Summit in Washington, D.C., in June 1995 to discuss the possibility of mounting a third party. Camejo talked about o"The New Zealand Model" for building a progressive coalition. Camejo explained to the conference that in New Zealand, the Greens have joined with the New Labour Party, the Maori Mana Motuhake Party and other feminist and progressive groups to form an electoral front called the "Alliance Party." Their first successful project was to push through a proportional representation reform, a Mixed Member system like Germany's. Now the Alliance candidate, Jim Anderton, is leading in the polls, and after the November 1996 elections he may be forming a government in coalition with the "old" New Zealand Labour Party.
Autobiography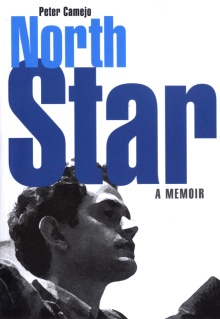 References