Peggy Terry
Jump to navigation
Jump to search
Template:TOCnestleft Peggy Terry was born October 28, 1921 and raised in poverty in Oklahoma and Kentucky. She was married to Communist Party USA supporter Gil Terry. She died in 2004.
She was the mother of Doug Blakey.
Early life
Terry remembers being taken to a Ku Klux Klan meeting at age three. Terry's grandfather had been a member of the Klan; her father was a sympathizer. Peggy's mother, Mary Bethel Ousley, did not share her father's attitudes, and like Peggy later joined the Civil Rights Movement.
During the Great Depression, when she was fifteen, Terry married her first husband. They hitchhiked from town to town looking for work, in Texas picking grapefruits for Edinburg Citrus Association, and in Alabama picking cotton. She had her first child, Doug Youngblood, during those years. During World War II she worked alongside her mother and sister in a weapons factory in Viola, Kentucky. By 1955, Terry was living in Montgomery, Alabama.[1]
The Bus boycott
The bus boycott in Montgomery transformed Peggy Terry. "Poor whites in the South did not have much, but riding in the front of the bus was one of them. That boycott, and their getting on the front of the bus, that shook me." Several weeks into the boycott, Terry witnessed Dr. Martin Luther King, Jr. beaten by a gang of white vigilantes as he was released from jail.
She later said, "I don't know what it was about the boycott that touched my brain and soul. I'd like to think that it was because I realized that I had been blind to the reality if the world I lived in. I do know that it was the beginning of my becoming a better person."
In 1956, with the boycott still in full swing, she moved to Chicago then on to Jackson, Michigan before returning to Chicago.
In the North, she felt, for the first time, her own oppression as a poor southern woman. Poor southern whites were denied housing based on their accents, police brutality was rampant, and poor white ghettos showed the highest unemployment rates in the city. Struggling with her own shame over racism and poverty, she began to feel that the wool pulled over poor whites' eyes in the segregated South was not only thinner in the North, but that a false sense of superiority no longer offered any comfort. During those years she developed an incisive critique of capitalism and understood racism as its tool.
Radicalization
Peggy Terry got involved with the anti-nuclear group Women for Peace, and was briefly a member of Communist Party USA in Michigan, where she lived with her second husband, Gil Terry.
It was Gil who invited a Black friend to their home for dinner one evening—it was the first time Peggy Terry saw a white man treat a Black person with respect.
The Terrys attracted the attention of the FBI as they attended meetings with Communist Party USA leader Gus Hall.
Terry's daughter, Margi Devoe, remembers being taken with a group of neighborhood children to integrate the local roller rink in Jackson, Michigan. Back in Chicago in 1963 Terry joined the Congress of Racial Equality . With CORE she participated in her first civil disobedience, landing in jail before the end of her first day. She was arrested a half dozen times over the next several years and met, for the first time, Rev. King. In one of her many interviews with famed journalist Studs Terkel, Terry captured the personal transformation she experience as part of the "beloved community" in CORE, as well as inSNCC's Chicago office.[1]
Civil Rights/Welfare rights
Terry remained active in CORE and SNCC until 1966, traveling south once again to march with Rev. King in the Mississippi March Against Fear. While still active in the Civil Rights Movement, Peggy Terry learned about a new organization of poor whites in Uptown from SNCC leader Monroe Sharp. She was initially reluctant to belong to an organization of poor southern whites. Like many whites who'd rejected their racist upbringing, she recalled feeling like she had just made a break with the racism of the South and didn't want to "get back into it" with southerners in the North. Sharp persisted, challenging Terry to confront her own shame about being white and poor.
As Black and white southerners continued the Great Migration north, Chicago's neighborhoods received a new group of migrants in 1963: New Left student activists. Inspired by Black-led organizations that were bringing the Civil Rights Movement north, Students for a Democratic Society started a new project to mobilize the unemployed and working poor. According to Richie Rothstein, in the early Sixties "SDS still believed in the possibility of change within the framework of America's formally representative political institutions." SDS's Economic Research Action Project (ERAP) was intended to rouse those institutions, to "demand that resources be transferred from the cold war arms race to the creation of a decentralized, democratic, interracial welfare state at home."
SDS reasoned that there were "new insurgencies" brewing in America. The 1963 national SDS convention formally adopted this position in the document America and the New Era. Changes in the economy, the document argued, would lead to a Triple Revolution: cybernation, weaponry and human rights. Only an end to the arms race could let the nation expand on the opportunities presented by automation and meet the demands of the Civil Rights Movement. Racial justice could not be achieved independently of economic reform. A paper written by SDS's Tom Hayden and Carl Wittman, An Interracial Movement of the Poor?, analyzed white communities' backlash to civil rights reform. The duo argued that demands for economic changes of tangible benefit to both Black and white poor people were one of the few tools to join the working class and circumvent racist reaction to civil rights.
SDS recruited students to work in cities like Cleveland, Chicago and Newark to "organize people around their felt needs" with the strategy of building an interracial movement of the poor—a northern upsurge—that could eventually be united with the Civil Rights Movement. It was the Chicago ERAP project, named Jobs or Income Now, which most directly attempted to bring jobless workers displaced by automation into that movement. And, it was JOIN that lasted the longest of the ERAP projects. As Peggy Terry remembers it, by the time Stokely Carmichael made the more vocal call for whites to leave SNCC and "organize their own" in 1966, JOIN had already made inroads transforming poor white participation in the New Left.
From its inception, ERAP was an experiment. Initially, the project received enthusiastic support from organized labor. Grants from the United Auto Workers assisted in the birth of eleven separate chapters. However, SDS's move from campus to community organizing was much debated. Some, like co-founder Al Haber thought it foolish to give up what the organization did well, which was to organize students. Others, like Steve Max, supported the tactic but feared that the strategy of building a movement of poor people would fail if not integrated into a larger coalition with organized labor and progressive churches in close coordination with the Civil Rights Movement.[1]
Chicago activism
Joe Chabot was ERAP's first organizer in Chicago. Chabot opened the first JOIN office just a few doors away from the Unemployment Compensation Office (UCO) on North Kedzie Avenue. With co-organizer Dan Max, one JOIN organizer would leaflet the UCO and the other would stay behind to talk with workers who visited in response to the leaflet. In the first week, roughly one hundred people came into the JOIN office. According to an internal ERAP paper, about 80 unemployed people took on a regular role in JOIN with about ten to fifteen assuming leadership roles.
After less than a year, however, Chabot seemed defeated by one of ERAP's first lessons—that change would be painfully slow, at least at first. Chabot left and JOIN moved out of the Downtown Loop. The chapter was permanently relocated to the Uptown neighborhood, focusing attention on a wider range of pressing, and therefore actionable, community issues: welfare, housing conditions, unemployment and police brutality. As more student organizers began to arrive in Chicago, JOIN also welcomed an influx of community members who became a steady force in the organization. From Uptown, Peggy Terry, Dovie Coleman and her niece Dovie Thurman, Dorothy Perez, Dominga Alcantar, Mary Hockenberry and Candy Hockenberry, Virginia Bowers, Terry's son Doug Youngblood, Junebug Boykin and Bobby McGinness were joined by SDS organizers Richie Rothstein and Vivian Rothstein, Mike James, Diane Fager, Pat Sturgis, Steve Goldsmith, Todd Gitlin and Nancy Hollander, among others from both the community and the student movement.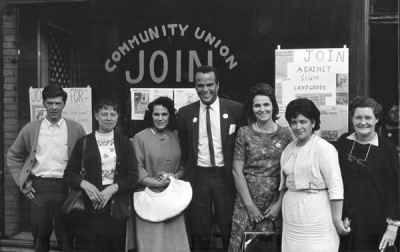 Actor Harry Belafonte visited JOIN in 1965, from left to right: Ralph Thurman, Evelyn Arnold, Unknown, Virginia Bowers, Dominga Alcantar, and Peggy Terry.

Peggy Terry came to JOIN seeing an opportunity to show poor whites not only the terrain of political action but also how they might wrestle with fears of loosing what little they had. She knew well that for folks in Uptown, this was very, very little. The ruling class had long stoked poor whites' fear that gains for people of color would come at the greatest loss to them. In the Sixties, the Cold War added trepidation that social change would mean austerity and sacrifice.
Terry brought to JOIN the growing sophistication to navigate these anxieties among poor whites. She had the soft skills of an organizer, spending hours at her kitchen table talking to people. She was a prolific writer, an insightful though reluctant speaker and she listened to people's problems without judgment. Her style and experience earned her the admiration and trust of both Uptown's new arrivals and its long-time residents. JOIN member Mary Hockenberry remembers Terry as one of the most effective organizers in the neighborhood. Terry and Hockenberry came to JOIN around the same time, along with the Dovies and Virginia Bowers. The five women became fast friends and, together, formed the core of JOIN's welfare committee, along with the backbone for its housing rights work.
Mike Laly, a working-class son of European immigrants, recalled how Terry convinced his wife that change would not necessitate getting rid of all cherished possessions, as one movement worker had demanded.[1]
"There were discussions at the time, really esoteric ones, about what people had to give up in order to be part of a revolution. I think she had heard that people should be willing to give up their teapot if the people's army needed the scrap. My wife treasured her teapot. Peggy once came to visit us; we lived in a little Quonset hut with salvaged furniture. My wife brought this up because Peggy was the first person in the movement she thought she could trust. Both were working-class women. Peggy said, 'No Dear, you don't have to give up your teapot. This isn't about you giving things up, it is about making more so everyone can live in dignity.'"[14]
What made JOIN different from Chicago's Alinsky-driven organizations at the time was its mission to organize around poor people's immediate needs with an explicit effort to address racism. Terry's influence and ability to demonstrate this vision—whether over coffee in her kitchen or when confronting the welfare caseworkers—was critical for JOIN. At JOIN, every organizer was engaged in this conversation. Mary Hockenberry recalls, "Not only did I learned a lot [at JOIN]. I really faced the reality of what [the students] were fighting for. I felt they were right. I felt there had to be changes."
Welfare Bill of Rights
JOIN emerged in the same era in which President Lyndon Johnson declared an all-out "War on Poverty." A hallmark of LBJ's domestic policy, this war was fought with an onslaught of government services, creating the Job Corps, Head Start, as well as Medicare and Medicaid. During this time, the federal government also established local Community Action Centers under the Economic Opportunity Act of 1964, which promised exactly what SDS demanded: a participatory role for poor people in the administration of the welfare state. However, war on poverty agencies usually confined this input to informal, non-binding dialogue. In Chicago, the city channeled CAC funds to existing service agencies leaving the bulk of the decision-making process in the hands of administrators and social workers, not community representatives as the Act stipulated. Coupled with the fact that the federal government was simultaneously intensifying poverty by destroying thousands of homes through urban renewal, Uptown residents knew "The Great Society" to be a charade.[1]
As early as JOIN's first year, the organization demanded accountability from new service agencies coming into Uptown and a voice in their projects and decisions. In a statement presented to the Urban Progress Center on its opening day in February 1965, JOIN wrote,
"No poor person in Chicago has been consulted about the City's War on Poverty plans. These facts not only reveal a contempt for the poor and for their participation in democratic decision making; they also spell disaster for the success of Chicago's plans to fight poverty."
JOIN asserted;
"The Uptown community rejects the notion that an Urban Progress Center is needed to coordinate existing public services. Those services are already inadequate and coordination will not enable them to deal with an economy which cannot provide jobs with decent pay for all its citizens." They argued, Uptown men and women didn't need counseling, they needed decent work. They needed housing without rats and roaches and building inspectors that followed up on complaints.
Led by Terry, the Dovies, Bowers and Hockenberry, JOIN formed a Welfare Union that took up the task of confronting the paternalism of state welfare. Through the welfare project, Uptown's residents, most of them women, challenged the invasion of welfare workers into their lives and homes, urged the bureaucracy to improve communications about available services and complaints, and, when necessary, brought the community right to the door of the welfare office.
The welfare committee quickly realized that recipients didn't even know that they were entitled to reliable payments, basic household items, and some amount of medical care. Through JOIN's monthly newsletter, Terry dedicated an entire column on welfare rights in each issue and the committee authored a 10-point Welfare Bill of Rights demanding, among other things, a right to write the rules welfare dispensation, a right to privacy, to decency, to enough money for food, to keep their children and to organize without the threat of aid revocation.
In June 1965, four JOIN organizers were arrested after demanding that a recipient have the right to examine the rules. Rennie Davis and most of JOIN's staff went with the women. When Davis announced they wouldn't be leaving, caseworkers agreed to take requests from each of the recipients just to get them out of the office. Recognizing that they needed more than the word of the caseworkers, the women led another march soon after demanding copies of the welfare policies. Hockenberry remembers, "We never saw literature from the welfare office. The policies were hidden from the public. So we walked out with about twenty [caseworker] books. And, we danced and sang."\
Later that year, JOIN members picketed at the welfare office demanding an increase in budgets for day laborer work as well. Terry considered this one of the "most far reaching and important" actions because they won a day laborer center in the Urban Progress Center.[1]
National Welfare Rights Organization
As JOIN coupled direct action with direct services, the organization expanded its services to meet community needs including maintenance of a daily job list, as-needed transportation to Chicago employment agencies and worker placement for contractors willing to pay fair wages. By that point, JOIN's Welfare Union was well organized, boasted dozens of active members and provided a model for the organization's other committees. In May 1966, the Welfare Union organized a march in coordination with other welfare rights groups nationwide. The march represented the beginning of a national welfare coalition—National Welfare Rights Organization (NWRO)—and the start of what would soon become the local Welfare Recipients Demand Action, founded by Dovie Coleman. Within a few years the NWRO had more than twenty thousand members. JOIN along with ERAP projects elsewhere did actually succeed in building an interracial movement of the poor, "especially, a mass movement of poor women."
Peace and Freedom
The Peace and Freedom Party held its first national convention to nominate candidates for President and Vice President in Ann Arbor, Michigan on August 17-August 18, 1968. Eldridge Cleaver was nominated for President over comedian/activist Dick Gregory by a margin of 161.5 to 54. Cleaver, a convicted felon and Black Panther Party spokesman, was technically not eligible to run since he was only 34 years old at the time. Due to the needs of the state parties to collect signatures, the party fielded several different vice presidential nominees, including Chicago activist Peggy Terry, Chicano activist Rodolfo Gonzales, radical economist Doug Dowd and Judith Mage, who had been nominated at the national convention[2].
JOIN Women's group/Chicago Women's Liberation Union
Indeed, JOIN's first women's group emerged from this welfare committee. Years before the emergence of the women's lib movement, JOIN women set the stage. Women like the Dovies, Peggy Terry, Jean Tepperman, Marilyn Katz, Diane Fager, Fran Ansley, Casey Hayden, Sharon Jeffrey, Vivian Rothstein, Virginia Bowers, and Mary and Candy Hockenberry played some of the most critical roles in JOIN. According to JOIN organizer Bob Lawson, the welfare rights work was the organization's heart and soul, as women organizers helped build multiracial coalitions both in the city and nationally.[1]
JOIN's Marilyn Katz notes, "Because so much of poverty was a women's issue, and welfare was an issue of women, of women's lack of access to control of pregnancy and their inferior status in the workplace, and, particularly in the southern white community, their oppressed status in the home. Issues of women's liberation, in a way, came out very clearly in the kind of work we were doing."
JOIN's feminist group paved the way for the Chicago Womens Liberation Union, which partially morphed into the radical New American Movement and later into contemporary organizations such as Democratic Socialists of America.
While Peggy Terry never called herself a feminist, she along other JOIN women showed that JOIN's original vision was possible, and, in doing so, outlined a vision for women's liberation and leadership that was deeply rooted in ending race and class oppression. Women's leadership within JOIN helped deepen members' and organizers' understanding of poverty, racism and sexism as combined struggles, directly informing the formation of the Chicago Women's Liberation Union, the oldest feminist organization in the country.
References