Peg Strobel
Jump to navigation
Jump to search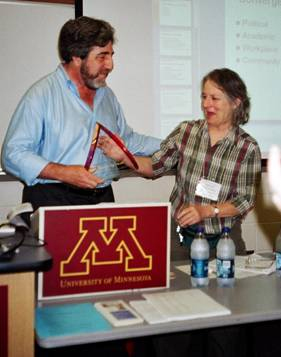 Template:TOCnestleft Peg (Margaret) Strobel is a Chicago based socialist and partner of Bill Barclay. She is emerita professor of Gender and Women's Studies at the University of Illinois at Chicago, serves on DSA's National Political Committee, and co-chairs DSA's Feminist Working Group.
She was born in 1946, and grew up in St. Louis Park, Minnesota.
In 2020 Peg Strobel was a current member of Democratic Socialists of America - Ventura County Chapter.
DSA Members Organizing Against Trump
DSA Members Organizing Against Trump was a letter released early October 2020 to shore up Democratic Socialists of America support for Joe Biden.
Signatories included Peg Strobel, Democratic Socialists of America - Ventura County Chapter.
New American Movement
Strobel was active in the 1970s in the California New American Movement (NAM) with Dorothy Healey.[1]
Peg, met Dorothy when Dorothy and others joined the LA New American Movement chapter of which Peg was a part. Dorothy was wonderful at making people feel welcome; she was interested in other folks' opinions, even when she wasn't persuaded by them. I (Peg) recall arriving at a NAM meeting shortly after "Forty Socialists in Search of a Party" had joined the chapter. Dorothy was at the entrance, welcoming everyone like an old-time chapter member.
Strobel later moved to Chicago where she met Barclay, also a NAM member..
In 1980, the two managing editors of New American Movement magazine Moving On, were Bill Barclay and Peg Strobel.[2].
Between 1980 and 1981 Peg Strobel, Illinois and Leo Casey, Ontario, Canada were chairs of the Campus Commission of the New American Movement.[3]
In 1981 the Lucy Parsons Chapter of the New American Movement and friends honored Milt Cohen and Vicky Starr for their many years of activity in the causes for people's progress and democracy. The members of NAM listed were: Alba Alexander, Bill Barclay, Dan Gilman, Roger Gilman, Debby Holdstein, Rob Persons, Miriam Rabban, Ralph Scott, Julie Skurski, Peg Stroebel, Monty Tarbox and Ed Kucinsky. The friends of NAM listed were: Florence Green and Ben Green, Bob Reed of Seattle, Judy MacLean of San Francisco, Max Gordon of NYC, Quentin Young and Ruth Young of Chicago, Clarence Lipschutz and Peggy Lipschutz of Evanston, Miriam Bazell, Florence Gibbon of Chicago, Bronwen Zwirner of New Bedford, Leonard Lamb and Constance Lamb of Astoria, Helene Susman and Bill Susman of Great Neck, Corinne Golden of Chicago, Robert Havighurst and Edythe Havighurst of Chicago, Sara Heslep, Sandy Barty, Clara Diamont, Pete Seeger, Steve Nelson, Hannah Frisch, Sue Cohen, Gil Green of NYC, Joan Powers, Clarence Stoecker and Rebecca Hobbs of Chicago, James Bond of Oakland, Pat McGauley, Gabby Rosenstein of Santa Monica, Karl Cannon and Fay Cannon of Camarillo, Loriel Busenbard and Steven Starr, Daniel Starr, Beth Starr and Bob Starr (children of Vicky Starr) were listed as friends of the Lucy Parsons Chapter of the New American Movement.[4]
New American Movement 10th convention
In 1981 Leo Casey and Peg Strobel, Co-Chairs of the Commission led a meeting entitled Campus Commission at the 10th Convention of the New American Movement. The convention was held in a union headquarters in Chicago and ran from July 29 - August 2, 1981.
Strobel also spoke alongside Abby Cassin, South Jersey NAM; Mel Pritchard, San Diego NAM and Penny Schantz and Joseph Schwartz of Democratic Socialists Organizing Committee in a workshop entitled Campus Organizing Strategies.[5]
Tribute to Ben Dobbs
On Sunday, June 7, 1981, the Los Angeles Chapter of the New American Movement sponsored a Tribute to Ben Dobbs for "His lifelong commitment to socialism". The event was held at the Miramar-Sheraton Hotel, Santa Monica, California. Sponsors of the event included Peg Strobel.[6]
Socialist Community School
In the 1980s, Peg Strobel was on the Organizing Committee of the Socialist Community School in Los Angeles.[7]
DSA Feminist Commission
In 1985, Holly Graff, Liz Weston, Claire Kaplan, Kate Ellis and Peg Strobel were listed as members of the steering committee for the Feminist Commission of the Democratic Socialists of America.[8]
In 1986 she was listed as a member of the Commission.[9]
Write Women Back into History Award
On June 12 2008, Peg Strobel was presented with the "Write Women Back into History" Award, an initiative of the National Women's History Project.[10]
DSA honor?
At the Democratic Socialists of America National Political Committee Meeting of September 26-27, 2009, members "brainstormed" on who could replace the late Ruth Spitz and one other opening for a woman among the DSA vice chairs. Suggestions were: Teresa Ghilarducci "at times a member", Katha Pollitt, Christine Kelly "joined at conference", Judith Deutsch, Theda Skocpol "if Joe approaches her to ask her to rejoin", Juliet Schor "a member on and off", "less likely": Holly Sklar, Peg Strobel. All names were referred to the Steering Committee.[11]
Coalition to Save Community Banking
The Coalition to Save Community Banking is a group of several dozen metro Chicago organizations and individuals, including Chicago Democratic Socialists of America member Peg Strobel, that came together after the Federal Deposit Insurance Corporation (FDIC) seized the assets of a local community bank, Park National Bank (PNB) with two branches in Oak Park, Illinois, on October 30, 2009. PNB and eight sister banks (including several in California) were all owned by First Bank of Oak Park, Inc. (FBOP), which the FDIC then sold to US Bancorp, also known as US Bank. This seizure happened in the afternoon; that same morning, the Treasury Department awarded FBOP/PNB Initiatives (an affiliate of PNB) $50 million in federal "New Market Tax Credit" allocations to continue PNB's long-standing investment in under-resourced and minority communities. [12]
Accomplishments of the organization included;
Rep. Luis Gutierrez (chair of the House Subcommittee on Financial Institutions and Consumer Credit) held a Congressional hearing January 21 on the issue of FPOB/PNB and community banks. We sent more than 60 people to Washington.
We gained the support of Rep. Danny Davis; Rep. Bobby Rush; State Sen. Don Harmon; David Pope, President of the Village Board, Oak Park; and State Rep. LaShawn Ford.
Sponsored by Sen. Don Harmon, Senate Joint Resolution 81 has passed the Illinois Senate and moves to the Illinois House, where it is cosponsored by Karen Yarbrough, Angelo Saviano, Deborah L. Graham, LaShawn Ford, and Marlow H. Colvin. The resolution "urges the United States House of Representatives Financial Services Committee and the United States Senate Committee on Banking, Housing, and Urban Affairs to continue hearings to investigate the FDIC's seizure of Park National Bank."
December 16, 2009, the Chicago City Council joined with our coalition in demanding a Congressional hearing to investigate the seizure and sale of First Bank of Oak Park/Park National Bank and the repercussions for other community banks reinvesting in our communities. As reported by the Chicago Sun-Times, Chicago aldermen condemned as "absurd, bordering on criminal" the federal government's decision to seize Park National Bank."
Within a month of the seizure, community groups that comprise the Coalition delivered petitions with over 1,000 signatures to the D.C. office of Rep. Luis Gutierrez.[13]
DSA 2011 Conference
Michael Aubry, Michael Baker, Bill Barclay, Lisa Horan O'Halloran,Jan Sansone, Peg Strobel were elected as delegates from the Chicago Local to DSA's 2011 National Convention. Peg Strobel announced that she would be running for election to the National Political Committee (DSA's board of directors). The meeting voted to endorse her candidacy. Peg Strobel was already actively contributing a number of projects at the national level.[14]
DSA 2011 leadership
Elected to serve on the Democratic Socialists of America National Political Committee – the leadership body described as "the engine room of the organization", in November 2011, were;[15]
Plus the two YDS co-chairs, Sean Monahan (Philadelphia, PA) and Jackie Sewell (Lawrence, KS).
DSA feminist list
In 2015 Isabel Anreus, Fatou Camara, Christine Riddiough, and Peg Strobel were members of the Democratic Socialists of America feminist list.[16]
DSA 2016 leadership
The 2016-17 Democratic Socialists of America National Political Committee elected members are: Jared Abbott, Hope Adair, Theresa Alt, David Green, Jose Gutierrez, Elizabeth Henderson, Frank Llewellyn, Sean Monahan, Simone Morgen, Brandon Payton-Carrillo, Joseph Schwartz, Peg Strobel and Russell Weiss-Irwin. The convention also voted to add two new honorary vice chairs: Deborah Meier and Bhaskar Sunkara. [17]
Democratic Socialists of America Unity
Peg Strobel supported the Democratic Socialists of America Unity grouping, established for the 2017 Democratic Socialists of America National Convention in Chicago.[18]
CDSA Executive Committee
Chicago Democratic Socialists of America Executive Committee, as of April 2018;[19]
Stand with Alexandria Ocasio-Cortez
We Stand with Alexandria Ocasio-Cortez was a 2018 letter signed by several Democratic Socialists of America members mainly from the DSA North Star in response to attacks on Ocasio-Cortez over remarks she made on Palestine.
A recent petition circulated by some DSA members criticizes Ocasio-Cortez for supporting a two state solution to the Palestine-Israel question and not aligning with a long list of demands regarding Palestine and Israel. Should Ocasio-Cortez fail to agree with this list of demands, the petitioners are calling for DSA to revoke her endorsement. These attacks on Ocasio-Cortez have come despite the fact that she has staked out positions which will make her one of the strongest advocates of Palestinian rights and self-determination in Congress.
We stand with Alexandria Ocasio-Cortez. The position she has taken on Israel and Palestine are principled stances, worthy of a democratic socialist, in its recognition of both Palestinian humanity and rights and Israeli humanity and rights. On this issue, as many, she will be a voice for the voiceless in Congress.
Signatures included Peg Strobel.[20]
DSA North Star
In 2018 Peg Strobel was an original signatory of the DSA North Star founding principles statement.
References