Paul Song
From KeyWiki
Paul Song
Bernie 2020 Working Group supporters
Katrina Bergstrom July 27 2019·
DSA-LA members!
You should have received a link last night to vote for the creation of DSA-LA's Bernie 2020 Working Group - please vote YES today!
Voting is open for one week. ... See More — with Alex Wolinetz, Amarnath Ravva, Zenaida Huerta, Angelica Duenas, Olivia Gamboa, Shawnee Badger, Wendy Fagioli Ruiz, Marlin Medrano, Bobbie McGowan, Joshua Smith, Henry Huerta, Ezra Pugh, Lisa Kendall, Jeanna Harris, Kristina Meshelski, Nick Roth, Erika Feresten, Tina Fredericks, Jeanine Rohn, Jane Demian, Frances Yasmeen Motiwalla, Andrew Swetland, Aaron Balanta Holloway, Hsingii Tseng Bird, Josh Goodman, Isaac Lieberman, Ankur Patel, Sophie Eupp, Brandon Rey Ramirez, Chris Roth, Taiji Miyagawa, Symone Baptiste, Gabe Gabrielsky, Reed Heisley-Shellaby, Rachel Miller, Jack Suria Linares, Jeremy White, Mason Mineo, Gabbi Pierce, Rebecca Prediletto, Don Ward, Mark Masaoka, Rachel Reyes, Jessica Salans, Nina Eliasoph, Francisco Cendejas, Una Lee Jost, Paul Song, Don Irwin, Chris Myers, Charles Du, Eugene Pesikov, Katrina Bleckley, Kat Valentine, Rob Quan, Jenni Chang, Tom Pike, Evan Geary and Maikiko James.
SoCal Bernie supporters
Katrina Bergstrom September 27 2019·
We are canvassing for Bernie this weekend from 10am-2pm in East Hollywood, North Hollywood and West LA, anybody who canvasses gets a free limited edition Bernie pin! RSVP HERE: https://www.dsa-la.org/bernie2020
Which one is your favorite? — with Erika Alvarez, Megan Svoboda, Jessica Ann Bourque, Amarnath Ravva, Erika Feresten, Paul Song, Jeanine Rohn, Paul Krehbiel, Jane Demian, Karlenea Brown, Betty Doumas, Nicky Martin, Charles Du, Eric Wimer, Daniela Urso, Hsingii Tseng Bird, Max Goldberg, Jenni Chang, Maikiko James, Jeanna Harris, Will Shattuc, Michael Stenovec, Kyle Gaan, Brandon Rey Ramirez, Brenda Gutierrez, Steve Askin, Mason Mineo, Olivia Gamboa, Shawnee Badger, Wendy Fagioli Ruiz, Sergio Davila, Marlin Medrano, Mark Masaoka, Ben Hauck, Alex Wolinetz, Carrie Scoville, Joshua Smith, Henry Huerta, Tim Johnson, Staci O'Neal-Robinson, Steve Couch and Phillip Kim.
Pasadenans and Altadenans Against Police Violence
Erika Feresten April 14, 2018:
It was an honor to join Pasadenans and Altadenans Against police violence to call for #justice, #peace and say their names:
With Kirsten Magnuson, Kimberly Ellis, Pilar Schiavo, Julie Tyler, Julie Goulet Stromberg, Walter Ruiz, Kristen Gritter Cox, Larry Gross, Marcia Martin, Zach Denney, Katrina Bergstrom, Betty Doumas, Gideon Sarantinos, Keith Anthony Sikora, Lauren Steiner, Todd Jones, Lucas Henry Julius Fehring, Jeanine Kay, Paul Stanton, Paul Song, Jenni Chang, Marlin Medrano, Linda Teach, Lydia Ileliya Ester Ponce, Jeanine Rohn, Edie Riggins Ortenberg, Maria Estrada, Julia Jaye Posin, Karen Bernal, Estee Chandler, Max Goldberg and Rebecca KZ in Pasadena, California.
Bao Nguyen supporters
Bill Honigman February 29, 2016 ·
So proud of Progressive Democrats of America Orange County CA Chapter endorsed candidate for US Congress CA46 Bao Nguyen who gave a phenomenal speech at our We Want Bernie rally yesterday outside the CDP convention. #FeelTheBern. :-) — with Marleen Gillespie, Ron Varasteh, Russell Greene, Donna Smith, Hugh Tra, Judy Hess, Pilar Schiavo, Paul Song, Mani Kang and Mary Carter at San Jose Convention Center.
California Single Payer conference
July 17, 2010, at the UCLA Faculty Center, Physicians for a National Health Program held The Summer Conference, "our first annual conference for the California single payer community". The conference was a collaborative effort of many organizations from the State Strategy Group and included presentations from state and national leaders in the single payer movement: Walter Tsou, Don McCanne, Margaret Flowers, Mark Leno, Sheila Kuehl, Michael Lighty, Paul Song, Andrew McGuire, Paul Hochfeld and more.[1]
Labor for Bernie event
Bill Honigman April 4, 2016 near Des Plaines, IL ·
From Labor Campaign for Single Payer National Coordinator Mark Dudzic, "Great Labor for Bernie event at this past weekend's Labor Notes conference in Chicago." #FeelTheBern. :-) — with Alan NY, Donna Smith, Tad Virbone, Joshua H. Koritz, Kade Quarles, Janis Kay, Kurt Bateman, Rose Roach and Paul Song.
Progressive Democrats of the Santa Monica Mountains, 10th Anniversary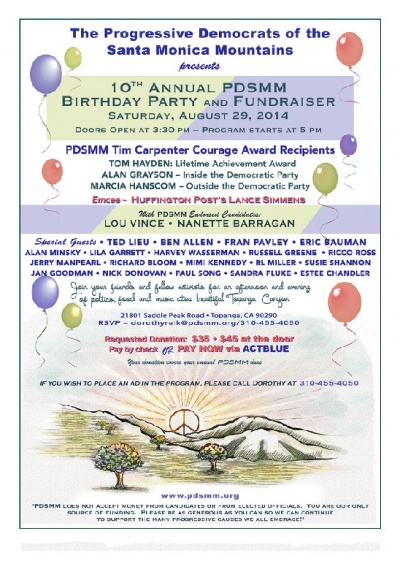 Attendees;
Progressive Democrats of the Santa Monica Mountains Tim Carpenter Courage Award Recipients
MC - Huffington Post's Lance Simmens
PDSSM endorsed candidates - Lou Vince, Nanette Barragan
Special guests - Ted Lieu, Ben Allen, Fran Pavley, Eric Bauman, Alan Minsky, Lila Garrett, Harvey Wasserman, Russell Greene, Ricco Ross, Jerry Manpearl, Richard Bloom, Mimi Kennedy, R.L. Miller, Susie Shannon, Jan Goodman, Nick Donovan, Paul Song, Sandra Fluke, Estee Chandler.
California Grayson Senate campaign supporters
Aris Anagnos, John Amato, Cindy Asner, Ed Begley, Jr., Tom Coleman, Frances Fisher, Lindsay Gardner, Jan Goodman, Lila Garrett, Howie Klein, Jerry Manpearl, Scott Mayers, Sara Nichols, Rick Overton, Dorothy Reik, Frank Reyes and Eloise Reyes, Paul Song, Ron Stone, Patric Verrone, Marianne Williamson, Roger Wolfson.
(Host Committee in Formation) - In Support Of Congressman Alan Grayson for U.S. Senate 2016.
Sunday August 30, 2015, The Lantern House Venice, CA.
Healthcare Now! convention
Progressive Democrats of America staffers Dr. Bill Honigman and Dan O'Neal along with fellow PDA members and scores Single-Payer activists from around the country met September 17, in Las Vegas for the annual Healthcare Now! convention.
On Saturday attendees heard stirring speeches from PDA National Advisory Board members, National Nurse United leader Michael Lighty, nationally-renowned healthcare activist Dr. Paul Song.
Nevada Congresswoman and HR-676 co-signer Dina Titus, Healthcare Now leader Ben Day, NNU Vice President Jean Ross and PDA California Co-State Coordinator Dr. Bill Honigman also spoke during the conference, and PDA Arizona State Coordinator Dan O'Neal moderated a discussion.
One of the most stirring talks was Las Vegas activists Amy Vilela who told the heart wrenching story of losing her daughter due to not having healthcare Insurance. Amy is now running for Congress on a strong progressive platform in NV CD- 3.[2]
References