Paul Buhle
From KeyWiki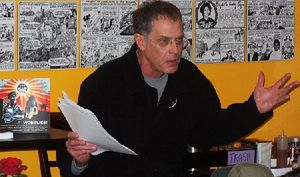 Paul M. Buhle is a prominent socialist activist and historian.
Students for A Democratic Society
Paul Buhle was a prominent member of Students for a Democratic Society .
Left Forum Advisory Board
In 2009 the Left Forum Advisory Board included Gilbert Achcar, Tariq Ali, Ashanti Alston, Anthony Arnove, Robin Blackburn, Barbara Bowen, Jack Bratich, Rose Brewer, Renate Bridenthal, Michael Brie, Stephen Brier, Stephen Eric Bronner, Paul Buhle, Joseph Buttigieg, Luciana Castellina, Angela Dillard, Stephen Duncombe, Hester Eisenstein, Barbara Epstein, Deepa Fernandes, Hector Figueroa, Harriet Fraad, Josh Freeman, Barbara Garson, Heather Gautney, Marvin Gettleman, Arun Gupta, Jack Hammond, David Harvey, Gerald Horne, Boris Kagarlitsky, Robin D. G. Kelley, Christine A. Kelly, Peter Kwong, Joanne Landy, Jesse Lemisch, Michael Lowy, Nivedita Majumdar, Manning Marable, Randy Martin, Liz Mestres, Susan O'Malley, Cathy Mulder, Leo Panitch, Christian Parenti, Thomas Ponniah, Barbara Ransby, Michael Ratner, Jan Rehmann, Gerardo Renique, Rainer Rilling, Colin Robinson, Nan Rubin, Roger Salerno, Stephen R. Shalom, Neil Smith, Richard Smith, Meredith Tax, Eleni Varikas, Victor Wallis, Joseph Wilson.[1]
Socialist Scholars Conference 1990
The Socialist Scholars Conference 1990, held September 6-8, at the Hotel Commodore, New York, included panels such as:[2]
"BBC Tribute to CLR James with Stuart Hall, Tariq Ali and Others" A Video and Roundtable
Communist "Manifestivity"
On October 30 and 31, 1998 the Brecht Forum presented the "Communist Manifestivity to celebrate the 150th Anniversary of the Communist Manifesto" at Cooper Union's Great Hall, New York.
Individual endorsers of the event included Paul Buhle.[3]
DSA member
In 1995 Paul Buhle, was a member of Democratic Socialists of America .[4]
In 2002, Paul Buhle served on the editorial board of Democratic Left, newsletter of Democratic Socialists of America.[5]
War Times
In January 2002, a group of San Francisco leftists, mainly involved with STORM or Committees of Correspondence, founded a national anti-Iraq War newspaper[6] War Times.
Endorsers of the project included Paul Buhle - author and teacher at Brown University.
Solidarity
In 2004, the Rhode Island Labor History Society chose to give an award to Sara Mersha, representing organizations that have been transforming the definition of the labor movement: DARE (Direct Action for Rights and Equality), and Rhode Island Jobs with Justice.
On this night, DARE Executive Director Mersha was greeted with raucous applause from the grizzled veterans of the state's labor past. The crowd at the Casino see her and fellow activists as bearing the torch of real labor idealism.
It was a doubly special night for Paul Buhle, having recently joined Solidarity (of which Sara Mersha was also a member) and sitting next to organizational veteran Ara Dostourian. Buhle had met Mersha some years before, as a student in his oral history class, and already a bit of a legend on campus. [7]
"Teach-In on the War"
Providence - Brown University, November 14 2004? "Teach-In on the War".
4:00pm Howard Zinn, introduced by Evelyn Hu-DeHart, 001 Solomon Hall.
Resumes at 8:00pm, List Auditorium, featuring Max Elbaum, Evelyn Hu-DeHart, Sara Mersha, William Keach, Lewis Gordon, emceed by Paul Buhle.[8]
Movement for a Democratic Society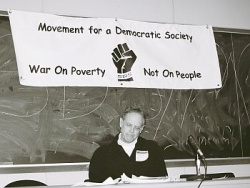 Paul Buhle, Thomas Good and Bruce Rubenstein played key roles in founding the Movement for a Democratic Society in 2006.
According to an article on Movement for a Democratic Society and the new Students for a Democratic Society in The Nation April 2007;
Power has resided largely with three figures: historian Paul Buhle, once editor of the original SDS journal Radical America; Thomas Good, a 48-year-old Communist-turned-anarchist who created the new SDS website and Bruce Rubenstein, a Connecticut personal-injury attorney.[9]"
In November 8-11 2007, Movement for a Democratic Society held a "Convergence" in Chicago[10];
Speakers included Manning Marable, Mark Rudd, Marilyn Katz, Mike James, Paul Buhle, Al Haber, Franklin Rosemont, Thomas Good and Muhammad Ahmad-formerly Max Stanford;
Carl Davidson, Mike Klonsky and Bill Ayers were also present.
Statement of Solidarity with Pace SDS
Five Students for a Democratic Society New York members were arrested at Pace University, New York, on Wednesday, November 15, 2006, during a "free expression" protest.
Movement for a Democratic Society issued a support statement;
We the undersigned officers and members of Movement for a Democratic Society (MDS), denounce the actions of Pace University in regards to the planned arrest of several SDS first amendment activists on November 15, 2006 at the downtown campus. The targeting of these activists for their efforts to organize an SDS chapter at Pace is reprehensible. President David A. Caputo and the Pace administration have violated the civil rights of the student population and we join with SDS Pace in calling for David Caputo to step down now.
Endorsers of the statement included Paul Buhle of Movement for a Democratic Society, Brown University[11].
Progressives for Obama
In 2009 Paul Buhle was listed as a signer of the Progressives for Obama website.[12]
Center for Labor Renewal
In 2009 Paul Buhle was listed as an endorser of the Center for Labor Renewal[13].
New Politics
As of 2009 Paul Buhle served as a sponsor of New Politics, magazine almost completely staffed and run by members of Democratic Socialists of America[14].
Robeson book
In 2018, Paul Buhle was, with fellow Democratic Socialists of America member Lawrence Ware, coeditor of a forthcoming comic art biography of Paul Robeson, drawn by artist Sharon Rudahl.[15]
Socialist Majority Caucus
DSA's Socialist Majority Caucus signatories list as of April 25 2019 included Paul Buhle of Madison Democratic Socialists of America.
References