Paul Brown
From KeyWiki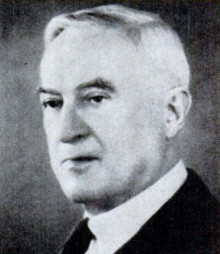 Paul Brown was a State Representative from Georgia. In 1932, he was a delegate to the 1932 Democratic National Convention.[1]
Bio
Bio posted at the official House of Representatives website:[2]
BROWN, Paul, A Representative from Georgia; born near Hartwell, Hart County, Ga., March 31, 1880; attended the public schools; was graduated in 1901 from the Lumpkin Law School, University of Georgia, at Athens; was admitted to the bar the same year and practiced law in Lexington, Ga., until 1920; also engaged in agricultural pursuits; mayor of Lexington, Ga., 1908-1914; member of the State house of representatives in 1907 and 1908; moved to Elberton, Ga., in 1920; county attorney of Elbert County 1928-1933; delegate to the Democratic National Convention in 1932; elected as a Democrat to the Seventy-third Congress to fill the vacancy caused by the death of Charles H. Brand; reelected to the Seventy-fourth and to the twelve succeeding Congresses and served from July 5, 1933, to January 3, 1961; chairman, Joint Committee on Defense Production (Eighty-fourth and Eighty-sixth Congresses); was not a candidate for renomination in 1960; died in Elberton, Ga., September 24, 1961; interment in Elmhurst Cemetery.
Southern Manifesto
Paul Brown signed the Southern Manifesto.[3]
References