Pamela Chiang
Jump to navigation
Jump to search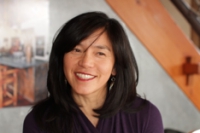 Template:TOCnestleft Pamela Chiang...is a Belgrade Montana activist. She is married to Ted Bryan.
She is affiliated with the Social Transformation Project.
Background
"As a child growing up in San Francisco in the 1970s we would have newly arrived Chinese immigrants come through our apartment door. In her spare time my mom, herself a newly arrived immigrant, would help people sort out things like how to settle parking ticket fines or get a license to operate an acupuncture or Chinese herbal medicine clinic. When I got to college it became clear to me that I wanted to do what my mom did in a way that could impact systemic structural change and transform people's lives for the better."
Pamela brings the unique combination of experiences in organizing with multi-racial and multi-lingual populations, creating infrastructure and strategy for the environmental justice movement of the 1990s, and understanding of how to transform leaders and organizations to be more powerful and sustainable.
Prior to joining the Center for Community Change as a field organizer in 2004, Pamela helped create the Southwest Network for Environmental and Economic Justice (SNEEJ) and the Asian Pacific Environmental Network (APEN) in a time when grassroots communities around the country elevated the issue of environmental racism, promoted the banner frame of "environmental justice" and brought people to work together toward shared purpose. Her organizing contributed to organization building and movement building that resulted in sweeping national policy change with the Environmental Protection Agency.
A primary theme in Pamela's leadership style is her ability to help create lasting relationships between people and organizations from diverse racial, cultural, and geographic experiences. Over her 15 years as an organizer, Pamela has organized with rural Mexican farmworker communities fighting incinerators and prisons, Native American tribes fighting nuclear contamination or toxic dumping, and African Americans and Asian and Latino immigrants and refugees demanding workplace and community health and safety.
Since 2008, Pamela has refined her years of experience to coach leaders to be more effective, train teams of people to accomplish greater results with less effort, and guide organizations through processes that help them become extraordinary. She did that as Director of Organizational Learning during a six-year effort with the Center for Communication Change. She continues this work as president of Chiange Inc. with leaders around the United States and increasingly around the world.
Pamela is also a trained mediator and holds a BA in environmental science from the University of California at Berkeley. She resides in Montana on a ranch with her husband and two young sons where they raise Quarterhorses and Corriente cattle, and employ sustainable agricultural management practices.[1]
APEN
Founding the Asian Pacific Environmental Network, 1993. Peggy Saika was the executive director of the Asian Law Caucus at that time.
Now she's the former executive director of APEN, followed by Joselito Laudencia, our new E.D. But her role was tremendous.
And there were other people, from campus actually, that were students, just graduated. Pamela Chiang, who was a student here at UC, and then Pam Tau Lee, Jack Chin, who was with the San Francisco Foundation. And Eric Saito, Martha Matsuoka, and Francis Calpotura.
According to Pam Tau Lee, "we met for about two years and looked at the needs and what we would want to do, and worked with the San Francisco Foundation, which helped us develop the bylaws and those structures to get one of those C3-kind of tax status."
And then we got the funding and hired Peggy Saika and a woman named Yin Ling Leung to be our first staff.
The first thing that we wanted to do was a needs assessment, to be able to talk to various organizations-Asian organizations-about the issues of environmental justice, and to see how these issues reflected in their work and their experiences. That took a couple of years. Then looking at the data, we also did some demographics. We also participated in other research like seafood consumption and other things that were going on, toxic lead-as a way to investigate the situation. We then met with some folks in Richmond, California, the Laotian community there, and started talking about the need to be able to develop our organization from the grass roots. We focused then on Richmond, California. [2]
War Times
In January 2002, a group of San Francisco leftists, mainly involved with STORM or Committees of Correspondence, founded a national anti-Iraq War newspaper[3] War Times.
Endorsers of the project included Pamela Chiang, environmental justice activist.
National Leading From the Inside Out Alum
Pamela Chiang, Director of Organizational Leadership, Center for Community Change, was a 2006 Rockwood Leadership Institute National Leading From the Inside Out Alum.[4]
MOP event
Over 70 Montanans from Baker to Missoula convened in Billings June 29-30 2012 for Montana Organizing Project's annual meeting "Uniting the Divides." People from different religions, different geographies, different socio-economic backgrounds, and different ages were able to come together to talk about the common values they share as Montanans and their vision for a Fair and Just Economy in Montana that sustains the well being of ALL Montanans.
Keynote Speakers at the event were Pamela Chiang with the Center for Community Change who spoke about the role that community organizing plays in uniting divides. Chase Iron Eyes, attorney, activist, and author of lastrealindians.com spoke about the importance of racial justice in the West. He spoke about important role of coalitions coming together to address racial justice issues.[5]
RoadMap
Pamela Chiang is a consultant with RoadMap, a Freedom Road Socialist Organization affiliated consultancy group .[6]
Common Counsel Foundation
Advisory Board member Common Counsel Foundation, Pamela Chiang, 2000, Center for Community Change, Belgrade, MT.
Asian/Indian left network
Bineshi Albert September 4, 2013:
Besides photos of my children and grandmothers this is the most cherished picture I have. It also capture one of my most valuable memories and lessons - laughter thru tears. These women along with a few others not in pic have shaped the woman I am today. The woman 2nd on the left is Nilak Butler and today would have been her birthday. These days when I am struggling with life's challenges I ask.
(Pictured L to R: Gerry Warledo, Nilak Butler, Bineshi Albert, Casey Camp, Jackie Warledo and JoAnn Tall).
Copied Julie Horinek, Faye Brown, Winona LaDuke, Jackie Warledo, David Tahchawwickah, Pamela Chiang, Lakota Harden and Pam Tau Lee.
References
Template:Reflist Template:War Times endorsers