Paige Kreisman
Jump to navigation
Jump to search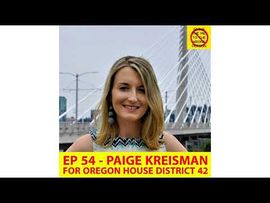 Template:TOCnestleft Paige Kreisman was a student at Oregon State University. She is a US army veteran, and identifies as a Marxist-Leninist. She was an active organizer with Communist Party USA, and the Benton County Democratic Socialists of America, where she served as chapter Treasurer.[1]
Activism
CAIR connection
Paige Kreisman January 24 2020·
So excited to be at CAIR - Oregon's inaugural banquet to hear Rashida Tlaib speak! With so many amazing local leaders here! Sahar Gulu and Shanice Clarke.
Kreisman supporters
Paige Kreisman October 15, 2019 ·
Siri: Show me a 💯% people powered campaign. — with Myra Haq, Laura Wadlin, Russell Lum and Olivia Katbi Smith.
2018 endorsements
During the local election cycle, The Benton County Democratic Socialists of America voted to endorse three candidates.
We feel that these candidates beliefs and policy propositions are in line with our own progressive, anti-capitalist, ideals.
Once in office, Paige plans to institute a rent and tuition freeze. She also advocates for disarming police officers and removing them from Corvallis schools. Additionally, she pledges to fight for the environment, LGBTQ+ rights, immigrants, and homeless people. Paige is a tireless ally of the working class and is dedicated to the liberation of the proletariat.[2]
Benton County Communists
Paige Kreisman with Benton County Communists.
DSA
DSA-JSC in Solidarity with Ilhan Omar
Jewish Solidarity Caucus 2019, Feb 14 2019.
As Jews on the left, we are in solidarity with Representative Ilhan Omar and her statements regarding the American Israel Public Affairs Committee's (AIPAC) influence over US lawmakers and foreign policy.
Signatories of the letter included Paige Kreisman.
Pacific Northwest conference
Eric Wimer April 7 2019:
Just finished up with the Pacific Northwest conference, and this one was particularly cool, because I'm not the organizer for this region, so I got to learn so much about the work these chapters are doing. Folks showed up in mass, put together some sessions that taught me a lot, and are already planning the work with each other that will take us towards democratic socialism. Each one of these chapters has a historic opportunity in this moment, and we intend to seize it.
Thank you to Geno for the photo and to the regional team of Portland Democratic Socialists of America and fellow PNW chapter volunteers that put together such a smooth and successful conference!
Tag yourself, tag your friends! — with Kaitlin Marone, Sage Jones, Wale Ogundipe, Philip Locker, Emily Golden-Fields and Paige Kreisman.
Portland DSA
In 2019 Paige Kreisman was active in Portland Democratic Socialists of America with Wade Hilts.
Officials Portland Tenants United
2019 officials of Portland Tenants United,
State rep. candidate
Portland Democratic Socialists of America added an event. June 21 The Bernie2020 Caucus is hosting a replay of Bernie's recent speech on Democratic Socialism, with discussion afterward on how this relates to the mission of the Democratic Socialists of America. Hosted by our Special Guest Oregon House District 42 Candidate Paige Kreisman.
Albert Lee support
Albert Lee 2020 June 24 2019·
Happy to support Paige Kreisman for Oregon House District 42!
Paige Kreisman July 14 2019·
So excited for my friend Albert Lee 2020! — attending Campaign Kickoff with Brandy Fortson and Albert Lee at Mt. Scott Community Center - Portland Parks & Recreation.
Still a communist
References