Oscar Owens
Jump to navigation
Jump to search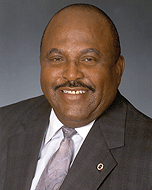 Template:TOCnestleft Oscar Owens is the International Secretary-Treasurer of the Amalgamated Transit Union, an AFL-CIO labor union.[1]
DSA member
Jessica Shearer, (Bryn Mawr College) and Oscar Owens, (NYU), were elected to the Democratic Socialists of America National Political Committee, (Youth Section) at the November 1997 DSA National Convention in Columbus Ohio.[2]
The Activist
In 2001, the Editorial Board, of The Activist - journal of the Young Democratic Socialists, consisted of[3];
Cover illustrations were by Oscar Owens. Layout by Tracie McMillan.
CBTU Trustee
As of 2009, Owens was a trustee of the Coalition of Black Trade Unionists.[4]
External links
References