Oscar Lopez Rivera
Jump to navigation
Jump to search
Template:TOCnestleft Oscar Lopez Rivera is a decorated Vietnam veteran and former community activist working on issues of poverty, discrimination, education, and police brutality in Chicago's Puerto Rican neighborhoods.
He was arrested in 1981, and convicted of seditious conspiracy, for allegedly being part of an underground group, the Armed Forces of National Liberation (FALN, in Spanish), which engaged in armed resistance in the 1970s for the independence of Puerto Rico. Lopez was sentenced to 55 years in federal prison. He was not convicted of participating in any acts that caused injury or death to any one.
Lopez spent 12 years in solitary confinement in conditions that the NBHRN says were "not unlike those at Guantanamo under which 'enemy combatants,' are held, conditions which the International Red Cross, among other human rights organizations, have called tantamount to torture."[1]
Arrest and conviction
Oscar Lopez Rivera was one of the leaders of the FALN. A fugitive since 1976 and indicted in 1977 and 1979, Lopez Rivera was arrested on May 29, 1980 and tried by the United States government for seditious conspiracy, use of force to commit robbery, interstate transportation of firearms, and conspiracy to transport explosives with intent to destroy government property. López Rivera maintained that according to international law he was an anticolonial combatant and could not be prosecuted by the United States government. On August 11, 1981, López Rivera was convicted and sentenced to 55 years in federal prison. On February 26, 1988 he was sentenced to an additional 15 years in prison for conspiring to allegedly escape from the Leavenworth federal prison.
Gutierrez connection
Luis Gutierrez and Puerto Rican political prisoner Oscar Lopez Rivera have known each other since their early years in the Puerto Rican community in Chicago.
Release
U.S. President Bill Clinton offered Lopez Rivera and 13 other convicted FALN members clemency in 1999, on condition they renounce violence, but Lopez Rivera rejected it. On January 17, 2017, President Barack Obama commuted Lopez Rivera's sentence and he was released from prison on May 17, 2017, after 35 years in prison. López Rivera had been incarcerated longer than any other member of the FALN. On February 9, 2017, he was moved from an Indiana prison to Puerto Rico, where he completed the last three months of his sentence under house arrest before being released on May 17, 2017.
Rasmea connection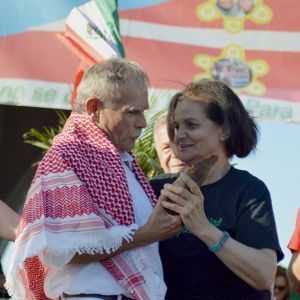 Rasmea Odeh embraces former prisoner, Oscar Lopez Rivera, at a rally in Chicago, on May 18, 2017. Lopez Rivera spent 35 years in a U.S. prison. He was "unjustly imprisoned for fighting for the independence of Puerto Rico, his homeland. Like him, Rasmea Odeh is up against repression - deportation by the U.S. government for her activism for a free Palestine.
Odeh said to him, "Wherever I land, I will continue my fight for Palestinian independence, and I will continue to support the independence of Puerto Rico." The crowd of about 1000 people, mainly Puerto Rican, thundered support for their national hero. Lopez Rivera said in his remarks, "We never lost sight of our goal to decolonize Puerto Rico." He also stated, "I have struggled all my life against colonialism. Colonialism is a crime against humanity. Colonized people have the right to struggle for their liberation by any means necessary."[2]
References