Open Statement of Solidarity in Support of Professor George Ciccariello-Maher
Jump to navigation
Jump to search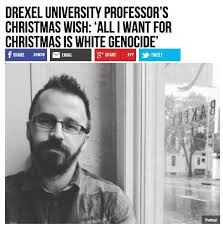 Open Statement of Solidarity in Support of Professor George Ciccariello-Maher was a statement[1] dated June 16, 2017 signed by academics in support of controversial comments made by George Ciccariello-Maher.
White Genocide Tweet
On Christmas day 2016, George Ciccariello-Maher received national attention after he tweeted, "All I want for Christmas is White Genocide." He also tweeted in support of the Haitian revolution of 1804, which resulted in the deaths thousands of white men, women and children.[2]
Drexel University condemned the tweet, prompting to respond in part: :"White supremacy is on the rise, and we must fight it by any means. In that fight, universities will need to choose whether they are on the side of free expression and academic debate, or on the side of the racist mob."
Text of Letter
"To the Drexel University Provost's Office, President's Office, and Faculty Senate:
"As supporters of academic freedom and free speech, we stand in solidarity with Drexel University Professor George Ciccariello-Maher against the orchestrated pressure campaign targeting him for antiracist and anti-imperial statements published on his personal social media accounts. We write to express strong disagreement with Provost M. Brian Blake's recent decision to convene a "special committee of inquiry" to investigate a member of the Drexel faculty.
"Despite the provost previously recognizing Professor Ciccariello-Maher's statements as "protected speech," he is now convening an investigation that represents a serious breach of university governance norms. The inquiry contravenes core guidelines for faculty evaluation procedures as defined by the Association of American Colleges and the American Association of University Professors. It likewise skirts the standard procedures of Drexel's Faculty Senate—the university's primary vehicle of faculty governance. Instead, members of the committee, many of whom are self-appointed, purport to evaluate whether Professor Ciccariello-Maher has violated Drexel's Code of Conduct—a policy that does not lay out procedures to make judgment on a faculty member's extramural speech.
"Whether intentionally or not, the provost's investigation aligns with current efforts to undermine the protections of academic freedom, long-practiced norms of faculty governance, and the ability for faculty to engage in political speech without being subjected to vicious online harassment and threats of employer retaliation. In recent months, faculty at colleges and universities across the United States have been targeted by similar campaigns designed to trigger public outcry and formal institutional censure. It is extremely disturbing that threats and intimidation tactics originating within far-right online spaces have found purchase among college and university administrators.
"Putting aside the question of whether one is sympathetic to Ciccariello-Maher's views, we fully support his right to speak out in a public forum, especially on topics relevant to his scholarly expertise. Without recourse to the procedural protections of the Charter of Faculty Governance and its Bylaws, or the standards of evaluation of faculty research and teaching long established by the AAUP, the provost's special committee sends the disturbing message to Drexel faculty engaged in the public sphere that their conduct is now subject to murky administrative oversight. The investigation thus casts a pall over Drexel faculty's continued exercise of academic freedom as they pursue research and teaching—an untenable situation for any academic institution.
"We call on Drexel University President John Fry and Provost Blake to immediately halt this ill-conceived, retaliatory investigation. The stakes are clear, and we must stand united in defense of widely accepted professional norms, like academic freedom and transparent university governance procedures, which are currently under threat from orchestrated right-wing pressure campaigns."
Signatories
Lawrie Balfour, University of Virginia
Noam Chomsky, Massachusetts Institute of Technology
Lara Langer Cohen, Swarthmore College
Rose Corrigan, Drexel University
Andrew Dilts, Loyola Marymount University
Greg Grandin, New York University
Bonnie Honig, Brown University
Juliet Hooker, University of Texas at Austin
Christian Hunold, Drexel University
Jacob Levy, Tomlinson Professor of Political Theory, McGill University
David Kazanjian, University of Pennsylvania
Laleh Khalili, SOAS, University of London
Rebecca Kukla, Professor of Philosophy, Georgetown University
John Patrick Leary, Wayne State University
Erik Loomis, University of Rhode Island
Joseph Lowndes, University of Oregon
Patchen Markell, Associate Professor of Political Science, University of Chicago
Utz McKnight, University of Alabama
Charles Mills, Distinguished Professor, CUNY Graduate Center
Adam Miyashiro, Stockton University
Jeanne Morefield, Whitman College
Anne Norton, University of Pennsylvania
John Protevi, Louisiana State University
Nikhil Pal Singh, New York University
Neil Roberts, Williams College
Corey Robin, Brooklyn College and the CUNY Graduate Center
Chloe Silverman, Drexel University
Jason Stanley, Jacob Urowsky Professor of Philosophy, Yale University
Donald Stevens, Drexel University
Robert Vitalis, Professor of Political Science, University of Pennsylvania
Elisabeth Anker, George Washington University
Robert Zaller, Drexel University
John Drabinski, Amherst College
Corey McCall, Elmira College
L. Syd M. Johnson, Associate Professor of Philosophy, Michigan Tech
Whitney Mutch, University of Alabama
Beth McGarry, RN, M.Ed
Anthony Paul Smith, La Salle University
J. Robert Loftis, Professor of Philosophy, Lorain County Community College
Andrea Pitts, UNC Charlotte
Elisabeth Paquette, University of North Carolina at Charlotte
Bill Mullen Purdue University
Cinzia Arruzza, New School for Social Research
Matt Berkman, Ph.D. Candidate, University of Pennsylvania
Steven Marsh, Associate Professor Hispanic Studies, University of Illinois at Chicago
Philip Gasper, Professor Emeritus, Notre Dame de Namur University
Aaron Hostetter, Assoc. Prof., Rutgers University-Camden
Lori Zaspel, Graduate Student, University of Pennsylvania
Jennie Ikuta, University of Tulsa
Tom Eyers, Associate Professor, Duquesne University
Alex Avina, Arizona State University
Jerome Roos, University of Cambridge
Juan Manuel Heredia, Associate Professor of Architecture, Portland State University
Patrick King, UC-Santa Cruz
Anderson Bean, North Carolina A&T State University
Matthias Lievens, Assistant Professor, Institute of Philosophy, KU Leuven (Belgium)
Gavin Walker, Associate Professor, McGill University
Julie Klein, Villanova University
Samuel Farber, Brooklyn College of CUNY (retired)
Mark Lance, Professor of philosophy, professor of justice and peace, Georgetown University
Nicky Steidel, Undergraduate Student, Princeton University
James Robert Hunter, PhD
Kevin Bruyneel, Babson College
Julien Villeneuve, Collège de Maisonneuve
Ashon Crawley, University of Virginia
Susana Draper, Associate Professor, Princeton University
Benjamin McKean, Ohio State University
Rosemary Barbera, Associate Professor, La Salle University
Rebecca Karl, Professor, New York University
Dr. Jjenna Andrews, Mott Community College
Anna Muraco, Associate Professor, Loyola Marymount University
Laura Goldblatt, University of Virginia
Fernando Leiva, Associate Professor, University of California Santa Cruz
Chauncey Colwell, Ph.D., J.D.
Richard Gilman-Opalsky, Associate Professor, University of Illinois
Nicole Grove, Assistant Professor, University of Hawaii at Manoa
Taylor Genovese, Ph.D. student, Arizona State University
Melvin Rogers, Associate Professor, Brown University
Alexander Livingston, Assistant Professor, Cornell University
Zoe Cohen, artist & adjunct professor
Linus Owens, Middlebury College
David Young, ABD, Duquesne University
David Goldberg, Wayne State University
Tamsin Kimoto, Emory University
Tasia Milton, Rutgers University
Bret Benjamin, University at Albany, SUNY
Joe Neumann, Librarian, University of Maryland School of Law
Walter Heinecke, University of Virginia
Mario Bucci, Brussels, Belgium
Thomas Herndon, Assistant Professor, Loyola Marymount University
David Leonard, Washington State University
Jason Read, University of Southern Maine
Zach Campbell, Rutgers University
Mark Rigstad, Associate Professor and Chair of Philosophy, Oakland University
Daniel Malinowski, Rutgers University
Sina Kramer, Assistant Professor of Women's and Gender Studies, Loyola Marymount University
Edward Kazarian, Rowan University
Alexander Billet, Red Wedge Magazine
Jared Ware, Freelance Journalist
Elizabeth Wrigley-Field, Assistant Professor, University of Minnesota, Twin Cities
Spencer Beswick, Cornell University
Robert Nichols, University of Minnesota
Nicholas Rynearson, Brooklyn College
Danielle St. Hilaire, Associate Professor, Duquesne University
Hugh Miller, Assistant Prof. of Philosophy, Loyola University Chicago
Joshua Plencner, Drexel University
Sanford Schram, Hunter College, CUNY
Sarah Grey, Grey Editing LLC, Philadelphia
Jennifer Gaboury, Hunter College, CUNY
Mark LeVine, Dept of History, UC Irvine
Christopher Taylor, Assistant Professor, University of Chicago
Frank Garrett, PhD
Brian Lovato, Visiting Assistant Professor, Augustana College
Megan Gallagher, Brown University
Steve Macek, North Central College
Sarah E. Watkins, Independent Scholar
Brian Prager, CUNY
David McNally, Professor, York University
Tithi Bhattacharya, Purdue University
Zach Schwartz-Weinstein, PhD.
Sharon Stanley, University of Memphis
Christopher Brooke, University of Cambridge
Ash Williams, Black independent scholar
Geoffrey Wildanger, Brown University
Yannik Thiem, Villanova University
Max Haiven, Canada Research Chair in Culture, Media and Social Justice, Lakehead University, Canada
Todd Barnes, Associte Professor of Literature, Ramapo College of NJ
Louis-Georges Schwartz, Associate Professor, Ohio University
Adam Thomas, Ohio State University
Eric Aldieri, DePaul University
Gabriel Rocha, Drexel University
Arlene Stein, Rutgers
Amelia Hoover Green, Assistant Professor of Politics, Drexel University
Byron Davies, PhD Candidate in Philosophy, Harvard University
Helena Ribeiro, Seattle Central College
Alex Press, Northeastern University
Nima Bassiri, University of Chicago
Nancy Stockdale, University of North Texas
Max Shue, Asst. Professor, College of Western Idaho
Colin Arnold, University of Virginia
Maximillian Alvarez, Ph.D. Student, University of Michigan
Nancy Bentley, University of Pennsylvania
Chris Howell, Professor of Politics, Oberlin College
Jimmy Casas Klausen, Pontifícia Universidade Católica do Rio de Janeiro
Ira Allen, American University of Beirut
William Callison, UC Berkeley
John Gee, Ph.D. Candidate, Harvard University
Robyn Marasco, Hunter College, CUNY
Satyel Larson, Princeton University
Sara Rushing, Montana State University
Janice Gallagher, Assistant Professor, Rutgers University-Newark
Benjamin Yost, Associate Professor, Providence College
Dr. Theodore Koulouris, Snr Lecturer, University of Brighton, UK
Carl Sachs, Assistant Professor of Philosophy, Marymount University
Jeffery Webber, Queen Mary University of London
Borna Radnik, PhD Candidate, Kingston University, UK
Veronica Sousa, Doctoral Student, Princeton University
Amanda Armstrong, Professor of History, University of Michigan
Kye Barker, PhD Candidate in Political Science, UCLA
Pinar Kemerli, Postdoctoral fellow, Brown University
Ian Petrie, University of Pennsylvania
Christopher Harris, University of Central Florida
Benjamin J. Wilson, University of Kentucky
Stephen D'Arcy, Associate Professor, Huron University College
Hagar Kotef, SOAS, University of London
Alexia Papamichail, PhD Candidate in Psychology, University of Brighton, UK
Chris Hesketh, Dr, Oxford Brookes Univerity
Davide Panagia, UCLA
Kristina Meshelski, California State University, Northridge
Erick Castellanos, Associate Professor, Ramapo College
Warren Montag, Occidental College
Adam Dahl, Assistant Professor, University of Massachusetts Amherst
Don T. Deere, Visiting Assistant Professor, Loyola Marymount University
Tom Lewis, Professor Emeritus and Collegiate Fellow, University of Iowa
Brandon Hunter, Princeton University
Adam David Morton, Professor of Political Economy, University of Sydney
Jonathan Luftig, Morgan State University
Ege Selin Islekel, Loyola Marymount University
Laurence Cox, Senior Lecturer, National University of Ireland Maynooth
Brian Connolly, Associate Professor, University of South Florida
Corey Payne, Ph.D. Student, Johns Hopkins University
Rev. Cheni Khonje
Ram Neta, Professor, University of North Carolina, Chapel Hill
Murad Idris, University of Virginia
Deva Woodly, The New School
Katie Horowitz, Davidson College
Kirstine Taylor, Ohio University
Evan McClane, Undergraduate Student, State University of New York
Rowan Lubbock, Birkbeck College, University of London
Alahyo Young, Graduate Student, Morgan State University
Colin Beckett, Verso Books
Mark Healey, University of Connecticut
Asher Wycoff, Adjunct Lecturer, Brooklyn College
Grant Mandarino, University of Michigan
Emily Drabinski, LIU Brooklyn
John Altmann Independent Scholar
Adam Fishwick, De Montfort University
Andrea Fallenstein, Gonzaga University
Natalia Jacovkis, Associate Professor of Spanish, Xavier University
Laura Grattan, Wellesley College
Agnes B. Curry, Professor, University of Saint Joseph
Dilek Huseyinzadegan, Emory University
Douglas Williams, Wayne State University
Andrew March, Yale University
Ilias Alami, Manchester University
Kelli Potter, Associate Professor of Philosophy, Utah Valley University
Corbin Page, PhD Student, University of Chicago
Lisa Tucker, Drexel University
Josh Robinson, Cardiff University
Michael Rooney, Pasadena City College
Eamon Tewell, LIU Brooklyn
Matthew Bost, Whitman College
Mohammad Fadel, University of Toronto Faculty of Law
Christian Lotz, Professor, Michigan State University
Manuel Larrabure, University of California
Michelle R. Smith, Assistant Professor, Political Science, Barnard College
Greg Albo, York University
Emily Nacol, Vanderbilt University
Emre Cetin Gurer, PhD Student, Villanova University
Steven Blevins, PhD
Zoe Lawlor, University of Limerick, Ireland
Tor Krever, University of Warwick
Samuel Steinberg, University of Southern California
Joshua Clover, Professor of English and Comparative Literature, University of California Davis
Laura Tidd, Durham University
Sujatha Fernandes, University of Sydney
Tim Goulet Teamsters Local 810
Gabriel DeCaro, North Carolina State University
Dean Dettloff, Institute for Christian Studies/VU Amsterdam
Matt Meyer, nyu law student
Corey McGrath, Ph.D. Candidate, UC Santa Barbara
Elizabeth A. Drummond, Loyola Marymount University
Claire Donato, Pratt Institute
Peter Ciccariello, professional artist/poet
Julie Novkov, University at Albany, SUNY
Mohamad Elmasry, University of North Alabama
Terra Vandergaw, Associate Professor of Theater Ramapo College of New Jersey
Patrick Kinsman, IUPUI
Kathleen de la Pena McCook, professor, University of South Florida
Jeff St. Andrews, Lecturer, UC Santa Barbara
Victoria Delaney, Binghamton University
Sarah Hansen, Cal State Northridge
Mark Firmani, PhD Student, University of Pennsylvania
William Clare Roberts, McGill University
Jack Jackson, Whitman College
Osamah Khalil, Associate Professor, Syracuse University
Julio Huato, Ph D. Associate Economics Professor. St. Francis College. Brooklyn, New York
Helen C. Scott, University of Vermont
Gabe Sanchez, University at Albany
Gabriel Wilds, University of Pittsburgh
Michelle Mereles, Saint Louis University
Elise Springer, Wesleyan University
Daniel Tutt Ph.D.
T.J. Tallie, Assistant Professor, Washington and Lee University
Talia Earle, independent scholar
Serena Ahmed, University of Houston
Johnna Norris, California State University, San Bernardino
Ryan Eriksmoen Johnson, Youth Minister
Jason Buel, North Carolina State University
Joseph Gallagher, Undergraduate, Temple University
Joanne Wiedman, MSW, LSW
Barucha Peller, UCSC
Steven Tran-Creque, PhD student, Washington University in St Louis
Gregory Afinogenov, Georgetown University
Susan Volz, alum, Drexel University
Patricia Cooper, retired, University of Kentucky
Glen Coulthard, University of British Columbia
Jonathan Combs-Schilling, Ohio State University
Daniel Gutierrez, PhD Candidate, Freie Universität Berlin
William "Alec" Hudson, Masters student in Urban Planning and Policy, UIC
Lisa Ellis, University of Otago
Douglas A. Cunningham, Ph.D.
Angelica Maria Bernal, University of Massachsetts Amherst
Heather R. Purichia, PhD
Charles Laanstra, Yukon College
McKenzie Wark, The New School for Social Research
Michael Rulon, Lecturer of French, Northern Arizona University
Jordy Cummings, York University
Dont Rhine, Faculty Co-Chair, Visual Art, VCFA
Craig Borowiak, Associate Professor, Political Science, Haverford College
Anjana Malhotra, SUNY Buffalo Law School
Christopher Robinson, Clarkson University
Jordy Rosenberg University of Massachusetts
Lida Maxwell, Associate Professor of Political Science, Trinity College
Kathleen Brian, Western Washington University
Patty Smith, Century College
Amel Ahmed, University of Massachusetts Amherst
Jeffrey Bell, Professor of Philosophy, Southeastern Louisiana University
Justin M. White, Metadata and Emerging Technologies Librarian
Tim Kreiner, Lecturer, Yale University
Stefan Dolgert, Brock University
Charles Post, Professor of Sociology, Graduate Center and Borough of Manhattan Community College-CUNY
Barry Eidlin, Assistant Professor of Sociology, McGill University
Sergio Tenenbaum, Professor of Philosophy, University of Toronto
Amit Baishya, Assistant Professor, University of Oklahoma
Opal Grace Jones, MFA Candidate, Vermont College of Fine Arts
Kristen Gallagher, Professor of English Literature, City University of New York
Abigail A. Fuller, University of Southern Maine
Michelle Renee Matisons, Adjunct Philosophy Professor, Gulf Coast State College
Robert J. Corber, William R Kenan Jr Professor of American Institutions and Values, Trinity College
Samir Chopra, Professor, Department of Philosophy, Brooklyn College of the City University of New York
Fred Lee, University of Connecticut
Russell Rickford, Associate Professor of History, Cornell University
Ted Stolze, Cerritos College
Joshua Craze, Harper Fellow and Collegiate Assistant Professor, University of Chicago
Julie Webber, professor, Illinois State University
Gaurav Majumdar, Associate Professor of English, Whitman College
Jessica Blatt, Marymount Manhattan College
Joseph van der Naald, PhD Student, The Graduate Center, CUNY
Hasana Sharp, McGill University
Alyosha Goldstein, Associate Professor of American Studies, University of New Mexico
Joni Spigler, Independent Scholar and Artist
Nicholas Buccola, Professor of Political Science, Linfield College
Timothy Kaufman-Osborn, Baker Ferguson Professor of Politics and Leadership, Whitman College
Jeremiah Gaster, PhD Candidate, York University
Angela Buck, University of Denver
Mark D. Johnson, Assoc. Prof Biol retired, U of St Joseph
Liz Mason-Deese, University of Mary Washington
Lauren Guilmette, Florida Atlantic University
Thomas Thomson, graduate student, Yale University
Quin Rich, Emory University
Shamma Boyarin, University of Victoria
Dave Burnham, PhD Student, University of Chicago
Phil Opsasnick, Doctoral Student, SUNY Stony Brook
Pallavi Rao, PhD Student, Indiana University-Bloomington
Jamey Essex, University of Windsor
Len Gutkin, Junior Fellow, Harvard Society of Fellows
Jane Fraser, Professor of Engineering, Colorado State University-Pueblo
Jared Holley, University of Chicago
Pilar Alvarez-Rubio, Professor of Spanish, California State University, Chico
Chris Courtney Martin, Drexel University class of 2014
David Kaib, American University
Jake Ivan Dole, PhD Candidate, Georgia State University
Nina Hagel, Bates College
Jared Rodriguez, Northwestern University
Frann Michel, Professor of English, Willamette University
James Junker, PhD candidate, Montana State University
Brian Miller, LMFT
Tim Lacy, Independent Historian
Johanna Smith - a feminist leftist
Franco Barchiesi, associate professor, Ohio State University
Benjamin Alpers, University of Oklahoma
Andrea Frank, citizen
Susan Morrissey, Professor, University of California Irvine
James Howard Hill, Jr., PhD Student, Northwestern University
Naveed Mansoori, PhD Candidate, UCLA
Jon Smith, Associate Professor, Simon Fraser University
Jared Hickman, Associate Professor of English, Johns Hopkins University
Jeremy Gibbs, University of Utah
Peter Amato, Teaching Professor, Drexel University
Sydney Ji, UC Berkeley
Julian Carter, Associate Professor and Chair of Critical Studies, California College of the Arts
Todd Marek, PhD Candidate, University of Notre Dame
Christopher Churchill, Associate Professor of History and Global Studies, Alfred University
Ian Dickinson, Esq
Clifford Lee, Ph.D.
Joel Harrison, PhD Candidate, Northwestern University
Joshua Garoon, Assistant Professor, University of Wisconsin-Madison
Timothy Shortell, Professor of Sociology, Brooklyn College, City University of New York
Travis Linnemann, Eastern Kentucky University
Chris Beall, Fordham University School of Law
Evan Rowe, University of Colorado
Alex Gourevitch, Brown University
Manuel Lerdau, Professor, University of Virginia
David Mertz, Ph.D.
Swarup Pokhrel, Drexel '14/Monash University
Mehmet Dosemeci, Bucknell University
Jared Millson, Agnes Scott College
Jonathan Dettman, University of Nebraska at Kearney
James Illingworth, Assistant Editor, Freedmen and Southern Society Project
Jack Henrie Fisher, Assistant Professor. University of Illinois at Chicago
Carie Lyn Schneider, University of Arizona
Jessica Klonsky, NYC Department of Education
Eric Sprankle, Associate Professor, Minnesota State University, Mankato
William Aviles, University of Nebraska at Kearney
Brace Belden, YPG
Dick Powis, PhD Candidate in Anthropology, Washington University in St. Louis
Ben Brucato, Lecturer, University of Massachusetts Amherst
Wendy Matsumura, UCSD
Amy Cooper, Saint Louis University
Kurt Hoffman, Professor of Physics, Whitman College
Luzilda Carrillo Arciniega, University of California Irvine
Christopher Peterson, non-academic that believes in free speech
Savannah Martin, PhD Student, Washington University in St. Louis
Miranda Featherstone, MSW, LSW
Rosemary Barbera, Associate Professor, La Salle University
Julia Daniel, grad student, University of Colorado
Arlene Eisen, MA, MPH
Jonathan Larson, adjunct instructor, NYU
Jacob Kripp, PhD Student, Johns Hopkins University
Sarah Ehlers, Assistant Professor, University of Houston
Robert Mickey, University of Michigan--Ann Arbor
Jeremy Melius, Tufts University
Jana Everett, Professor, CU Denver
Falguni Sheth, Emory University
Matthew Connolly, Teaching Assistant, University at Buffalo
Mary Nolan, Professor, NYU
Jordan Rose, Asst. Professor, University of California, San Diego
Angela Dunne, PhD Student, CUNY Graduate Center
Angela Zito, Associate Professor, NYU
Nicholas Fleisher, University of Wisconsin-Milwaukee
Geoff Pfeifer, Associate Professor of Philosophy, Worcester Polytechnic Institute
Benjamin Johnson, Associate Professor, Loyola University Chicago
Ella Myers, University of Utah
Matthew C. Watson, Assistant Professor, Mount Holyoke College
Joel Wolfe, U. of Massachusetts Amherst
Jon Golbe, Community Support Professional AHRC-NY
Joe Soss, Cowles Professor, University of Minnesota
Jeff Jacobs, PhD Student, Columbia University
Brady Phelps, student, Texas-San Antonio
Jennifer Hudson, Washington University in St Louis
Sara Burke, Assistant Professor, Syracuse University
Zachary Williams, Simon Fraser University
Andrea Smith, UC Riverside
Sam Fallon, Visiting Assistant Professor, SUNY New Paltz
Paul McKenzie-Jones, Montana State University-Northern
German Vergara, Postdoctoral Fellow, Brown University
Ivonne del Valle, Associate Professor, UC Berkeley
Christine Evans, Associate Professor, University of Wisconsin Milwaukee
Ericka Beckman, University of Pennsylvania
Toby Svoboda, Associate Professor, Fairfield University
Blaine Stum, Graduate Student, American University
Brendan Balint, Perimeter College, Georgia State U.
Ken Wissoker, Duke University Press
Muhammed Malik (Former Executive Director, CAIR-Miami)
David Forrest, Oberlin College
Abbey Ciccariello-Maher, Nutrition Educator and Consultant
Kevin Young, University of Massachusetts Amherst
Matt Whitt, Duke University
Gerardo Renique, City University of New York
Leonard Williams, Manchester University
Maggie Clinton, Middlebury College
Veronica Horn, Grad Student, National University
Dan Berger, University of Washington Bothell
Sam Fisher, Washington University in St. Louis
Kateland Harte, U.C. Berkeley
Sean Parson, Assistant Professor, Northern Arizona University
Christopher Bonacci, Drexel University
Shelley Park, Univ of Central Florida
Scott Ritchie, Kennesaw State University
Andrea Morrell, Guttman Community College CUNY
Rebekah Ward, Georgia Gwinnett College
Isis Sadek, Independent scholar
Jennifer Fleeger, Ursinus College
Jonathan Walters, Professor of Religion, Whitman College
Shannon Mussett, Professor of Philosophy, Utah Valley University
Taylor Carman, Professor, Barnard College, Columbia U
Jonathan Koch, Ph.D. Candidate, UCLA
Rodney Herring, University of Colorado Denver
Jared Croitoru, Georgia State University
Christian Haesemeyer, Professor of Pure Mathematics, University of Melbourne
Joseph Shahadi, Ph.D.
Hubert Ho, Northeastern University
Shirin Deylami, Associate Professor, Western Washington University
Gabriel Hetland, University at Albany
Justin Akers Chacon, San Diego City College
Jennifer Nelson, School of the Art Institute of Chicago
Daniel Vukovich, Assoc Prof, Hong Kong University
Tathagatan Ravindran, Universidad ICESI
Peter Jaros, Franklin & Marshall College
Abdurrahman Pasha, Phd
Agustin Lao-Montes, University of Massachusetts
Ara Wilson, Duke University
Melissa Lavin, Assistant Professor
Kristin Koster Ph.D. Sacramento City College
Sharon Elliott, retired from University of Washington and UC Berkeley
Raymond Craib, Professor, History, Cornell University
Anastasia Karklina, PhD Student, Duke University
Naomi Scheman, emerita professor of philosophy, University of Minnesota
Barbara Cruikshank, University of Massachusetts
Jeffrey Paris, University of San Francisco
Kristin L. Matthews, Associate Professor of English, BYU
Ali Shehzad Zaidi, Associate Professor, SUNY Canton
Daniel Hast, PhD Candidate, University of Wisconsin-Madison
Daniel Levine, Assistant Professor, University of Alabama
Dominick Knowles, PhD Student, Brandeis University
Marie Moise, PhD, University of Padua (Italy)
Mohan Ambikaipaker, Assistant Professor,Tulane University
Ian Almond, Professor of World Literatures, Georgetown University in Qatar
Kristy King, Barrett Honors College, Arizona State University
Aleyah Hassan, Stockton University
Grace Hong, Professor, UCLA
Gustavo Quintero, Cornell University
Lisa Clark, Executive Director
Yesenia Barragan, Dartmouth College
Kamal Kariem, Princeton University
Jasmine Noelle Yarish, PhD Candidate Political Science UCSB
Nick Srnicek, King's College London
Eric Bottorff, Adjunct Faculty, Oakton Community College
Alexis Shotwell, Associate Professor, Carleton University
Brad Elliott Stone, Loyola Marymount University
Brent Terry, Eastern Connecticut State University
Nicole Anderson, Drexel University Alumni
Thom Sliwowski, PhD Student, UC Berkeley
Richard Grijalva, Doctoral Candidate, UC Berkeley
Charles H.F. Davis III, Assistant Professor, University of Southern California
JS Aurelius, Arizona State
Asma Abbas, Bard College at Simon's Rock
Jordan E. Miller, Wheaton College (MA)
Jordan McElderry, George Mason University
Paul Apostolidis, Whitman College
Margarita Saona, Professor, UIC
Yves Winter, McGill University
John Seery, Pomona College
Meghna Chandra, University of Pennsylvania
Cameron Thurber, Ph.D. Candidate, Emory University
Marena Lin, Ph.D. Candidate, Harvard University
Alana M. Vincent, University of Chester
Becquer Seguin, Lawrence University
Kristin Lawler, College of Mount St Vincent
Samer Ali, Associate Professor, U of Michigan
Adile Aslan, Georgetown University in Qatar
Ainsley LeSure, Occidental College
August Johnson, UC Hastings
Aaron Nelson, Graduate, Portland State University
Jeremy Arnold, National University of Singapore
Jean Beaman, Purdue University
Maureen Eckert, Associate Prof., UMASS Dartmouth
Emily Maguire, Associate Professor, Northwestern University
Andrej Grubacic, California Institute of Integral Studies
Yael Grauer, independent journalist
Daniel Luban, Yale University
Andreas Bieler, Professor of Political Economy, University of Nottingham
Pavel Blagov, Associate Professor of Psychology, Whitman College
Yaiza Hernandez, Lecturer, Central Saint Martins, University of the Arts London
Thomas Gregory, Lecturer, University of Auckland
E. Gabriel Dattatreyan, Goldsmiths, University of London
Omar Sirri, PhD student, University of Toronto
Simon Gilhooley, Bard College
Patricia Alessandrini, Lecturer in Sonic Arts, Goldsmiths, University of London
Lara Kiswani, Executive Director, Arab Resource & Organizing Center
Manissa Maharawal, American University
Mazen Masri, City, University of London
Laila Riazi, Doctoral Student, UC Berkeley
Daniel Dawson, MA Student, Goldsmiths, University of London
Megan Francis, University of Washington
Kumars Salehi, PhD student, UC Berkeley
H'Rina DeTroy, Adjunct Lecturer, Hunter College
Peter Rosset, Professor of Agriculture, Society & Environment, ECOSUR, Mexico
John Kirkland, Carpenters Local 167, personal capacity
Nancy Welch, Professor of English, University of Vermont
John Collins, St. Lawrence University
Maria Aristodemou, Birkbeck College
Katerina Chatzikidi, University of Oxford
Gabriela Morales, PhD Candidate, Yale University
Alex Sanchez Bressler, Duke University
Snehal Shingavi, University of Texas, Austin
Gabriel Salgado, PhD Student, University of Pennsylvania
Colin Eubank, Graduate Student, Johns Hopkins University
Travis Foster, Assistant Professor, Villanova University
Philly Cheung, Undergraduate Student, Drexel University
Edwin Van Bibber-Orr, Assistant Professor, Syracuse University
Jordan Skinner, Medieval Studies, Central European University
Juan Ponce-Vazquez, The University of Alabama
Kathleen Feyh, Asst. Teaching Professor, Syracuse University
Jason Hannan, University of Winnipeg
Chris Buck, St. Lawrence University
Ben Laurence, Lecturer, University of Chicago
Shane Boyle, Drama Department, Queen Mary University of London
Uri Horesh, PhD, University of Essex
Matthias Wasser, Graduate Student, University of Maryland — College Park
[[Rebecca Hill, Kennesaw State University
Justin Lieberman ADBK, Munich
Dani Scott, Circulation Librarian, MLS student
Erin Dyke, Assistant Professor, Oklahoma State University
Ruth King, York University
Steven Vose, Assistant Professor, Florida International University
Eduardo Ramos, Penn State University
Judith Mueller, Professor, Franklin & Marshall College
DeSales Harrison, Associate Professor, Oberlin College
Charlotte Kates, Samidoun Palestinian Prisoner Solidarity Network
Pablo Palomino, University of Chicago
Jennifer Adair, Assistant Professor, Fairfield University
Walter Johnson, Harvard University
Marika Rose, Postdoctoral Fellow, University of Winchester
Jodi Dean, Harter Chair of Humanities and Social Sciences, Hobart and William Smith Colleges
Mohammad Salemy, The New Centre for Research & Practice
John Krinsky, City College-CUNY
Benjamin Mathis, artist and activist
Andrew Moisey, Assistant Professor, Cornell University
Karen Graubart, Associate Professor, University of Notre Dame
Michael Rodriguez-Muniz, Assistant Professor, Northwestern University
Katarina Radovanovic, Universidade Nova de Lisboa
Yousuf Al-Bulushi, Assistant Professor, Goucher College
Susan Clayton, College of Wooster
Andrew Johnson, University of California Santa Barbara
Justin Feldman, Doctral Candidate, Harvard TH Chan School of Public Health
Eli Meyerhoff, Duke University
Steven Gilmore, Attorney at Law
Tom MacMillan, University of Maine
Diana Solano-Oropeza, student, Drexel University
David Walker, Oberlin College
Sara Ciccariello LCSW, CASAC
Emanuela Bianchi, Assistant Professor of Comparative Literature, New York University
Johanna Gosse, Columbia University
Kate Drabinski, UMBC
Kristofer Petersen-Overton, Adjunct Lecturer, Montana Tech
Jesse Salah Ovadia, Assistant Professor, University of Windsor
Steven Johnston, University of Utah
Carlos Delclos, Universitat Pompeu Fabra
Sean Broesler Dockbuilders Local 1556
Jairus Grove, Associate Professor, University of Hawai'i
Kyle Lane-McKinley, associate director SPARC at UC Santa Cruz
Greg Zoda, Baylor University
Ivan Pojomovsky, Student, Universidade Federal de Pernambuco
Alejandro Velasco, Associate Professor (New York University)
Rosalind Rei, King's College London
Isaac Leal, University of Georgia
Ezra Teboul, PhD student, RPI
Ayca Cubukcu, Assistant Professor in Human Rights, London School of Economics and Political Science
Alex Provan, Undergraduate Student, Clarkson University
Alyssa Muir, M.Ed.
Joseph Fantauzzi, Researcher
Laura Galian, Universidad Autónoma de Madrid
Gavin Mueller, University of Texas at Dallas
Samir Gandesha, Associate Professor, Simon Fraser University
Nicola Perugini, University of Edinburgh
Patrick Jones, University of Oregon
Robert Rowl, Drexel University
Dr. David Moon (University of Bath, UK)
Eric Newnum, Stonehill College
Russell Dale, Adjunct Assistant Professor, Lehman College, CUNY
Hector Alcala, University of Virginia
Hoang Tan Nguyen, Associate Professor, UC San Diego
Helen Kinsella, University of Wisconsin-Madison
Benjamin Fogel, New York University
Lori Marso, Union College
Dan Arel, author and journalist
Joshua Stacher, Associate Professor, Kent State University
James Babbitt, Graduate Student WUSTL
Charlotte Canning, Professor, University of Texas at Austin
David Sessions, Boston College
Chenjerai Kumanyika, Assistant Professor, Rutgers University
Jacob Frostick, SUNY Potsdam
Nazia Kazi, Stockton University
Meredith Gunning, Faculty UMASS Boston
Salome Aguilera Skvirsky, Assistant Professor, University of Chicago
Dr. Shiri Pasternak, Assistant Professor, Trent University
Michael Fischer, sympathizer
Richard McNeil-Willson, University of Exeter (UK)
Andrew Hsiao, Verso Books
Steve Shives, video producer and podcaster
Dr. Ian Alan Paul
Darwin Tsen, The Pennsylvania State University
Craig Willse, George Mason University
David Luebke, University of Oregon
Elizabeth Terzakis, Professor, Cañada College
Omar Dahi, Hampshire College
Sidney Merritt, UCSD
Max Macias, Independent Librarian
Ryan Kaveh Sheldon, PhD Candidate, The State University of New York at Buffalo
Rosario Torres-Guevara, CUNY
Michael Truscello, Associate Professor, Mount Royal University
Barbara Rahder, Professor Emerita, York University
Andrea Teti, University of Aberdeen
Austin Matheney, Graduate Student, Albert Ludwigs Universität Freiburg
Vanamali Hermans, Australian National University
Alyssa Bowen, PhD Candidate, UNC Chapel Hill
William Haver, Associate Professor Emeritus, Binghamton University
John McCullough, Fordham University
Gautam Premnath, Independent Scholar
Adam Culver, Maryland Institute College of Art
Luis Herran Avila, Carleton College
Patrick Harrison, UC Berkeley, PhD student
Clayton Hardy, Drexel University
Maciek Wisniewski, Journalist
Allison Cardon, PhD Candidate in English at SUNY Buffalo
Carlos Amador, Michigan Technological University
Elizabeth Regan Jarvis, West Virginia University
Amaru Tejeda, UCSB Graduate Student
John Forte, teacher, Trenton Central High School
Arlen Austin, Brown University
John Munro, Saint Mary's University
Elizabeth Bishop, Associate Professor, Texas State University
Alexander Cowan, PhD candidate in Historical Musicology, Harvard University
Brandon Wolfe-Hunnicutt, Cal State Stanislaus
Josiah Solis, Claremont Graduate University
Karsten Syversen UW Evans School Alum
Quinn Slobodian, Wellesley College
Joel Fennell, Senior Art Handler, David Zwirner Inc.
Chelsea Tout, Canisius College
Edmond Caldwell, Lecturer, University of Massachusetts, Boston
James Arnett, University of Tennessee-Chattanooga
Zane Dundon, Undergraduate student, Lewis & Clark College
Godofredo Pereira, Environment Tutor, Royal College of Art, London
Scott Markley, PhD Student in Geography, University of Georgia
Leon De la Rosa Carrillo, Art Professor, Universidad Autónoma de Ciudad Juárez
Ted Swedenburg, Professor of Anthropology, University of Arkansas
Sam Weinberg, Undergraduate Student, San Diego State University
Dr. Amelia Bercusson, Imperial College London
Jonathan Sterling, Phd Student, Carnegie Mellon University
Carli Tolan, Washington State University
Heidi Grunebaum, University of the Western Cape, South Africa
Lisa Guenther, Vanderbilt University
Nesrine Chahine, University of Pennsylvania
Jonathan Kaplan, Professor, Oregon State University
Andrew Meyer - University of California, Santa Cruz
Bryan McCann, Assistant Professor, Louisiana State University
Esmeralda Jimenez, Undergraduate Student, Mitchell Community College
Gary Potter, Professor School of Justice Studies, Eastern Kentucky University
Patrick Kimutis, University of Illinois at Urbana-Champaign
Kamran Rastegar, Tufts University
Charmaine Chua, Assistant Professor, Oberlin College
Jason Neidleman, University of La Verne
Daniel Listoe, Senior Lecturer, University of Wisconsin-Milwaukee
Wilson Chacko Jacob, Concordia University, Montreal
Marc Gardner Attorney at Law, San Francisco
Christy Thornton, Rowan University
Kyle McDonnell, PhD student, York University
Benjamin Anderson, Simon Fraser University
Priyamvada Gopal, Reader, University of Cambridge
Sean Collins, Temple University
Lisa Dugga, Prof of Social & Cultural Analysis, NYU
Roxanne Panchasi, Associate Professor, Simon Fraser University
Andrew Lee, NYU
Professor Debbie Epstein, University of Roehampton
Yousef Baker, California State Univ. Long Beach
Jesse Cohn, Associate Professor of English, Purdue Northwest
William Booth, University of Oxford
Maria Flores, student, UC Santa Cruz
Cristian Gomez Olivares, Case Western Reserve University
Diego Araya, NYU graduate student
James Rowe, University of Victoria
Maliek Marks-Small, Drexel University
Peter LoRe, NREMT-P
David Hawkes, Professor, Arizona State University
David Blauvelt, MSc of Archaeology, Independent Researcher
Ben Robinson, Phd Candidate in Religious Studies, Southern Methodist University
Ken Ehrlich, UC Riverside
Steven Levine, Associate Professor of Philosophy, University of Massachusetts, Boston
Benjamin Mabie, Editorial Department at Verso Books
David Clingingsmith, Associate Professor, Case Western Reserve University
Peter Frase, Jacobin Magazine
Andrew DeYoung, Directors Guild of America
Isaac Henrion, PhD candidate in Computer Science, New York University
Sebastian Carrera, Mount Allison University
Rudy Leal McCormack, Graduate Student, Colorado State University
Megan Squire, Professor, Elon University
Michael Banerjee, J.D. Candidate, Harvard Law School
Ethan Rodriguez-Shah, undergraduate student, Howard University
Kevin Gould, Concordia University
Charles Campbell, Miami University of Ohio
Harry Vanden, Professor Emeritus, University of South Florida
Lee Zimmerman, Hofstra University
Kirk Robinson, PHD Candidate, Miami University (OH)
Victor Albert, Higher School of Economics
Daniel Martin, MFA student, University of Minnesota
Anthony Friend, B.S. Economics, Georgia State University
Courtney Hammett, undergraduate student, Coastal Carolina University
James Martel, SFSU
Colin Tucker, PhD candidate, University at Buffalo
Kimberley Thomas, Penn State University
Roberto Saba, PhD candidate, UPenn
Bo Eberle, PhD student, UNC Chapel Hill
Jessica Namakkal, Assistant Professor of the Practice, Duke University
Daniel Aldana Cohen, Assistant Professor of Sociology, University of Pennsylvania
Matthew D'Onofrio, DePaul University Public Policy Department
Donald Kingsbury, University of Toronto
Lyle Rubin, PhD candidate, University of Rochester
Daniel Falcone, teacher
Clayton Morgareidge, Professor Emeritus, Lewis & Clark College
Matthew Phelan, Journalist
John LaDue, University of Pittsburgh
Zackary Smith, MA Student, San Francisco State University
Andrew Pope, Harvard University
Barbara Weinstein, Silver Professor of History, New York University
Christopher Cox, PhD Candidate in Geography, University of Washington
Michael Heneise, The Kohima Institute
Jordan Kinder, PhD Candidate, University of Alberta
Angela Ocampo, PhD Candidate, UCLA
Michael Thompson, Professor, Philosophy, University of Pittsburgh
Alexander Aptekar, New York City College of Technology, Assistant Professor
Oliver Payne, MA - American Military University
Joshua Foa Dienstag, Professor of Political Science and Law, UCLA
Cayley Sorochan, PhD Candidate, McGill University
David Klassen, Postdoctoral fellow, New York University
Ashley Sergent, Northern Arizona University
Hind Suleiman, SOAS
Joe Tompkins, Assistant Professor, Allegheny College
Lars Tonder, University of Copenhagen
Michael Youhana, law student, UC Berkeley
Howard Goldson, JD independent scholar
Jeremy Zallen, Lafayette College
Minh-Ha Pham, Associate Professor, Pratt Institute
Nicole Teed, Teacher
Jesse Drew, Professor, University of California, Davis
Joan Casanovas, Associate Prof., URV, Tarragona
Stephen Harper, University of Portsmouth, UK
Laura Harrington, Boston University
Casey Primel, Postdoctoral Fellow, Harvard University
Nora Berenstain, Assistant Professor of Philosophy, University of Tennessee
Noah Gardiner, Visiting Asst. Prof., Univ. of South Carolina
James Clark, Attorney at Law
Diana Saco, PhD
Romand Coles, Professor, Australian Catholic University
Stephen Nuno, Associate Professor, NAU
Anthony Reed, Yale University
Amber Layne, Undergraduate Student, Arizona State University
Stephanie Erev, Johns Hopkins University
Daniel Howell, NYU
Fred Edwards, Saint Mary's University (Canada)
Suren Moodliar, encuentro5
Derek Ford, Assistant Professor of Education Studies, DePauw University
Jonathan Rochkind, librarian
Nicholas Toloudis, The College of New Jersey
Sebastian Touza, Professor, Universidad Nacional de Cuyo, Argentina
Adam Leeds, Assistant Professor, Columbia University
Ian Gilmour, Student, Carleton University
Mark Bray, Dartmouth College
Aerik Francis, PhD student, UCLA
Arianne Urus, New York University
Jason Del Gandio, Temple University
Mason Davis, MA University of Denver
Susanna Stone, Early Childhood Educator
Johnny E. Williams, Trinity College
Syksy Rasanen, University Researcher, University of Helsinki
Sinclair Thomson, New York University
Vilna Bashi Treitler, Professor and Dept. Chair, UC Santa Barbara
Gabrielle Maynard, Florida State University
Ahissa Branson, Oglethorpe University
William Flesch, Professor of English, Brandeis University
Joshua Dubler, University of Rochester
Pamela Beyer Montana State University Billings
Isaac Smith, JD/MA candidate, University of Cincinnati
Shay-Akil McLean, PhD Student, University of Illinois at Urbana-Champaign
Brian Rosa, CUNY
Shannon Snyder, San Diego State University
Aaron Gallant, Student, West Chester University
Rev. Laura Gamez
Jwahir Sundai, Bryn Mawr College
Carl-Emmanuel Fulghieri, University of Pennsylvania
Max Ajl, Cornell University
Marcus Rediker, University of Pittsburgh
Megan Eardley, Princeton University
Toni Bowers, Professor, U of Pennsylnania
Sinead Macleod, Artist & MFA Student NYU/WPUNJ
Akua Gyamerah, Postdoctoral Fellow, UCSF
Jacqueline Boulding, University of Ottawa
Will Arment, Oberlin College
Carol Lipton, Esq., NYC
Stefanie Fishel, University of Alabama
Susan Kang, City University of New York
Amanda Reyes, University of California Santa Cruz
Charles Xu, California Institute of Technology
Alexis Broderick Neumann, University of Pennsylvania
William Crane, Migration Studies PhD candidate, University of Sussex
Jason Oakes, UC Davis
Abigail Levin, Niagara University
Rosa Varela, Teacher
Craig Lyons, University of Sydney
Toby Rollo, University of British Columbia
Jonah Birch, PhD Candidate, New York University, Department of Sociology
Christian Exoo, St. Lawrence University
Justin McDaniel, Professor, University of Pennsylvania
Austin Stewart, MPP
Susan Hildebrandt, Associate Professor, Illinois State University
Michael Marchman, AFT3544
Mark Rupert, Syracuse University
Jonneke Koomen, Willamette University
Andrew Hoberek, University of Missouri
Alex Khasnabish, Associate Professor, Mount Saint Vincent University
Josh Behrens, Boston College
Su-Dol Kang, Prof. Dr., Korea Univ.
Bruno Leipold, PhD student, Oxford
Michael VanElzakker, Mass. General Hospital/ Harvard Medical School
Stephen Pampinella, Assistant Professor, SUNY New Paltz
Lana Dee Povitz, Concordia University
Jeff Diamanti, McGill University
Troy Nichols, student, CUNY
Sonya Huber, Associate Professor, Fairfield University
Kostis Kourelis, Franklin & Marshall College
Ian Alexander, NYU
Fari Nzinga, Bard Early College New Orleans
Michael Walters, Passaic County Community College
Dana Cloud, Syracuse University
Chris Crass, author and educator
John Evelev, Associate Professor of English, university of Missouri
Katherine Gordy, Associate Professor, San Francisco State University
Naomi Schiller, Assistant Professor, Brooklyn College, CUNY
Jermey Dell, Ph.D. Candidate, University of Pennsylvania
Janice Dowell, Professor, Philosophy, Syracuse University
Sarah D'Adamo, McMaster University
Pamela Brown, The New School for Social Research
Gregory Robinson, MPH student, University of Pennsylvania
Ricardo Leon Garcia, Universidad Autonoma de Ciudad Juarez
Guillermo Caballero, PhD student, Purdue University
Ryan van Nood, PhD Candidate, Purdue University
Jack Kelly, PhD Student, Univeristy of Oxford
Erin Brightwell, University of Michigan
Simone Pinet, Cornell University
Dario Azzellini, Murphy Institute, CUNY, NY
Finn Lees, Oxford University
Dara Orenstein, George Washington University
Philip Gentry, University of Delaware
Kaitlin Kelly-Thompson, PhD student, Purdue University
Frank Espinosa, Graduate Student, The University of New Mexico
Joe Ackerman, UCLA
Jacob Remes, New York University
Spencer Janyk, President of Digital Humanities and Industry Network
Josh Exoo, Adjunct Instructor, St. Lawrence University
Natalia Marques, student, Wellesley College
Wiktor Ostasz, DPhil student, University of Oxford
Maureen F. Curtin, Associate Professor, United University Professions, SUNY Oswego
Harris Feinsod, Assistant Professor of English, Northwestern University
Keith Riley, PhD student, Temple University
Tyler Walicek, University of California, Santa Cruz
John Beynon, California State University, Fresno
Jordan Pruett, University of Chicago, PhD Student
Elyse Semerdjian, Associate Professor of History, Whitman College
Mekala Rajagopal, New York University
Vasuki Nesiah, NYU
Kevin Funk, Assistant Professor of Political Science, Spring Hill College
Simon Black, Assistant Professor, Brock University
Jennifer Doyle, Professor, University of California, Riverside
Rachel Nolan, PhD Candidate, New York Universit
Lydia Conklin, Emory University
Marie Edith Ouellet, translator
Max Kaiser, University of Melbourne
Steven Shipman, New College of Florida
Taj Frazier, Assoc. Professor, Univ. of Southern California
Jessica Ellis, MA student, Western University
Zack Ford, California State University Los Angeles, Philosophy MA
Dr. Sadie Reynolds, Cabrillo College
Wesley Bishop, PhD Candidate American history, Purdue University
Sibylle Fischer, associate professor, Latin American studies, nyu
Angelika Murray, Student, Drexel University
Joan Parkin, Professor, Feather River College
Amber Thomas, UC Berkeley
Michael Lebowitz, Simon Fraser University
Luis Alberto Salazar, Villanova University
Sara Forgione, RN
Iman Sultan, freelance journalist, Temple University
Melanie Jeske, PhD student, University of California, San Francisco
John Palmucci, Jr. , Local Representative, Central New Jersey Socialist Party
A. Eileen Ibrahim, M.A.
Robert McBride, PhD
Helen Jun, Associate Professor, University of Illinois, Chicago
Corey Snelgrove, University of British Columbia
Colin Jenkins, Hampton Institute
Ben Etherington, Western Sydney University
Nicholas Hahn, Chair, Socialist Party of Philadelphia
Jesus Luzardo, Fordham University
Jake Nightlinger, Arcadia University
Eric Fink, Associate Professor of Law, Elon University
Josh Strassman, UMass Amherst
Roudy Hildreth, University of Colorado Boulder
Joe Lozano, University of Texas-Austin
David Palumbo-Liu, Louise Hewlett Nixon Professor, Stanford
Alexis Carlsson, Alumni, Drexel University
Jessica Kastner, Esq.
Anita Chari, Associate Professor, University of Oregon
Derek Elliott, Assistant Professor in History, Al Akhawayn University in Ifrane
William Van Norman, Associate Professor, James Madison University
Jose Orduna, Assistant Professor, University of Nevada Las Vegas
Mark Kaswan, Assistant Professor, University of Texas Rio Grande Valley
Jennifer Ponce de Leon, Assistant Professor, University of Pennsylvania
Alf Gunvald Nilsen, Department of Global Development and Planning, University of Agder
Roger Bromley, Emeritus Professor, University of Nottingham
Jason Fessel, UCSF
Daniela Palacios, University of California, Davis
Paisley Currah, Professor, Brooklyn College and The Graduate Center, CUNY
Sinan Antoon, New York University
Amanda Latimer, Kingston University
Andy Higginbottom, Associate Prof, Kingston University London
Adriano Cozzolino, phd candidate, UNIOR
Bijan Parsia, Reader in Computer Science, University of Manchester
Hugh McDonnell, University of Edinburgh
Bogdan Popa, Oberlin College
Michael McIntyre, DePaul University
Alex Khasnabish, Associate Professor, Mount Saint Vincent University
Salah D. Hassan, Associate Professor, Michigan State University
Gaston de los Reyes, Jr., George Washington University
George Payne, New England College of Business
Anthony Alessandrini, Professor of English & Middle Eastern Studies, CUNY
Matthew Hart, Columbia University
Mae Ngai, Professor, Columbia University
Sean Purdy, Professor of History, University of Sao Paulo
Dan Swain, Czech University of Life Sciences
Brian Kane, citizen
Valentina Figuera, Master student at the Federal University of Sao Carlos' Literature MA Program (Brazil)
Cassandra King-Burgos, Alumnus, Drexel University
Tom Perreault, Professor, Syracuse University
Quinn McGarrigle, Laborer and Student, Susquehanna University
Andrew Zitcer, Assistant Professor, Drexel University
Justin Roczniak, Alumnus, Drexel University
Christelle Gomis (EUI Florence)
Shelly Silver, Associate Professor, Columbia University
Larisa Kingston Mann, Assistant Professor, Temple University
Jeffrey Bowers, University of Bristol
Laura Mullen, McElveen Professor in English, LSU
Brendan McQuade, Assistant Professor, SUNY-Cortland
Jay Driskell, Historical Research and Consulting
Errol Schweizer, Entrepreneur
Ajay Singh Chaudhary, Executive Director, Brooklyn Institute for Social Research
Marc Handelman, Assistant Professor, Rutgers University
Zakia Salime, Associate Professor, Rutgers
Dr. Raechel Tiffe
Jennifer Denbow, Assistant Professor, Cal Poly San Luis Obispo
Rhonda L. Kelley, Assoc Prof of English, South Georgia State College
Michael O'Neil Burns, Senior Lecturer, University of the West of England
Axelle Karera, Wesleyan University
Matthew Sepielli, Asst Professor- Temple University
Reecia Orzeck, Assistant Professor, Illinois State University
Seth Sanders, Professor of Religious Studies, UC Davis
Bobbi Hancock, Instructor of Sociology, South Georgia State College
Colleen Asper, Yale University
Rohan Kalyan, Virginia Commonwealth University
William Shear, Trinkle Professor of Biology Emeritus, Hampden-Sydney College
Dorothy Kronick, University of Pennsylvania
Eli Erlick, Trans Student Educational Resources
James Tracy, CCSF
John Brown, Maynooth University, Ireland
Dakota Davis, Virginia Commonwealth University
Abbey Willis, PhD Candidate, University of Connecticut
Sean O'Brien, University of Alberta
Dr. Chanda Prescod-Weinstein, Research Associate in Physics, University of Washington at Seattle
Anne Bellows, Professor, Syracuse University
Nichole Shippen, Associate Professor, CUNY
Cesar Rodríguez, Assistant Professor, San Francisco State University
Natalia Cecire, University of Sussex
Garrett Strain, Ph.D Student, UC-Berkeley
Allison Perlman, UC Irvine
Gretchen Gibbs - University of Arizona
Rick Morrow, MA Social Sciences, University of Chicago
Ada Ferrer, Professor, New York University
Mary Tasillo, President, The Soapbox: Community Print Shop, Philadelphia, PA
Laura Finch, Postdoctoral Fellow, University of Michigan
Kishi Animashaun Ducre, Syracuse University
Christine Payne, PhD Candidate, University of California San Diego
Julia Cummings, Drexel University
Daniel Kent Carrasco, Universidad Nacional Autónoma de México
Patricia Manos, Ph.D Candidate in History of Art and Architecture, Harvard University
Victor Peppard, Professor, USF Tampa
Johnathon Root, MIT Alumnus
Ann Marie Kernen, Student, The George Washington University
Diane Grimes, Syracuse University
Aindriu Macfehin, PhD Candidate in Fine Arts, Elam, University of Auckland
Ann Braithwaite, Professor, University of Prince Edward Island
Hector Agredano, Doctoral Candidate, The Graduate Center, CUNY
Mela Heestand, PhD University of California, Davis
J. Moufawad-Paul, Professor, York University
Pete Sigal, Duke University
Laura Tanenbaum, Associate Professor of English, LaGuardia Community College, CUNY
Tor Lumumba Jones, Therapist, Kristiansand, Norway
Rebecca Kunkel, Rutgers Law Library
Andrea Fiorillo, MLIS, Librarian Reading Public Library
Andrew Behrendt, University of Pittsburgh
Mindy Peden, John Carroll University
Nikolai Duffield, Queen's University
Tyler Bellstrom, MA The New School
A. Naomi Paik, University of Illinois, Urbana-Champaign
Ellie Gore, University of Sheffield
Andrew DiNicola, Instructor, South Georgia State College
Michael Busch, Research Scientist, SETI Institute
Raj Patel, University of Texas at Austin
Dr. Andrew Yale, Organizer, SEIU Local 73
Seth Hugg, Drexel University
Steven Moore, Ph.D. Candidate, University of Michigan
Jose Olivares, Freelance Journalist
Madeleine Maccar, magazine editor/freelance writer
Sean Damon, Amistad Law Project
Torrey Shanks, Assistant Professor, University of Toronto
Patrick Murphy, CSU East Bay
Jack Turner, Associate Professor of Political Science, University of Washington
Daniel Braaten, Texas Lutheran University
Scott Siegel, Assistant Professor, San Francisco State University
Patrick Friend, Alumnus, Drexel University
Seth M., The New School
Sam Seidman, Temple University
Daniel Gamez, Graduate Student, University of British Columbia
Levi Mitzen, George Mason University
Matt Nguyen, Western Washington University
Neslihan Dogan, Ruhr-Universität Bochum, Germany
Caleb Milne, Graduate Student, Purdue University
Aidan Novo, University of Massachusetts Amherst
Brock Barber, Graduate Student UW Whitewater
Laura Castillo-Ruiz, University of California Santa Barbara Alumni
John Paetsch, University of Georgia
C.P. Ragland, Associate Professor, Saint Louis University
Kate Steinmann, Toronto
John Miller, IBT DC9
Joshua Hendricks, Middle Tennessee State University
Michael McCarthy, undergraduate student, Illinois State University
Jim Cummings, Temple University
Wesley Ward, Undergraduate Honors Student, Illinois State University
Owen Webster, Undergraduate Student, North Carolina State University
Adom Getachew, University of Chicago
Ryan Bach, alumnus, University of Rochester
Albert Ponce, Assistant Professor Diablo Valley College
Alexander Vance, Virginia Commonwealth University
Michael Anes, Wittenberg University
David Kutzik, Professor, Drexel University
Joseph M. Schwartz, Professor of Political Science, Temple University
Benjamin Donahue, undergraduate student at Colorado State University
Jody Anderson, Undergraduate Student, NC State
Darius Sadighi, New York University
Brett Stark, Citizen
Stephen Braren, New York University
Ben Miller, DAAD Long-Term Research Scholar, Magnus-Hirschfeld-Gesellschaft
Linda Mokdad, St. Olaf College
Ross Wolfe, The Charnel-House
Jason Burke Murphy, Elms College
Simeon Newman, doctoral candidate, University of Michigan
Edmund Fong, University of Utah
Thea Riofrancos, Assistant Professor, Providence College
Eben Levey, PhD Student, University of Maryland, College Park
Matthew Knip CUNY Hunter College
Mariel Heyboer, University of Utah
A.L. Steiner, Bard College
Andrei Migunov, graduate student, Iowa State University
Jackson Kusiak, Oberlin College
Toussaint Losier, University of Massachusetts at Amherst
Jesse Goldstein, Asst Prof. Virginia Commonwealth University
Holly Moore, Associate Prof. of Philosophy, Luther College
Adrian Félix, UCSC
Jonathan Goldman, Associate Professor, NYIT
Claude Marks, Freedom Archives
Paul Bissember, UC Berkeley Alumni
Richard Lachmann, Professor of Sociology, University at Albany
Daniel Ciccariello, Esq. Attorney at Law
Sarah Chinn, Hunter College, CUNY
Catherine Stanford, PhD, Rutgers AAUP-AFT
Gregory Shupak, University of Guelph-Humber
Todd Gordon, Wilfrid Laurier University
Brynn Craffey, retired University of California, San Diego
Jakeet Singh, Illinois State University
Christina Heatherton, Trinity College
Natalie James, attorney, The Center for Family Representation
Claryn Spies, Binghamton University
Francisco Herrera, University of Texas at Austin
Mauro Caraccioli, Virginia Tech University
Emily Feigelson, undergraduate student, Drexel University
Jeff Chiu, University of Pennsylvania
Marcus Hill, USSEN
Julie Hornick, Florida Southern College
Leonard Feldman, Hunter College and the Graduate Center, CUNY
David James Hudson, University of Guelph
Linroy Marshall, University of Michigan
Ben Wrubel, Tompkins Cortland Community College
Alex Ponsen, University of Pennsylvania
Karen Thompson Rutgers University
Robert Boikess Professor of Chemistry, Rutgers New Brunswick
Jane Huang, Stanford University alum
Tom Hutchinson, Tri-College Consortium
Sheridan Phillips, ABD, European Graduate School
Sianne Ngai, Stanford University
Kirsten Weld, John L. Loeb Associate Professor of the Social Sciences, Harvard University
Peter Burdon, University of Adelaide
Nicolai von Eggers, The Danish Institute at Athens
David Thomas, Birkbeck College, London University
Benedict Seymour, Lecturer MFA Fine Art, Goldsmiths, University of London
David Chapman, PTL, Rutgers University
Ghada Mourad, PhD candidate, UC Irvine
Anna Selmeczi, University of Cape Town
Yevan Terrien, University of Pittsburgh
Kanishka Goonewardena, Associate Professor, University of Toronto
Nora Meighan, Drexel University Alum
Michael Estrada, City College of San Francisco
Stephen Bush, Brown University
Michael Staudenmaier, Aurora University
Karen Zivi, Grand Valley State University
Jordan Camp, Postdoctoral Fellow, Brown University
Benjamin Hillin, Miami University of Ohio
Geoffrey Traugh, New York University
Khury Petersen-Smith, Tufts University
Diane Annunziato, Co-Chair, Massachusetts Library Association, Intellectual Freedom / Social Responsibilities Committee
Franco Barchiesi, associate professor, Ohio State University
Jean Douthwright Ph.D., Professor Emerita, Rochester Institute of Biology
Andrei MacDonald, University of Massachusetts Boston
Jonson Miller, Drexel University
Alex Lubin, University of New Mexico
Pranav Jani, Associate Professor, The Ohio State University
Billy Yalowitz, Associate Professor, Temple University
Michelle Chun, Columbia University
External links
References