Occupy Oak Park
From KeyWiki
The Occupy Oak Park (Illinois) demonstration is a part of the Occupy Movement which began on Sept. 17, 2011 with the original Occupy Wall Street demonstration in New York City.
Support
DSA Involvement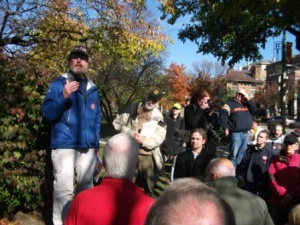 In the first week of November 2011, Democratic Socialists of America member Bill Barclay spoke at Occupy Oak Park, advocating for a financial transaction tax.[1]
According to a report from Michael Baker;[1]
On Saturday, November 26, Chicago DSA members braved the Chicago wintery drizzle to bring food and comradery to the stalwart Chicago occupiers at the Chicago Board of Trade. We offered meat and vegetarian entrees, breads, and desserts, all home-made, and bottled water to the approximately 15 occupiers, many of whom expressed their appreciation for the fare. Chicago DSAers enjoyed conversing with the occupiers and hearing their perspectives on the occupation movement and answering questions about DSA.
A few of us were interviewed on camera by an out-of-town 8th-grade teacher about their participation in the occupation and about DSA. So look for these videos on YouTube someday.
After 45 minutes or so, our work was done, and the group began packing up the remaining food and supplies to head home. At this time, a Chicago police officer, who had been sitting in his car across the street the entire time, came over to tell the group it was time to "pack it up." His heart was clearly not in his task.
References