Occupy New Haven
From KeyWiki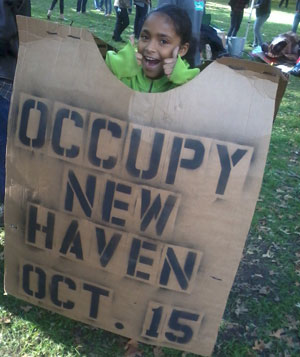 The Occupy New Haven demonstration is a part of the Occupy Movement which began on Sept. 17, 2011 with the original Occupy Wall Street demonstration in New York City. This demonstration is located at the New Haven Green and began on October 15, 2011.[1]
Support
Supporting OWS
New York police arrested two "New Haven Occupation" demonstrators circa November 16, as dozens of local people, some with vinegar-soaked bandanas to guard against tear gas, joined a day of clashes at the epicenter of where their anti-Wall Street movement began.
At least two demonstrators affiliated with the Occupy New Haven encampment on the upper Green ended up in handcuffs as they joined New York protesters seeking to prevent Wall Street traders from getting into work Thursday morning.
A third New Haven encampment stalwart, Ray Neal , asked police to arrest him, too, as they took away his wife, Sara Neal . Sorry, the police said. No can do.
State Rep. Patricia Dillon said at 6:30 p.m. that Sara Neal had been released from police custody. Dillon had intervened on her behalf by contacting the Manhattan borough president, according to Ray Neal
In the pre-dawn hours Thursday, 29 members of Occupy New Haven loaded into a chartered bus on College Street to join a "Day of Action" in New York City marking the two-month anniversary of Occupy Wall Street, the amorphous grassroots protest against corporate greed and income inequality that has sparked an international movement.
That planned anniversary event evolved into a more confrontational action in the wake of the New York police's surprise overnight raid evicting demonstrators who originally set up camp in Zuccotti Park. Occupiers subsequently took up residence on the upper New Haven Green on Oct. 15, creating a tent village with about 50 campers, supported by others who consider themselves part of the movement. (Full Independent coverage here.)
In New Haven demonstrators and the police have gotten along, even worked together to keep the ongoing protest safe and within the boundaries of law. In New York Thursday, New Haven occupiers experienced a different dynamic.
Early in the morning protesters massed at Zuccotti Park. It was eerily quiet. By law they can assemble there again, but may not longer erect tents or camp out.
Hundreds of protesters converged on the New York Stock Exchange. New Haven demonstrators joined a "soft block" to try to keep traders from getting in to work.
New Haven encampment organizer Josh Heltke prepared for the action by soaking bandanas in vinegar, to help filter out tear gas.
One of those arrested was Todd Sanders, from the New Haven contingent, after a scuffle with officers trying to clear a walkway for commuters.
Ray Neal also found himself thrown to the ground, but not arrested.
New Havener Drew Peccerillo, was also involved.[2]
Communist connection
In November 2011, Art Perlo, was an Occupy New Haven committee member.[3]
References