Occupy El Paso
From KeyWiki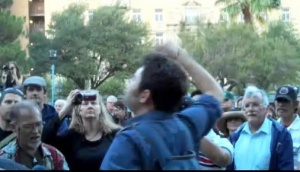 The Occupy El Paso demonstration is a part of the Occupy Movement which began on Sept. 17, 2011 with the original Occupy Wall Street demonstration in New York City. This demonstration is located at San Jacinto Plaza in downtown El Paso and began on October 17, 2011.[1]
Support
Arrests
On Nov. 13, the demonstration's permit to stay in San Jacinto Plaza in downtown El Paso expired. On Nov. 14, the dozen demonstrators who remained were issued with tickets by El Paso police. Demonstrators and observers thankedd police for their professionalism, which had avoided violence or confrontation during the Occupy protest up to that point. The seven demonstrators were arrested early in the morning on Nov. 15.
On Nov. 15, Occupy El Paso issued a statement in response to the arrests:[3]
"We are honored that the police, carrying out the will of City Hall which carries out the will of moneyed power, came for us. It shows that our message was heard and more importantly that our act of occupation is a real threat to the political/economic system... When power arrests and evicts peaceful, truth-telling protesters within eye-shot of several criminal banks, the point is made. When homeless people are fed and cared for within eyeshot of economic institutions that cause mass homelessness, it becomes clear which interests City Hall and EPPD really serve and protect. When people make the choice to live without the dead time of work/consumption, to live as if they were free even under harsh conditions and public ridicule, it reminds this society about everything that it wants to forget about morality, decency and justice, and what this society wants to destroy - the slightest glimmer of something else, something better."
Donors
The following have made donations to the demonstration:[4]
External Links
References
↑ 1.0 1.1 People's World: Occupy El Paso launched on Monday, Oct. 18, 2011 (accessed on Oct. 25, 2011)
↑ 2.0 2.1 People's World: Border Occupy movement: deadlines, police violence, solidarity, Nov. 4, 2011 (accessed on Dec. 8, 2011)
↑ People's World: Occupy El Paso evicted from downtown plaza, seven arrested, Nov. 15, 2011 by Owen Williamson (accessed on Dec. 9, 2011)
↑ WePay.com: Official Occupy El Paso donation page (accessed on Dec. 9, 2011)