Occupy DC
From KeyWiki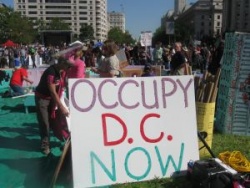 The Occupy DC demonstration is a part of the Occupy Movement which began on Sept. 17, 2011 with the original Occupy Wall Street demonstration in New York City. The protest is also known as "Occupy Pennsylvania Avenue".
About
Protesters were bused in by unions from nearby states for the demonstration. People's World's Jim Baldridge reported,[1]
Regarding their affiliation & leadership, Occupy DC website states,[2]
"We are not affiliated with October 2011 Stop the Machine organization. Although we support their organization, Occupy DC is a people's movement inspired and based on Occupy Wall Street and Occupy Together. We are not a party nor do we have a spokesperson. This is a people's movement led by a democratic system."
Support
Sponsors of the demonstation include:[1]
Speakers
The following have addressed the demonstration:[1]
DSA involvement
According to a report from Peter Bolton on November 23;[3]
DC DSA members Peter Bolton and Coleson Breen joined Occupy DC protesters yesterday for a protest outside Constitution Hall where the twelfth Republican Party presidential candidates debate was being held. Protesters invented ad hoc chants addressing the candidates. Chants included: "Romney, Cain, Gingrich: help the poor and tax the rich," "Jesus said to help the poor, who is it your fighting for" and "who is it you it you represent? Clearly it's the one percent!"
Before heading to Constitution Hall, Bolton and Breen met with Occupy protesters at the McPherson Square encampment including local DC occupiers and people who had traveled in from the occupations in Richmond, Memphis and Pensacola. Breen gave out coffee and snacks in an act of solidarity between DC DSA and the movement. The DC DSA members then went to an Egypt solidarity demonstration outside the White House where Egyptian-American anti-Mubarak protesters shouted back-and-forth slogans in both English and Arabic. The Egyptian protesters later joined Occupy DC for the protest at Constitution Hall. Tensions with the police did not arise at either site and the officers at the scene of the candidates debate even invited protesters to move closer to the building, behind a barricade across the street from the entrance.
The protests took place the very night that a contingent of the Occupy Wall Street protesters, called "Occupy the highway" arrived in Washington. Upon arrival in DC, the Occupy Wall Street protesters held a joint General Assembly with Stop the Machine outside the Capitol building. The protesters had marched from the OWS site in Zuccotti Park, renamed Liberty Square, to Washington over the last few days. OWS's website states that the goals of the initiative were "to make the new movement visible in more communities, to connect with other occupations along the way, and to further a national dialogue about how to reclaim our democracy." OWS says that the march was deliberately scheduled to coincide with the super committee decision deadline and that the protesters wished to "bring a message to Congress to end corporate welfare and tax breaks for the rich and to stimulate the economy by rebuilding the country's infrastructure and investing in education, clean-energy and public health." The super committee protest, however, was cancelled due to the committee's implosion over the last few days. Occupy protester James Ploeser tweeted, "Super committee #EpicFail. No need to shut it down, it shut itself down."
The action also comes as DC DSA anticipates the publication of a statement from Occupy Wall Street about its ideas and demands for change. The statement will be a interesting development for the movement and a further opportunity for DSA to engage with the movement and analyze its implications for public discourse and the political landscape.
Circa Oct. 11, 2011, Young Democratic Socialists member Andrew Holt Williams participated in the demonstration. He observed,[4]
"I'm still not totally certain of what all of this "Occupy Wall Street" stuff is going to lead to. Sure, I'm sympathetic. Sure, I support the aims of the movement in the broader sense (since it's diversity makes it impossible to argue for or against point by point). But where is it going?...
As a union member and activist, like many other DSA members, I expected more organizational discipline if the movement was going to be successful. What were a bunch of anarchist organizing techniques going to do to help us execute a plan that demanded that we engage against rather than subvert or drop out of the system? It finally occurred to me that the inclusiveness of the GA consensus model was what this movement needed. There's no real organization driving this, so one must be formed, and it must be inclusive and involve its constituents in its fate."
Participants
Individuals Identified as Occupy DC Leaders, Staff or Supporters Outside of Specific Demonstrations
The Washington Post, Dec. 24, 2011, in an article entitled "No holiday for diplomacy on Occupy Thanksgiving", by DeNeen Brown, mentioned the following individuals as associated with Occupy DC (ODC):
Hunger Strike for DC Voting Rights for Congress
A subplot of the Occupy DC movement, or as Washington Post writer Dan Zak described it, "the socio-theatrical saga of Occupy DC", included a more localized focused movement known as "OccupytheVoteDC."[7], involved protesters on a hunger strike for DC voting rights in Congress (a part of the old Home Rule movement).
KW: Since hunger strikes and strikers have been standard items in the DC protest scene since the 60's, including the late Mitchell Snyder and his Creative Center for Non-Violence CCNV movement for the homeless, this event is more "theater" than anything else, but it gets a lot of sympathetic coverage in the WP and basic coverage in the Washington Times (WT). The Zak piece is more in keeping with the Style section's "human interest" stories, almost always sympathetic to the Left and any of their causes, no matter how insignificant a failure they are.
Zak, in his story on who was conducting the hunger strike, identified and usually interviewed the following people:
Adding their support to this protest were:
Occupy's right to notice before eviction is upheld
In one of two items to appear in the Dec. 6, 2011 Metro section of the WP, an US District judge ruled that the National Park Police must give the Occupy DC (ODC) people living in McPherson Park at least 24 hours notice before they could evict them. The protesters had erected a wooden house-like structure that the city found to be unsafe because of its instability and as a fire hazard and wanted to take it down (an act which the protesters were against).[8].
The injuction was sought by ODC protester Brett Henke and filed by National Lawyers Guild (NLG) attorney Jeffrey Light.
In a related opinion column by Petula Dvorak, who could be classified as a moderate liberal, she strongly chastized the more confrontational protesters who taunted the police and were essentially looking for violence. Her column, entitled "Protesters underminemessage with taunting of police in D.C.", was a reasoned look at what the protesters were doing and trying to do, to the point that one protester, Mark Francis Nickens, 51, a musician and dog walker from Takoma Park, said that "This was not supposed to happen. You don't just go and antagonize the cops for nothing."
Occupy 'will never die'" Protesters in Washington
A small story in the "Straits Times" (AFP news service story) entitled "Occupy 'will never die': Protesters in Washington" focused on the the eviction attempts at their base camp at McPherson Square (for which they do not have a permit, only the tacit support of most of the very liberal D.C. City Council).
One often-quoted protester is Sam Mellot, from Virginia, who was quoted as saying: "They are trying to annoy us, to get our spirits down but I really think it's not working. Evict us, we'll multiply - Occupy will never die", he said."
Mellot has been camping at McPherson Square and has assumed some kind of position as an ODC spokesman though no information has been provided as to who he is and why his is being quoted.
[Source: http://www.straitstimes.com/BreakingNews/World/Story/STIStory_755565.html]
References
↑ 1.0 1.1 1.2 People's World: Thousands occupy Washington, demand "jobs now", Oct. 17, 2011 (accessed on Oct. 26, 2011)
↑ Occupy DC: About Us (accessed on Oct. 26, 2011)
↑ The Activist: Report from Occupy DC: The 99% Marches Forth, Oct. 11, 2011 (accessed on Dec. 9, 2011)
↑ Bangor Daily News: Occupy protests spread nationwide, Oct. 27, 2011 (accessed on Oct. 28, 2011)
↑ Inter Press Service: "Leaderless" Protest Movement Continues to Snowball, Oct. 6, 2011 (accessed on Nov. 2, 2011)
↑

Willing Spirit, fading bodies", Dan Zak, Washington Post, Dec. 17, 2011, "Style" section, pp. C1 & C2

↑

Occupy's right to notice before eviction is upheld, Tim Craig, WP, Dec. 6, 2011, P. C3, Metro section