Occupy Chicago
Jump to navigation
Jump to search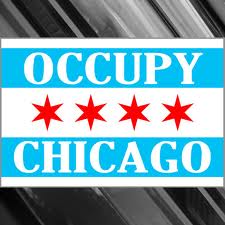 The Occupy Chicago demonstration is a part of the Occupy Movement which began on Sept. 17, 2011 with the original Occupy Wall Street demonstration in New York City. Template:TOCnestleft
Congressional support
Occupy Chicago held a protest Thursday night, October 20 2011, at Congress and Michigan. Before the protest, Congresswoman Jan Schakowsky and Congressman Danny Davis, along with labor and community organizers, held a town hall meeting with Occupy Chicago.
The Democratic lawmakers criticized subsidies for corporations that ship jobs overseas, and called for an end to tax breaks for the wealthiest Americans at the expense of education and social programs.
The group also planned to deliver a petition to the mayor's office to allow the group to stay and stop the arrests of protesters.[1]
Schakowsky marching with communist

At an Occupy Chicago protest held October 10, 2011, Jan Schakowsky, marched alongside Communist Party USA member Bea Lumpkin. Jordan Farrar of the Young Communist League also participated.[2]
Affiliated Organizations
The following organizations have supported or joined with the Occupy Chicago demonstration:
2011 Chicago PWW banquet
Labor and community activists, elected officials, readers and supporters of the PeoplesWorld.org and MundoPopular.org gathered in Chicago Nov. 20th, 2011, for the annual banquet bash at the Parthenon Restaurant. They feasted on sumptuous Greek food and honored heroes of the growing labor and people's movement.
"One. We are the people. Two. We are the united. Three. We are not leaving," chanted Occupy Chicago activists as they came forward to address the crowd. Using the "human mic" they described the growing fight against corporate greed. Each of the 8 young people, all of whom had been arrested demonstrating for freedom of speech and assembly, explained why they had become involved and couldn't sit on the sidelines while Wall Street ran rampant over people's lives.
National Lawyers Guild
The Chicago-based National Lawyers Guild is working with Occupy Chicago to provide legal support to participants arrested in the demonstration. The guild is organizing informational meetings and offering legal representation to those arrested for "a small fee".[4]
AFL-CIO
The protestors have enjoyed strong support from President of the American Federation of Labor-Congress of Industrial Organizations, Richard Trumka. On Oct. 7, leaders of the Occupy Chicago group went to hear him speak to law students at the Chicago-Kent Law School, several blocks from the center of their protest. There Trumka urged support for the protests, offering them use of union halls and other resources. In his speech, Trumka used some of the language of the protesters, saying that he heard from them "the anger they have about the economy and about unemployment. We have an economy and a political process that isn't serving the 99 percent."[5]
Jobs with Justice
Since late 2010, For the last eleven months, Chicago Jobs with Justice has protested at the State of Illinois building to protest the unemployment report issued by the US Department of Labor. On Oct. 7 the group held a march to join the Occupy Chicago movement in front of the Chicago Board of Trade on LaSalle Street (Chicago's Wall Street). People's World's Scott Marshall wrote that this "action was bigger and more militant."[5][6]
Workers United
On Oct. 26, 2011, Workers United President Noel Beasley said the Occupy Movement was "exactly what America needs right now." He presented Occupy Chicago with sleeping bags and supplies to protect them from the coming harsh winter weather. Beasley said he was speaking on behalf of 150,000 members of Workers United in the United States and Canada who work in laundry, textile, gaming, food service and apparel industries. The rally of "over 200 delegates" to the Midwest Regional Joint Board Convention of Workers United declared their solidarity with Occupy Chicago, with Beasley declaring "[It is] time to take our country back and we will."
Workers United, Chicago Jobs with Justice and Occupy Chicago were also rallying at the Chicago Board of Trade to demand passage of a financial transaction tax of 25-cents on each trade. According to a recent study by the Chicago Political Economy Group and Stand Up Chicago, such a tax on 12 million average trades per day could generate over $1.4 billion a year. Organizers propose the establishment of a Community Jobs Fund that could create 40,000 living wage jobs, reported the CPUSA's John Bachtell[7]
Other Organizations
Speakers
The following have spoken at educational events run as a part of Occupy Chicago:[9]
The following have addressed the demonstrators:
Leaders
The following individuals have been identified as leaders of the demonstration:
Participants
The following have participated in the demonstration:
Events
Oct. 15 March
CPUSA member John Bachtell reported on the day's events,[19]
"While tents were being set up an impromptu rally took place. It began with the prescient but eerie audio clip of Charlie Chaplin who played the Jewish barber in his 1940 film, "The Great Dictator," the first major feature film of its period to bitterly satirize Nazism and Adolf Hitler.
First to address the crowd was Armando Robles, President of UE Local 1110 and a leader of the four-day Republic Windows and Doors occupation in 2008 . Then greetings were delivered from labor and community groups including the Chicago Teachers Union, Teamsters, United Steelworkers, immigrant's rights and peace activists and the Communist Party USA. Many blasted Wall Street and the banks for ruining the lives of millions and corrupting democracy. They spoke proudly of the new movement sweeping the country and how they were determined to take a stand.
The Chicago Police Department surrounded the protest with officers and, at 11 p.m., announced we were in violation of a city ordinance that prohibits being in the park after hours. Protesters linked arms and ringed the tents. At 1:30 a.m., after repeated warnings, the police began to arrest us and tear down the hastily constructed tent village. Everyone remained calm, strengthened by the understanding we were going to jail for a worthy cause.
As I was being processed, an officer asked why a "boomer" like me was protesting. I told him, "I'm here to end corporate greed and make the country better." "You're going to have to end capitalism to do that," he said. I nodded and replied, "If that's what it takes." Another African American officer sympathized with the protest. "If it weren't for the 1960's I wouldn't be here today," he said. We were led past holding cells crammed with protesters. A loud cheer and raised fists greeted everyone who passed... There were young factory workers, students, a professor, an aspiring comic and union members from Unite Here, SEIU and the Teamsters."
Oct. 23 Arrests
Jordan Farrar, Young Communist League wrote of the Oct. 23 arrests in an article in the CPUSA's newspaper, People's World. Farrar was one of those arrested,[18]
"On October 23rd... the Occupation attempted to reclaim the park again and to exercise its first amendment right to free speech any time of day or night. The first speaker opened saying, "There are those who say that this is a communist movement. We say this is a movement with communists in it!" The National Nurses United made a clear stance, setting up their first aid tent and announcing that they weren't going anywhere. The occupiers then formed a protective ring around the them to defend their stand. At 11:10 the park was "closed" with the activists (and myself) still inside...
With the crowd chanting and drums and brass playing, the police slowly started surrounding the crowd. After about 2 hours the police began detaining people. The females were put in a police wagon and the men into jail buses which they renamed "freedom buses." The women sang "This Little Light of Mine" on their way to the jailhouse...
As the night progressed, reports that our comrade Scott Marshall, Chair of the Labor Commission of the Communist Party USA and retired steel worker, had been released 20 hours after his detention and finally, almost 24 hours after the arrests were made the last nurse activist was released. Mayor Rahm Emanuel was sending a clear message that this kind of behavior will not be tolerated and threats have been made that each incarceration would become more and more uncomfortable. The second time offenders have also been told that if they are arrested again they will be facing a $10,000 bail set for their release.
Many of the police officers, however ,expressed sympathy with the protesters in private and many of them told me personally that they sided with the occupation and that this was simply a job that they needed in a difficult time. Officers used terms like "solidarity" and "power to the people" when they dealt with us one on one."
Nov. 5 Rally
On Nov. 5, 2011, demonstrators beating drums, holding up signs and chanting gathered "to protest corporate greed and government policies favoring the rich." A Nov. 9 article authored by Joanne Becker, Eugene Blum, Pedro Conceicao, Luis Rivas and Tim Steinhelfer published in in the CPUSA's newspaper, People's World reported on the event:[20]
"Mike Schostok sat playing his guitar - mostly songs by Rage Against the Machine and his own band, Voeur. He is a high school senior and believes Occupy Chicago is great but needs to be bigger. "I'm here because I'm fed up with our plutocracy," Schostok said.
Tyson Baker, a broadcasting major at the Illinois Center of Broadcasting, said he sees an urgency in demonstrating to ensure that when he graduates he was a job waiting for him. "I'm here partly because I know it's going to be hard to get a job," he said. "There are so many people with college educations who can use solidarity. There are all kinds out here looking feverishly for a job," Baker said. "We can all agree that the system is broken, that it doesn't work for 80 percent of the country. We need a new economy to support one another with our resources and our love, you know ... We're not powered by violence or hate."
Angela Koon, who teach humanities part-time at a suburban community college, is part of the movement that has already graduated from university but cannot find full-time employment. Koon makes $17,000 a year and has $50,000 in student loan debt. "I did what I was supposed to do," Koon said. "I graduated in 2008 with a master's degree in women's studies and I still haven't been able to find full-time employment. I'm 36 years old and have no health care."
Sarah Vance from South Chicagoland brought her 13-year-old daughter Kiah. There are many reasons Vance said there are many reasons why she came out to Occupy Chicago, but the most important inspiration for her is her daughter. "There are a lot of American suffering because they don't have health care," Vance said. "My 21-year-old niece is with multiple sclerosis [and] cannot get health insurance to pay for her meds. This is crazy. It shouldn't be happening in the richest country on earth. I'm a single mom who can't find a job, she continued. "I'm two years into my schooling and I can't afford to go to school ... Even if I could find a full-time job at minimum wage, I couldn't make it. The minimum wage is a poverty wage."
References