Nqobile Mthethwa
From KeyWiki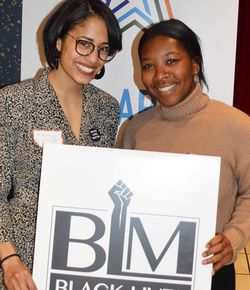 Nqobile Mthethwa is a Virginia activist.
Zinn Education Project
Teaching for Change lists Zinn Education Project as a "partner" (in collaboration with Rethinking Schools).[1] Nqobile Mthethwa listed as "Former Staff and Project Fellows" on the Zinn Education Project website as of July 6 2021:[2]
Nqobile Mthethwa, 2017-2019 Zinn Education Project | Research Fellow: As an undergrad, Nqobile Mthethwa worked as a research/project assistant for three years writing, organizing, and archiving data pertaining to the Carter G. Woodson Institute's digital exhibition "The Movement in the Archive," created and supervised by Professor Deborah McDowell. She has worked on open source web-publishing platforms for the display of library, museum, archives, and academic collections and exhibitions. She presented on Julian Bond's legacy as a historian on a panel at the Julian Bond Symposium in October 2016. She also helped create and teach a course titled "Introduction to Citizenship & Activism A Critical Examination of Jefferson's University" for four semesters with Professor Walter Heinecke. Her research interests include organizational structure of grassroots movements, federal legislation of the Civil Rights era, and documenting untold historical narratives. She graduated from the University of Virginia in May 2017 with a B.A. in Political Science.
Virginia Student Power Network Core Team
Virginia Student Power Network Statewide Core Team planning call! September 2015 — with Beatrice Ohene-Okae, Ibby Han, Nqobile Mthethwa, Taylor Janay Manigoult and Yvette Agyei.[3]·
Virginia Student Power Network core team organizers from around the state are hard at work, planning for the upcoming semester. — with Taylor Janay Manigoult, Ibby Han, Kalia Harris, Nqobile Mthethwa, Beatrice Ohene-Okae, Yvette Agyei and Claire Wyatt.[4]
Virginia Student Power Network
UVa Students United's first meeting of the semester! — with Allison Febrey, Nqobile Mthethwa, Phoebe Bugay, John Sylvester and Ibby Han.
VSPN campaign
Virginia Student Power Network, April 6 2015 posted ·"Last week, students all across Virginia loudly stood up on their campuses to push for accessible, democratic education and a #DebtFreeVA".
Thanks to GMU Student Power, UVa Students United, Student Power Network at VT, VCU Student Power, UMW Students United, and JMUnited for making the Statewide Day of Action such a huge success! — with Rodrigo Velasquez, Sanwich Est, Samantha Parsons, Emma White, Yvette Agyei, Kalia Harris, Jacob Ducey, Macey Garner, Lexi Robinson, Charly Liss, Batel Yona, Victoria Beasley, Emily Swain, Beatrice Ohene-Okae, Jong Chin, Rachel Brewer, Scott Loudin, Kelsey Pence, Nqobile Mthethwa, John Sylvester, Bess Butler, Laura Cross, Jenn Richman, Garrett Piersa, Greg Lewis, Ibby Han, Taylor Janay Manigoult, Lauren Miller, Amna Hussein, Claire Wiklund, Samuel Scott, Nevin Ounpuu-Adams, Noah Goodwin and Briana Willis.
Fall 2016 Convergence!
Virginia Student Power Network October 24, 2016.
Thanks so much to everyone who came out this weekend to the Virginia Student Power Network Fall 2016 Convergence! Student organizers converged from all over the state, including from UVa, GMU, VCU, UMW, VSU, ODU, and William & Mary.
We trained hard, planned our campaigns for winning more affordable higher education in Virginia, honed our organizing skills, and had fun hanging out.
More photos coming soon! If you want to get involved in VSPN, message our page and we'll get you plugged in! — with Caroline McCaig, Kalyn Asher Montague, Janine Gaspari, Nqobile Mthethwa, Maria Alejandra, Todd Le, Anelle Mensah, Marian Michaela Little, Ian Nakayama, Ayanna AJ, Kailah Hartsfield, Amanda Grace Montalvo, Amanda Claire Ritchie and Lily Hamilton.
References