North American Congress on Latin America
Jump to navigation
Jump to search

Template:TOCnestleft North American Congress on Latin America is an independent, nonprofit organization founded in 1966. Its "mission is to provide information and analysis on the region, and on its complex and changing relationship with the United States, as tools for education and advocacy - to foster knowledge beyond borders." In 1977, it helped found DataCenter.[1]
History
According to the website La Nueva Cubah[2];
NACLA was formed in 1967 after the Tricontinental Congress in Havana by individuals associated with Students for a Democratic Society(SDS). NACLA said it was recruiting "men and women, from a variety of organizations and movements, who not only favor revolutionary change in Latin America, but also take a revolutionary position toward their own society." SDS leaders called NACLA the "intelligence gathering arm" of the radical movement. NACLA's published Methodology Guide recommends supplementing public source information by pretext interviews and phone calls, and NACLA has also planted or developed covert sources in government agencies and private companies...
Particular targets for NACLA information-gathering include companies supplying arms, anti-terrorist and police equipment to Latin America and Mexico; U.S. government defense, counter-insurgent and anti-terrorist programs; and oil, agribusiness, minerals and other U.S. companies with major Latin American operations.
Agee claim
In the British edition of "Inside the Company: CIA Diary", CIA agent turned Cuban intelligence asset Philip Agee admitted that Cuban government agents and Communist Party officials provided "special assistance and data available only from government documentation" and that NACLA staff "obtained vital research materials in New York and Washington, DC."
Publications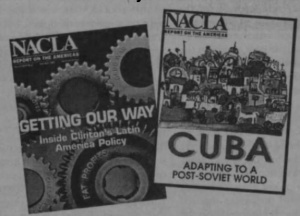 Staff
Research Associates
Board of Directors
Editorial Committee
External links
Refernces
↑

ttp://www.lanuevacuba.com/archivo/manuel-cereijo-114.htm